BEAT THEM UP THROUGH AGES
PAGE 2
THE PREHISTORY - CONTINUATION
Among the titles that catch the eye, a lot of players were hooked with the very nice Konami's Shaolin's Road: dynamic, fun and offering a good realization. Let's also note Rush'n'Attack by the same editor, which evolves into a quite different gameplay, but this game will be remembered by many players. Taito, decidedly ubiquitous, also performs Knuckle Joe, a Beat 'em Up fast, beautiful and quite comprehensive with the moves of the hero (you can even guard!). Fall 1985, the top tier Beat them Up editors consists of Irem, Konami, and Taito, very prolific.
As for SNK, as strange as it looks, the editor doesn't really care about the Beat 'em Up market back then, as they're all busy with their famous shooter Vanguard II, a boxing game called Main Event and also ASO, released in 1985. Ikari Warriors is already under construction in the firm: it's a vertical run'n'gun playing in the same league as Capcom's games (Commando, Vulgus). Players will have to wait a few years before seeing the first SNK and Capcom Beat them Up.
The Crowning of a Genre(1986-1989)
And the year 1986 will forever mark the history, with the very first "modern" Beat them Up, a title which qualities surpasses all its predecessors, of course, but featuring a gameplay radically new and different from what we've seen so far: Renegade. While Capcom and SNK are competing in the Run'n'Gun section (Commando for Capcom, 1985; Ikari Warriors for SNK, 1986) and platform-action games (Trojan, Capcom, 1986, Athena, SNK, 1986), it's a still relatively unknown company that makes itself a name, through a title that will make history. It's once again Taito who commercializes the soft, but this time the game is developed by Technos Japan team. The action takes place on four stages, and establishes the foundations for all future BTU. Players can move "3d" throughout the levels, pick up weapons, perform various attacks, jump, catch and throw... as well as impressive Bosses to beat at the end of each level. Great ideas are present: throw enemies out of the playing area to get rid of them, attack a grounded opponent, punch, kick, jump, and even dash! Incredible. So many good ideas in this game. And there's only one little flaw in this idyllic picture: Renegade can only be played single. Anyway, its success is tremendous in the arcades, and the software is adapted on all existing platforms since 1987: NES, Master System, Amiga, CPC... In short, everyone wants to play the new hit from Technos.
Renegade is selling very well and attracted many new players. But what about this fantastic recipe that appeals to so many players???
250g of punches, kicks and throws
1 pinch of weapons to collect
1/2 liter of beautiful various "3d" stages
750g of various enemies with dirty faces to smash
4 or 5 greasy Bosses, oily at will 
Some blood, screams, and dead people
Some editors seem to have understood that, and step into the breach. But it's obvious that Technos took a considerable lead in having made ​​the right choice, and the consecration of players around the world is the reward. And the following year they'll give birth to THE Beath Them Up which will become the figurehead of the genre forever...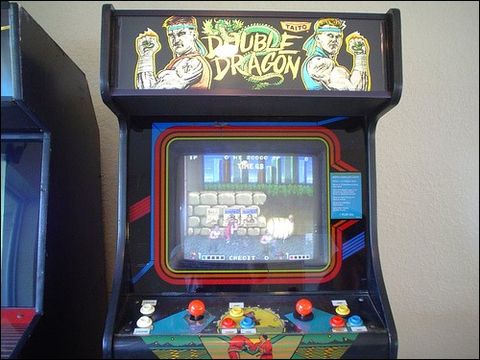 And it's Technos - once again edited by Taito - which once strikes hard in 1987. The very good foundation installed by Renegade last year were a great teaching, and the team programmed a game that surpasses their previous hit: it's Double Dragon. The game can be played two simultaneously this time, and it's  a small revolution in the world of fighting games. The soft packs all the ingredients that made the charm of its elders: varied weapons, big Bosses, progressive difficulty, possibility to move around the scene... And realization is not to be forgot: graphically, it's colorful, the sprites are quite large and the game moves especially quickly, despite some slowdowns when the screen is loaded with dozen enemies. the gameplay is better than ever, and this is a huge success in the arcades. Like Renegade, the game is then ported on all medias and sell like pancakes.... The genre becomes more popular than ever with Double Dragon, and receives its consecration.
That same year, Capcom painfully explores the genre by trying a vertical scrolling action, with Avengers. It's not good at all, anemic, features a gameplay already obsolete, and it's not the realization of the game that would raise the level... The "Avengers" is looking so weak even compared to Renegade, then with this title coming after Double Dragon, better forget about it. Capcom have clearly spent much more time on other genres, and the editor is still not competitive on this market for now. SNK on its side is preparing its answer for the next year, along with several other giants of the arcade.
In 1988, we see that the Beat them Up divides itself into two schools, and only one will survive... The first is in the line of the ancestor Kung-Fu Master, featuring a gameplay on a single line (no move in depth) with platforms and the ability to crouch. At the head of this school, Irem takes the lead in the competition with Vigilante, running on the M75, their new media. The game is an excellent "sequel" to the legendary Kung-Fu Master. Taking, graphically fine, pleasant to play, and packing a flawless animation, the soft is acclaimed by the critics. Sound effects, as always with Irem, remind about Bud Spencer's slaps, this is a delight. However, Vigilante remains relatively limited with the fighting techniques, feels a little repetitive and can't be played two. Three years later, the evolution since the firm's legendary first Beat them Up looks very limited...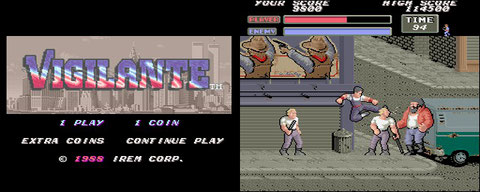 Data East rallied to Irem's school with Bad Dudes VS Dragon Ninja. This plays two simultaneously and shows a little more interesting than Vigilante. The action is fast and taking, the graphics are successful. Here we have nothing else than an honest BTU, fun and proposing a well-set difficulty. But the game doesn't bring anything new, with only few good ideas and a still simplistic gameplay... while the competition already offers better.

Third and last significant title released this year 88, always in line with Kung Fu Master, The Ninja Warriors by Taito. These guys, decidedly present everywhere on the video game scene in the late eighties, eat everywhere they can! Anyway, let's hope for them this title doesn't vampirize their other sales... Judge for yourself. If the game is not bad, yet the Beat 'em Up will evolve differently. Our three games presented here look like dinosaurs for many players today. You'll understand why when you'll  see the titles that were released the same year... but those using the Renegade gameplay!