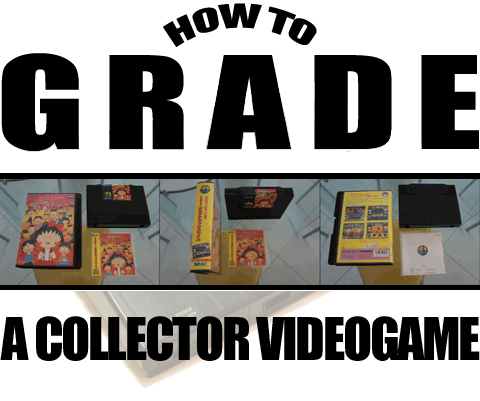 Rating a videogame condition is not an easy task to do, but it's rather important to learn doing it for a collector. This is almost necessary in order to sell a game or to buy it, but also to gauge exactly what you have between your hands! The value of a game depends of course of its rarity, but it can vary depending on its condition... All Neo Geo collectors have some knowledge of these grades and how to assign these, but let's study it deeper in this article.
The Condition Scale
| | |
| --- | --- |
| NEW | Strictly new game, never played. |
| LIKE NEW | Opened game, but perfect condition. |
| MINT | Game have been used, but show no signs of use. |
| NEAR MINT | Very light and rare signs of use. |
| EXCELLENT | Some wears or signs of use, but still well preserved. |
| VERY GOOD | More numerous signs of wear (light sunfade, scratches...) |
| GOOD | Advanced wear - Almost acceptable for a collector. |
| USED | Second-hand game (scratches, sunfade, tears...) |
| POOR | Bad condition. |
| JUNK | Very bad condition or incomplete game. |
On the ten possible grades, nine imply that the game is complete. When it was bought as new in a shop, what included a Neo Geo AES game?
- Box
- Insert
- Game Cartridge
- Manual
- Baggy (for the manual)
- 'Neo-Geo' Sticker
The absence of baggy and sticker doesn't make your game incomplete. These two components are of lesser importance, but some collectors can be more or less sensitive to it. In order to clarify the subject a little, here are some examples with pictures and corresponding descriptions, with the grade of the game:
Example N°1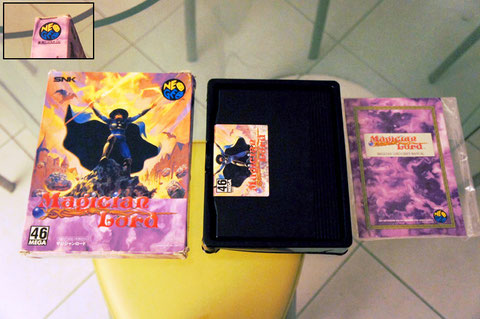 Here is an USED Carton Box Magician Lord. First of all, the game is complete. Box, plastic tray, cartridge, manual, original baggy. However, as it often happens unfortunately with carton-boxed games, the box is quite damaged, especially on the edge. Crushes on the edge, including some deformation, and even a small tear on the bottom (right side of the game). In addition, it can't be seen on the picture, but the flap of the box is torn. The inner black plastic is cracked and distorted on the bottom. The game cartridge has traces of insertions which is a minor thing here, but istill adds to other observations. The manual is in fairly good condition. If we had to rate each part of the game, this would look like this:
Box : Poor
Plastic: Good
Cartridge: Excellent
Manual: Near mint
As the condition of the box is still very bad, it is unthinkable to grade the game beyond USED.
Example N°2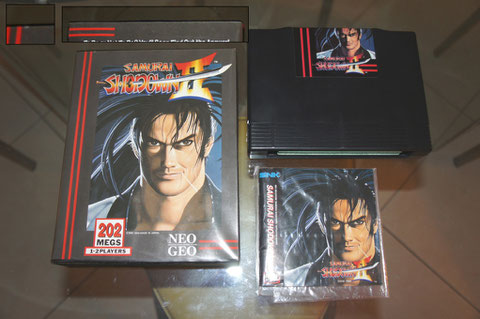 Second example, showing here a better condition, an EXCELLENT Samurai Shodown II. Once again, the game is complete. If the original baggy is present, however there is no Neo Geo sticker. The insert is in very good condition but shows some slight whitening on top of the insert. The box is immaculate and the inner plastic is not split, the cartridge has a few spots on the front and very fine traces of insertion. The manual has some wear, including a small crease on the back cover.
Insert: Near mint
Box: Mint
Cartridge: Very Good
Manual: Very Good
Mixed, since box and insert are a cut above the cartridge and instructions, which are however in a more than acceptable condition (Very Good). Overall, the game rates EXCELLENT grade.
Example N°3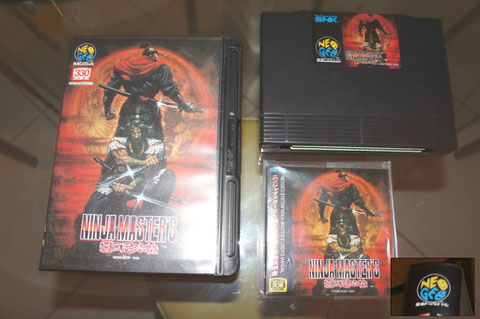 Last example, a MINT Ninja Masters. This title is particularly difficult to find in this condition, as many copies have sunfade on the edge or front cover. As we can see in the windows on the lower-right corner, this is not the case with this one, otherwise we couldn't possibly rate it as "MINT". No sticker for this 'hard box' version, takes the game is complete with insert, box, cartridge, manual and baggy. No defect, perfect insert, like new box, no marks on the cartridge except tiny, barely visible traces of insertion. Notice is mint.
Insert: Mint.
Box: Like New.
Cartridge: Mint.
Manual: Mint.
Very homogeneous in every part, Ninja Masters deserves its MINT grade .
Conclusion
You understand it, all signs of wear are not as important as each other. For example, insertion marks on a cartridge or a bend on the manual are less "serious" than a tear on an insert or a sunfade. And whether the assessments necessarly vary according to people, this classification system allows to navigate. Indeed, it is rare that a serious collector considers a game as MINT and another rates the same game as POOR ... At least he might not see clearly, or shows bad faith: if anyone learns to use it properly, this "Condition Scale" is in itself a real language among collectors.