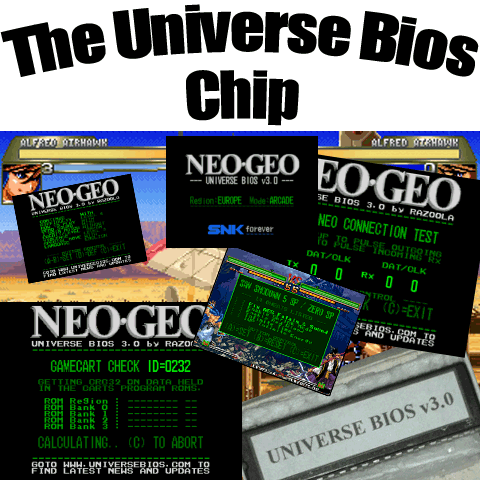 We had to wait 2007 for Razoola (a great underground programmer) to invent the Universe Bios. This chip, integrating new functions within the Neo Geo, have to replace the original bios, preferably on a "Socket". This one is soldered to the motherboard, allowing you to remove the chip and replace the genuine part if necessary. Once installed, you can access all a bunch of possibilities, that a chip rarely offered in the past!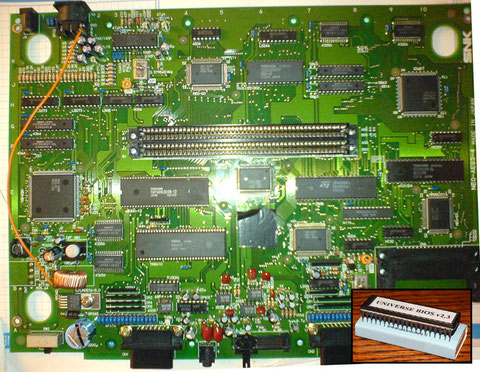 Quick Preview
Neo Geo presentation screen is now preceded by an Universe Bios title screen, where you can access the first selection menu by pressing A+B+C simultaneously. Once there, you will be able to do lots of things, and three options are particularly useful: Choose the region and gaming mode, through REGION SETUP. You want to play in Console mode with the basic credits? No problem. You prefer Arcade and putting credits yourself with select? That's fine. Next, you choose your region: Jap, Us, Euro. It's something quite interesting since the games with some text will be much more convenient in English (Stakes Winner, Magical Drop III, Baseball Stars, Blue's Journey, etc.) for understanding the history of most games. In addition, switching the game in Japanese allows you to see the blood and gore versions without code. This is where I come to the second menu, the BIOS GENERAL SETTING: In this one, you can set lots of interesting things! The number of lives and credits, very useful, for example, to provide a challenge and a real life in some games (Ghost Pilots, Ninja Combat, Cyber ​​Lip to name a few) but also try hard challenges  if you feel to do it! Further down the menu, you can set the timer, the difficulty, the credits and level display, violence, and language. You understood it, with this menu you can already set your game in English with maximum violence. Goodbye Japanese versions... This menu also lets you play with some other functions, such as playing two simultaneously for Viewpoint for example. The third "interesting" menu is the Jukebox: all the musics of your favorite games at will! Other useful menu on the startup screen, if you press A+B+C+D, you go, as before, to the memory card menu. The same manipulation performed on the second controller gives you access to the Controller Test, which allows you to test controllers (surprising, uh?).
In-Game Menu
Once the game started, you might access the IN-GAME MENU by pressing Start and Select simultaneously. This menu offers a bunch of classic cheats (infinite lives, invincibility, infinite time...) and other useful codes, that might differ depending of the game. For example, the furies of Samurai Spirits Zero Special (Unfixed only) can be unlocked by checking the corresponding line, but you also can access all hidden characters of most games (The King of Fighters 94, 95, 96, 97 , Samurai Spirits 1, 2, 3, 4, 0, Spe, Fatal Fury Special, Real Bout etc) as well as simplified furies, blood, no-hit stop for fighting games, and many more. By setting infinite time and infinite life for Player 2, you create a training mode in any fighting game! This provides even more life and huge fun to play! The second menu, the DEBUG DIP SETTINGS, can activate the Dipswitches. You can look for a list of of useful Dipswitches on NeoGeofans or Neo-Geo.com, but also in our tips section. These dips will allow you for example to activate stage select in a lot of fighting games (Real Bout, some Samurai Shodown, etc.) or play with some bosses that were not accessible, or even directly see the ends of some games with your favorite characters! Still a very nice menu ...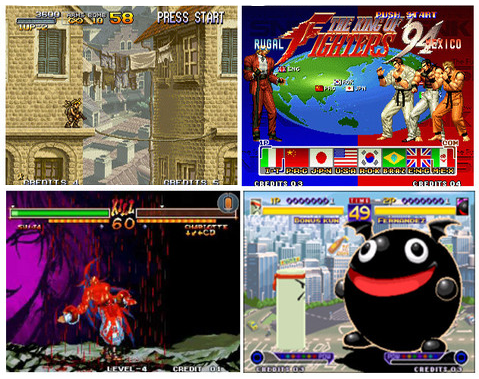 Where to buy
On the site of its designer, Razoola. You will find some more explanations for its content. Universe Bios is sold for 25 euros, and believe me, taking in account its potential, it's a quite fair price. It comes with a manual, which also gives explanations for the assembly. I highly recommand to have the installation done by a professional on a socket, possibly equipped with a double-sided welder. For the simple reason that UB is updated from time to time, and that Razoola offers you the upgrade. This will allow you to remove it manually if you need !
UPDATE: Released at the end of the year 2012, the Universe Bios in its 3.1 version allows now to save permanently the high-scores on 99% of Neo Geo games, providing you have a memory card connected: You now have the pleasure of seeing your own scores on the tables, even months after you haven't played your games! The update also includes a lot of new codes and bug fixes, the disable of splash screen and USB connectivity 'PC 2 NEO'.