THE METAL SLUG SAGA
PAGE 2
The Weapons
Here's a glimpse of the weapons available in the games, (list is not exhaustive) and there are many! each exist in a "Super" version, recognizable to the oversized logo (see Laser). In addition, if you a eat too much and become fat during a stage, you'll move slower, but your weapons will be way more powerful!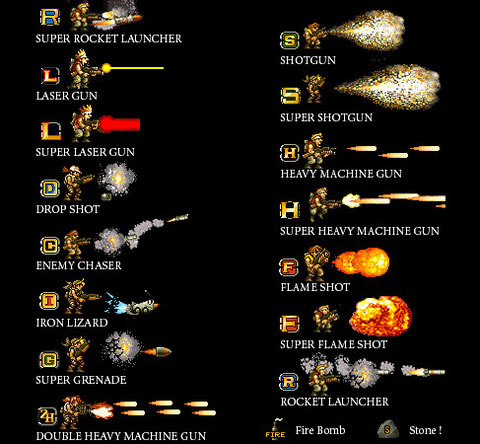 The Vehicles
If the first Metal Slug, was only proposing to play with the ever-present tank - the "Metal Slug" - the least we can say is that the garage has improved with considerably more vehicles... Planes, camels, submarines... In the following pictures, let's get an overview of existing vehicles in the five episodes:


The Episodes
In the first Slug', two characters are playable: Marco and Tarma, depending on you're P1 or P2. They will face the General Morden's army (the man is a caricature of Saddam Hussein). Your mission, gentlemen, if you choose to accept it, is to repel the army of General Morden while freeing the hostages. If ever you or your friend take a bullet, a bomb or a knife, well you'll have to repeat the process until all the four credits for the Neo Geo (AES and CD) are gone or manage to clear all the six missions. Take care, however, if you decide to play on the arcade MVS, know that the house will not refund your paid credits! For starting your mission, you'll be equipped with a Beretta pistol and a knife. If it ever happens to you - by chance - to find other weapons, take them. According to our intelligence, the enemy had hidden some Heavy Machine Guns, Rocket Launchers , a Shotguns, and probablty a Flame Shot (flamethrower) everywhere through the stages... In addition, if you ever find a "Metal Slug", do not hesitate to get in: with it, you'll have the power to blast everything! Once inside, its shield will protect you from enemy attacks for some time. try to keep those weapon with you if possible until you come to the Boss, and try to kill him quickly without losing a life, in order to receive massive bonus points. Also note that some backgrounds through the stages are destructible, such as houses: so don't hesitate to blow up everything in order to earn more points! Beware the guy called Allen: this man might be one of your most dangerous enemies. He's equipped with a heavy machine gun, and he can throw grenades. Do not approach him too close, as he could kill you with his belt of machine gun ammunitions.
Here's what awaits you in this first Metal Slug: 


It's up to you to discover the next three stages... in these ones, the difficulty raises a bit, but don't worry: the first Metal Slug game remains the easiest episode of the series.