NEO GEO'S TOP BOSSES
PAGE 4
Geese Howard is arguably the most classy badass of the Neo Geo, and simply one of the most classy of the videogame world! With his bunch of bodyguards, his sumptuous tower in Southtown, his luxury cars with chauffeur, and taylor-made suits particularly stylish, the businessman is a major figure in Fatal Fury. Add to that he's one of the best fighters in the world, ready to do anything to reach his ends, and you can finally imagine the aura of this character!
Rugal is the emblematic Boss of The King of Fighters saga. Present in four of the ten episodes released on Neo Geo, this blond giant is a megalomaniac obsessed with power and fighting. Remarkable for its breadth and its love of violence, he follows closely Geese Howard in this ranking.
3. Musashi Akatsuki (The Last Blade)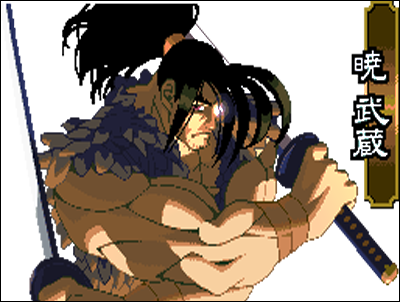 Musashi is a Japanese mythological figure, as well as some other heroes like Son Gokku or Hattori Hanzo. Remembered in history as the most powerful samurai who ever lived, he appears in the first Last Blade game. Cold, powerful and charismatic warrior , you can see and learn about him during some cutscenes in the game... before the face-to-face!
There was a great competition running for this ranking, with some iconic characters on the system like Goenitz, Amakusa, Mizuki, Takuma, or even Zankuro of Samurai Shodown.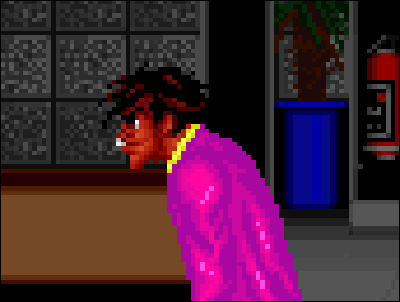 With LOSJ, we could expect some excessively ridiculous Bosses for this very special Top-3. Now just try to imagine a clown wearing a fuschia suit, a cuckold-yellow shirt and green shoes, with droopy arms, dull eyes, and a constipated gait... Not bad, but if I tell you that he attacks you with his ass, and spends his time jumping around like a young goat, we reach the climax of preposterous for a Boss.... as for anyone else, anyway.
In Viccom's masterpiece, it's already impossible to find a character or even a background that is not ridiculous. So for the Boss, what do you think? "Karate" Kenji is a kind of mustache guy wearing an Aikido robe with suspenders (I thought he was doing Karate?), a stiff gait (a broom in his ass, perhaps) using a pre-fecal stance and funny attacks. In addition, he sends you a cute invitations before you fight him, how nice Karate Kenji. What's better than watching a playthrough with him in with this amazing game?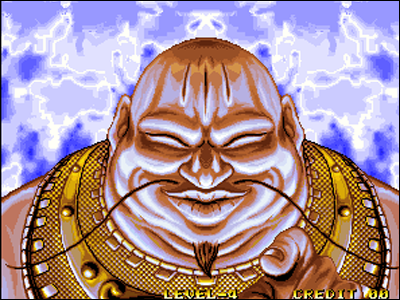 How could Karnov be absent from this ranking? Of course, our Russian and his belly full of vodka reaches the Top-3 without too much difficulty. With near absolute zero charisma, a totally overplayed voice and a dramatic physique, Data East's character takes a well-deserved third place.
The first places in the ranking of the grotesque features two legendary games, Legend of Success Joe and Fight Fever, totally out of reach. Operation Ragnagard defends itself well with some fantastic Bosses, but... here we have three heavyweights with who it is difficult to compete!