SHOOT THEM UP THROUGH AGES
PAGE 2
THE PIONEERS - CONTINUATION
During the 1980-1981 period, there was an explosion. Over two years, no less than sixty Shoot them Up emerge in the arcades and also on home consoles. All known publishers of the videogame industry try their own shooting game, with more or less originality. After the global success of Space Invaders two years before, the shmup is more than ever a fashionable style, and we see released on the market everything and anything. Among the plethora of good and bad titles, some will be remembered, like Defender, directed by Williams, a company mainly specialized in the flippers. First Shoot them Up using a horizontal scrolling, the app offers the player to move as he wants in each level. Midway's Galaga is one of the first to include a Power Up system and the ability to launch multiple shots at once. Missile Command (Atari) looks like Space Invaders, as the game is about to destroy the enemy fleets with laser guns from the ground.
Atari released two other excellent titles in 1981. Tempest is the first Tube Shooter: course there is neither vertical nor horizontal, and not really on a fixed screen. The player's ship passes through a tube in '3 d ' representing levels. About Centipede, it incorporates the basics of Space Invaders with more moves for the player. As for the young SNK company, it will hit hard this year with Vanguard. This is a multi-directional scrolling Shoot them Up that literally outperforms the competition. Colorful graphics, fast scrollings, catchy music...     and even packs some vocals! The fun factor is unmatched back then, and the game have many innovations such as an energy bar, the ability to shoot in several directions, invincibility bonus, various stages... at the time, this one was a real slap.
Centipede et Tempest (top screens).
Here above, with Vanguard, SNK innovates and outperforms its rivals.
Konami's  Scramble is meanwhile the first 'modern' horizontal shmup. Players can now shoot the enemies in the air and those on the ground, and the scrolling is continuous. The hitbox is quite large, making the game very difficult ...
A Giant Step for the Shoot them Up(1982-1987)
In the wake of Vanguard will appear some great games. Ideas have matured, the hardwares have improved and the Shoot them Up will undergo its first major innovations and new legendary titles. Sega finally breaks its cage in 1982 and performs Zaxxon, the first isometric 3d shooter. Beautiful, rich, colorful, offering an unique view and controls radically different from what we've seen before. With this successful game, the editor in full glory develops a few months later  Super Zaxxon, using the same basics.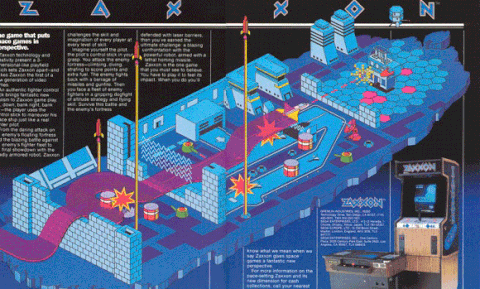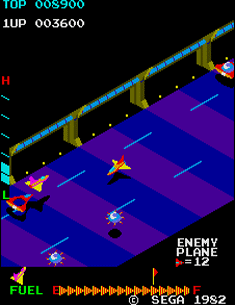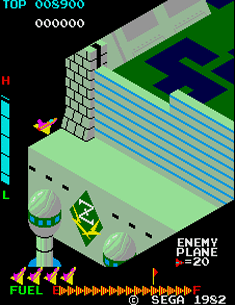 Namco, always at the forefront, releases the first true vertical scrolling Shoot them Up, and it is particularly successful: I named Xevious. We flew over complex backgrounds, as in Zaxoon we can destroy the enemies on the ground and facilities as well as enemy aircrafts. The game uses a vertically oriented screen  (vertical/vertical) to enlarge the view of the player. True standard, Xevious had some adaptations and sequels, and will have its basics used later in a lot of titles. Meanwhile, Data East tries to win market parts with Zoar and Nichibutsu with Radical Radical ... both with much less success than Namco.
A host of quite mediocre softs were produced in 1983 and 1984. Titles like Broderbund's Choplifter or U.S. Gold's Raid over Moscow met some success, and were adapted later on home systems. Among the most memorable titles of these two years, there's  undoubtedly the first Technosoft's Thunder Force, and SNK's Vanguard II, two free multi-directional scrolling games. But it's Capcom who wins the award of the two best Shoot them Up of the year. 1942 features planes of the WWII and a vertical scrolling (à la Xevious). This is the first of this kind, tying the game with history over a high-end gameplay. Speaking of Xevious, Vulgus is a such remarkable clone: it's a real improvement since Namco's soft, both in terms of dynamism and quality of realization.
1985. The quality of shooting games continue to rise again and again... Capcom is still at the forefront with Section Z, a horizontal featuring a flying robot: it changes a little from our eternal vessels. Nichibutsu's Terra Cresta is nothing elsethan the result of the way Moon Cresta released 5 years ago. This is a Xevious-like again, like Exed Exes Capcom-decidedly omnipresent! - And Alpha Mission SNK. The small Toaplan firm made some noise for the first time with Tiger Heli, a 1942-like where this time you control a helicopter! The game is a huge success and get also released on the NES.
Twin Bee by Konami is also a vertical shooter, but its gameplay and atmosphere are much more original. You control a funny vessel capable of collecting power-ups and various bonuses, over incredible and zany levels in a festive and colorful world. The Tube/Rail Shooter on its side, resurrects as a new Sega game makes sense: Space Harrier. The 3d effect is stunning and the game is a hit in arcades, despite hitboxes still quite rough and a too high difficulty.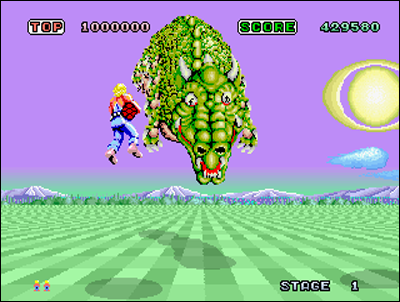 The following year (1986), Sega releases Fantasy Zone, most likely inspired by Twin Bee but this time, taking back the principle of free horizontal moves like in Defender. But this is Konami who will make everyone agree with two legendary games that are launched this year: Gradius and Salamander emerge as the best Shoot them Up ever designed. Horizontal scrolling for Gradius and multi-directional (horizontal + vertical) for Salamander are used, while the two hits use the same engine and the same basics: Power ups, intense action, varied backgrounds, impressive Bosses, high difficulty... A real slap in the arcades. These will be adapted on consoles and computers thereafter, having an unprecedented commercial  and esteem success. Taito on its side did not sat idly since Space Invaders and answers with Darius using horizontal scrolling and Wide Screen: The game features a visual rather demonic since it plays on a triple screen!
From extremely basic games which main interest resided a lot in the High-Scores, we are granted with absolutely demonic creations. Xevious was the foundation of the vertical, Gradius the horizontal one, Zaxxon for the isometric 3d while Space Harrier became the Tube-style emblem. What will happen in 1987? Atari and the others will they be a match for the greatTaito, Konami and Sega and their high-end gaming?