SHOOT THEM UP THROUGH AGES
PAGE 4
THE GOLDEN AGE OF SHOOT THEM UP - CONTINUATION
1989. After the success of the flagship titles created by the biggest names in the arcade, these will go for sequels, with more or less success. This is the year of number two and three, see for yourself: R-Type II, Darius II, Gradius III in arcade versions, and Aleste 2 for the MSX-2... just that! All these suites are successful and benefit from technological developments regard to their predecessors, but offer nothing revolutionary. Irem still keeps one step ahead of its competitors with its R-Type, which remain the most advanced Shoot them Up at that time. Toaplan stays in the forefront of pursuers with a big title again this year, Zero Wing. This time it's a game using horizontal scrolling and mixing Gradius and R-Type successfully, to be then ported on the Genesis and PC Engine. Toaplan slowly builds itself a name among the big Shoot them Up manufacturers.
On the side of the news, Namco tries to Rail Shooter genre with Burning Force which is also released on the Genesis, trying to seduce Space Harrier's fans. More academic and very successful, the excellent Gunhed (which is not without remind Alpha Mission) by Hudson Soft on PC Engine, is one more perfect stone to the building of the little NEC system. Irem never ceases to impress, this time with Dragon Breed, a horizontal scrolling in which we fly on a dragon. The game borrows the principle of fire charge from R-Type. But the highlight of the editor this year is the fabulous X-Multiply. It's a beautiful declination of R-Type but this time, providing a new atmosphere and new gameplay mechanics. The game mixes super original weapons and a glaucous Alien universe. Technically, the game is clearly one of the most beautiful titles of its time, in addition to providing a great gameplay incorporating module idea with some nuances ... a title that has little to envy to its big brother, including the difficulty!
SNK and Capcom are in the race, but still can't compete with the genius of Irem, clearly ahead of its time. Prehistoric Isle in 1930 offers a sympathetic realization in an original universe: on an island of the Bermuda Triangle, dinosaurs were spotted by a scientific expedition. Your mission is here to eliminate all this shit with your biplane! Capcom's U.N Squadron in a more modern style, puts you in control of modern fighters to destroy a mercenary army. Super NES version (released two years later) even propose an 'RPG' feature with money and the abilty to improve vessels and buy weapons: cool!
Still with Capcom but this time in 1990, 1941 Counter Attack is the fourth installment in the 194x saga of publisher. On the other hand, Carrier Airwing is pretty much inspired with UN Squadron but uses even better the CPS. Nemesis arrives on consoles and computers. The game is somehow part of the Gradius series and takes back a lot of elements of the MSX versions for its various ports. Dragon Saber is the sequel of Dragon Spirit and is almost as difficult as its grandbrother. Sega is in great shape this year with the R-360 G-LOC Air Battle arcade version: it is a cabinet mounted on hydraulic jacks transcribing the sensations felt in a jet fighter, and the game takes back Afterburner II engine... Not for the sensitives!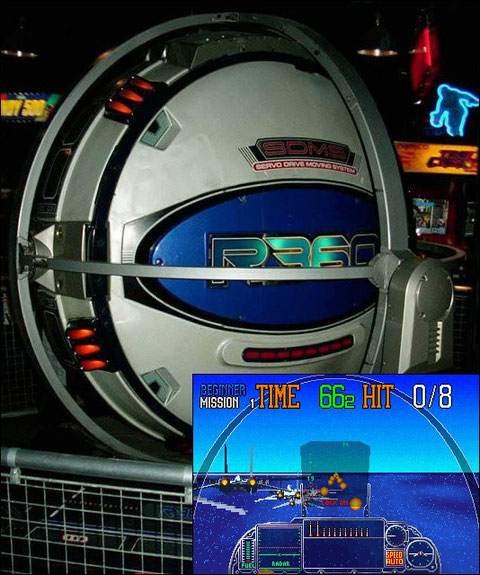 The publisher also made Arrow Flash on the Genesis, a horizontal shooter where you control a meca-spaceship (à la Transformers). The 16-bit Sega really get spoiled with Musha Aleste by Compile released almost simultaneously, and this game is a damn honor to the system. It's an absolutely fantastic vertical shooting game -in the tradition of his ancestors on MSX- superbly realized and addictive. The game will be remembered as one of the best Shoot them Up ever on the machine. Meanwhile, Gaiares by Telenet is a serious contender for Technosoft's Thunder Force III. These futuristic side-scrolling games are beautifully made, challenging and addictive at will... The Genesis is THE most attractive machine for Shoot them Up lovers in 1990.
In the arcades and on the X-68000 computer, we are entitled to Parodius Da!. Konami sign here after his first game 'parody' on MSX (Parodius). In 1992, the game was released on Super Famicom and remains one of the best Shoot them Up on the system. And the little cute PC Engine continues its merry way with three atomic bombs: Super Star Soldier, Violent Soldier and Darius Alpha. Those are successful console releases of Taito, who released an arcade title particularly daring and original: Metal Black. It dares a totally crazy graphical style in horizontal scrolling, combined with Tube Shooter stages, where you have a thermo-locker to destroy enemies! The Genesis now has a serious competitor in this niche with the PC Engine/Coregrafx. In arcades, some heavy stuff this year again with Seibu Kaihatsu who releases Raiden. Slightly futuristic tate vertical scrolling shooter (like 1942), it plays two simultaneously, offers evolution for the weapons and two types of weapons. A great title, which will be adapted on many substrates and have several suites, as we shall see.
The Neo Geo welcomes its first shooting games in 1991. SNK's overpowered 16-bit welcomes Alpha Mission II (developed by Alpha Denshi) and Ghost Pilots, both vertical scrolling. The competition is organized with Aldynes for the SuperGrafx, while the Super Famicom receives the adaptation of Irem's hit R-Type renamed Super R-Type, which boosts the sales of the console. Earth Defense Force by Jaleco arrives in arcade and Super Earth Defense Force on Nintendo's 16-bit also. Handheld systems have their moment of glory as after the Game Boy, it's the Game Gear which is receiving its first shumps with GG Aleste and G-LOC. On the Genesis, the very good Gynoug made by NCS encounters some success, and the PC Engine answers with the great Final Soldier (after Super Star Soldier) while the happy owners of Super CD-Rom can play Spriggan, a high quality vertical also by Compile.
1992 is not a year halftone. 16-bit systems are now installed all over the world, arcade hardwares are more and more powerful and the competition between editors is fierce, it's about who will make the most beautiful Shoot them Up ever, as you'll see next page...