SHOOT THEM UP THROUGH AGES
PAGE 5
THE GOLDEN AGE OF SHOOT THEM UP - CONTINUATION
1992. Electronic Arts opts for originality (yes, but it was a long time ago) with an original game using isometric 3d and free movements. You control a helicopter and events take place in the Iraqi desert... it's Desert Strike, of course! The soft comes out only on consoles and computers. The publisher known a great success with it, and the game even won numerous awards. Several sequel veeeeryyyy original will emerge later (Nuclear Strike, Soviet Strike, Jungle Strike, etc...) invariably using the first game engine. Wacky style, Toilet Kids and Cho Aniki on PC Engine decline pee-poo and queers with prominent muscles brilliantly... Still on the NEC console , Gate of Thunder and Rayxanber III are a guest appearance, while the disappointing Image Fight II arrives: the suites rarely exceed the original, for sure... But it is also true that Toaplan this year makes the proverbs lying: Truxton 2 comes in arcades and quickly becomes the best shoot ever conceived by the publisher. The firm have undeniably talented engineers, and innovates regularly in Shoot them Up. To be continued ...
Truxton 2: Toaplan, a case to follow...
The Sega 16-bit receives this year yet beautiful horizontal Shoot them Up titles. Super Fantasy Zone and the highly anticipated Thunderforce IV are adding to the already great library of the Genesis. The Super NES is not left behind with Super Aleste, a 16-bit version of the very successful Compile saga, and Axelay. This Konami's masterpiece uses mode 7 of the machine brilliantly, alternating vertical and horizontal scrollings with beautiful graphics and musics. Those who programmed this great soft are no other than the future members of Treasure: a firm which we'll talk about later in this article, as it will considerably mark the world of shmup. But for now, it's on Neo Geo we can find this year's most impressive titles: there's the little Andro Dunos and its addictive gameplay, the R-Typesque Last Resort with its superb graphics, and especially the great Viewpoint made by Sammy. The latter is known to be an impressive tribute to Sega's Zaxxon, with the capabilities of the Neo Geo and therefore a fabulous realization.
Arcade side, the vertical type is again in the spotlight: Final Star Force is developed by Tecmo, Aero Fighters by Video System and Grid Seeker by Taito. Three high quality games that set the level pretty high, enjoying excellent 68k based hardwares. Horizontal side, it's the release of the third installment of a saga dear to Irem with R-Type Leo. The editor is slowing a bit with that title and we feel that what is need now is new blood, new perspectives, as some companies have already perfectly understood. On the aging Amiga computers, a set of Team 17 (Worms) will mark the history of the media: it's Project-X. Speedy scrolling, power up system à la Gradius, alien and futuristic design, catchy music and beautiful graphics... Literally, it's what we've seen best on the machine. But obviously, light years away from what players can see best in arcades at the same time!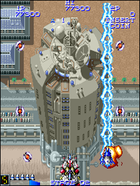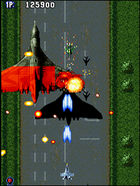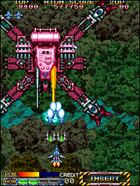 Some heavy unidentified flying objects are landing in 1993. Less quality titles hatch this year, but an innovation, a game will mark the advent of a standard in the small world of Shoot them Up... This is Toaplan which innovates once more with Batsugun. It's a vertical scrolling game using tate screen, pure strain, but having you face a stream of enemy fire and virile game speed. The hitbox of the player's ship is intentionally restricted to move between hundreds of enemy bullets, and give an intensity never reached to the action... but also leave chances to the skilled player to escape. The weapons of the vessel are overpowered and often cover a good part of the screen. Thus was born the Manic Shooter... and soon after disappears the Toaplan company, despite its genius creations. Kenichi Takano (a former firm employee) founded shortly after the Cave company. He hires old Toaplan teams members and start working on new Manic Shooter projects since 1994. Other members of Toaplan have probably not left the firm with empty hands and create Eighting/Raizing: the very young editor releases the same year the great Sorcer Striker, a game that can be classified as a Manic too.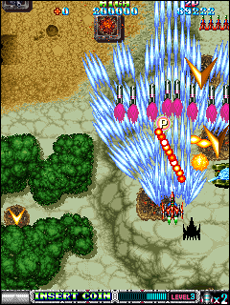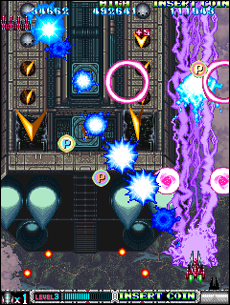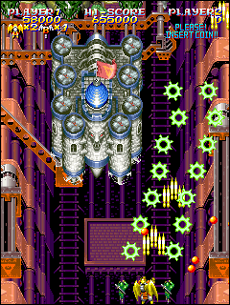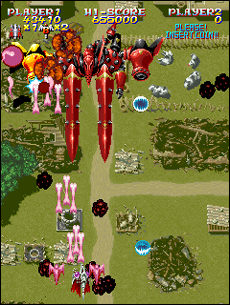 Irem, on its side, develops R-Type III exclusively for the Super NES. Nintendo console sold several million copies worldwide, so it's a great platform for Irem that through the success of its other epsiodes of R-Type, offers a sequel to Super R-Type which had sold pretty well (despite its questionable animation). Mode 7, new weapons, better graphics: a great member of the saga, which delights aficionados. The innovation of the editor this year remains the sublime In the Hunt, putting players in command of submarines! An original game with a very original style, which design is not without a remind about a certain Metal Slug!
The Super Nintendo was provided a quite innovative title during that year: Starwing is the first real 3D Shoot them Up on the console using the Super FX Chip included in the game cartridge.  Graphics are rudimentary, but freedom of moves and gameplay innovative and taking. That is the main difference with Microcosm that comes on all CD media at the same time (Mega CD, Amiga CD32, 3DO, PC!). This one is a Tube Shooter which 3d digitized graphics are precalculated. The scenario sends you on a miniaturized ship loaded to kill a virus injected into a human body (this reminds about Asimov's Fantastic Voyage). Lords of Thunder on the PC Engine (Super CD-Rom) but also on Mega CD, is a result of the great success met by Gate of Thunder. Technosoft makes a little infidelity to the Genesis, developing Hyper Duel for the arcades: the game is in line with Thunderforce and the power of professional stuff have the powder speak. Always arcade, Capcom plays with ecologic sentimentality with Eco Fighters, which offers to embody two heroes of the future ambarking in their ships to save nature. Joking aside, this horizontal repeating the frame of Carrier Airwing is very well done and deserves to be known! Taito's Rayforce succeeds to Grid Seeker and it is a high-end game, fast-paced. The young company Raizing still talk about it with the Sorcer Striker's sequel, I named Kingdom Grand Prix, which offers eight ships this time still using vertical/tate form with a hint of Manic... Still on a vertical way but more relaxed, this time on console, the excellent Mega CD's Silpheed gives the system its (few) letters of nobility. Treasure is behind this successful Tube Shooter, which clearly overshadows Psygnosis' Microcosm.
You can see with these three videos above, the editors' 3d Shoot them Up tries, back in 1993. We remain in a very different register than flight simulators such as EF2000 or Flight Simulator on PC, but Starfox for example allows some freedom of move in a real 3d universe, by contrast with the Tube Shooters on other systems. But this' freedom of move, does it bring something to the genre? An open question, which only time will answer... in the lines that follow!

Such a minor decline (1994-2003)
In 1994, world production of Shoot them Up declines considerably and will never ever rise to the level it reached before. Sign of the times, the Irem company is really in bad shape and doesn't release any games this year: bankruptcy is not far. Anyway, nothing really dramatic concerning the Shoot them Up with a great S, as beautiful new productions will still see the day.  But it's clear that this is the end of the golden age of the genre, both in the arcades and home systems. Many 3d games will make their appearance - with varying degrees of brilliance and impact- while purists continue to watch for real 2D gameplay roots games. But they can rest assured, as very good surprises await them...
The Neo Geo, that had almost forgotten what a Shoot them Up was, sees herself gratified with Aero Fighters 2 by Video System. A nice Manic Shooter, a nice little shy, while Taito ends the best Darius game of all time: Darius Gaiden. Programmed on Taito F3, the game is beautiful, features a near-perfect animation and even integrates 3d in its backgrounds and enemies. Another noticeable game during this quite poor year is Psikyo's Gunbird: a Manic Shooter more!