SHOOT THEM UP THROUGH AGES
PAGE 6
SUCH A MINOR DECLINE - CONTINUATION
1995: 32-bit systems have burst into our living rooms with their big polygons and mapped 3D. Playstation and Saturn made their way on the gaming market, relegating definitely the 16-bits to the rank of antiques. In arcades, games like Virtua Fighter 3D or Daytona USA monopolize players and have almost every casual player abandoning Beat them Up and other Shoot them Up. Only two-dimensional VS Fighting still have some glory in the dark rooms, with Street Fighter Zero and King of Fighters series, to name a few. A core group of players, however, keeps playing 'traditional' arcade games and the big firms don't totally leave the ship: Capcom's 19xx War against destiny keeps the 1940 series alive, Video System puts an end to its series with Aero Fighters 3 and Psikyo releases Strikers 1945: World War II style is being honored at the Manic sauce now! Horizontal gameplay's side, the sublime Pulstar is introduced on Neo Geo: a tribute to Irem 's R-Type and by the Aicom team.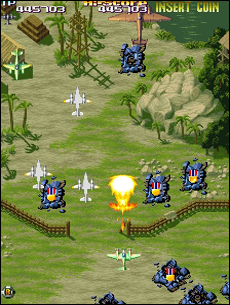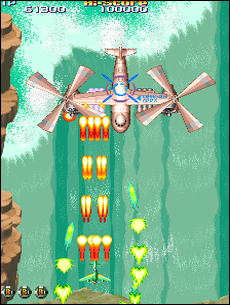 Manic style is growing strong again this year, with two titles visually particularly impressive, coming out straight from Cave: This is a new developer whose teams are none other than the former Toaplan's ones, these guys who invented this very genre one year ago with Batsugun. DonPachi raises the bar a little higher with its flood of sprites and superb graphics. It's clearly a more 'straight forward' gameplay than our old shmups, but this is THE genre os the moment, and this excess of gunfire and explosions exalts many players. Taito tries its interpretation too, with Gekirindan and its time travel based scenario, which follows Time Pilot. The Manic conquered a new audience and give a second life to the Shoot them Up genre. On the Sega Saturn, the 3D is current with Panzer Dragoon - while bringing nothing revolutionary in terms of gameplay, while Vertical Force for the Virtual Boy tries on a new approach, with a 3D vertical scrolling game using two game plans: OVER-TUR-NING, and thanks for this Hudson Soft!
The Neo Geo CD receives a beautiful exclusive title in 1996: Ironclad. This Saurus game offering quite successful computer graphics takes a few good ideas from other great Shoot them Up: the choice from three different units like in 19XX, the choice of the path after each level like in Darius Gaiden, the R-Type module (of course), but also fire charge, energy bar, and some original features as the independent module weapons and a few others. The Neo Geo receives Twinkle Star Sprites which inaugurates a genre on its own: the Competitive Shooting! Two vertical windows host the players gaming screens on each side, facing the enemies coming from the top of the screen. You have to eliminate the maximum by generating chain destructions (or combos) to send your opponent more enemies! Fun and original, this is a very catchy title that we owe to ADK (Alpha Denshi's new name).
The Raizing firm (now three years old) enters into competition with Cave by releasing Battle Garegga. The game is high-quality and brilliantly plays in the same register as DonPachi . The tate format is the big trend of the time in the arcades: Banpresto's Air Gallet, Visco's  Storm Blade as well as Raiden Fighters are added to the list of shmups this year. This latter will have two sequels (II, Jet). If the Manic Shooter takes a great part of the market, Old-School shooter is not totally dead: Salamander 2 by Konami reminds us that we can alternate vertical and horizontal scrollings a beautiful way, offering a gameplay similar to its famous ancestor with a remarkable realization. Icing on the cake from the editor: Sexy Parodius, the last episode of the saga.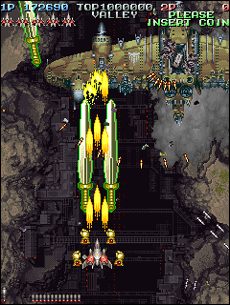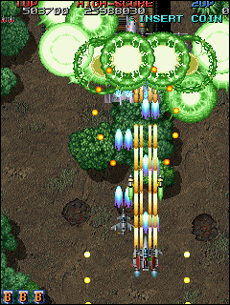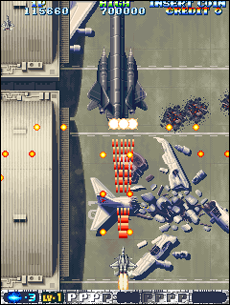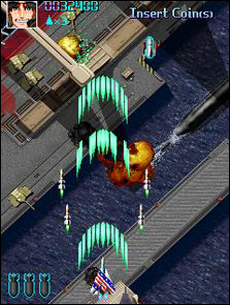 During this time (in Santa Fe), Taito tickle the 3d with talent that comes with Raystorm that is first released in the arcades, but also on Saturn and Playstation shortly after. The game is much like Silpheed, but has more advanced capabilities and provides a flawless 3d (for the time, of course). It's hard to believe that this is the sequel of Rayforce, published three years before, as games are not alike at all.
               RayStorm on Playstation: 3-D in a Shoot them Up
A crowd of 3D Shoot them Ups arrives, Psikyo tries its talents to the genre as well as Konami and some others (Zero Gunner, Solar Assault). but the real slap in the year 1997 - and probably the most profitable arcade game too - is undoubtedly DoDonPachi. Following Cave's DonPachi (published by Atlus), outperforms anything that has been done so far in its subgenre, and has simply become the modern Manic Shooter reference. More intense pace, improved game mechanics (three vessels, several special attacks, more combos points ) and high stress reflexes!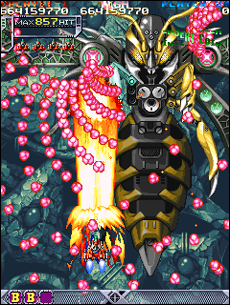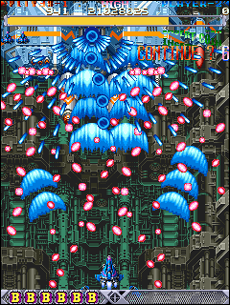 DoDonPachi, the Manic Shooter reference (Cave, 1997)
Among the publishers who have chosen to integrate the 3D while maintaining a 2d gameplay, Konami and Taito succeed with a certain style, respectively with Gradius Gaiden (PlayStation exclusive) and G-Darius released in arcades and 32 bits consoles. Two mythical episodes of the series that honors the prestige of their sagas. Technosoft abandons the Genesis (...) in favor of Sony Playstation and Sega Saturn, with Thunder Force V. Like the Konami and Taito titles, the editor integrates the 3D in the game while 'upgrading' sparingly the gameplay .
Despite its great age (eight years!), the Neo Geo is far from having said its last words. To the Cave, Psikyo and others vertical Manic Shooters, Yumekobo replica in 1998 with the first horizontal Manic Shooter: Blazing Star! At the time of aliased 3D, SNK's system answers with 346 Mb of almost perfect 2d background and enemy sprites, six selectable vessels, as well as a fabulous system for scoring and combos . The gameplay is radically different depending on the chosen device, offering an interesting variety of tactics... a true masterpiece of horizontal Shoot them Up. R-Type Delta by Irem, trying the 'all-in-3d' with 2d gameplay, comes on the Playstation and appears as a very successful episode of the saga ... despite questionable aesthetics nowadays.
The vertical Manic is more than ever  a success: Gunbird 2 of the prolific Psikyo, Cave's ESP Ra.De almost as violent as DDPachi, Taito's Ray Crisis closing its trilogy (Raystorm & Rayforce), but also and especially the magnificent Radiant Silvergun for the arcade and Sega Saturn. Mixing  cleverly manic and tactical, the game is the perfect combination of straight fun and sophisticated strategic choices. That's Treasure who marks the history of shmup with this title: on the 3d, it's clearly what we have seen best in the genre in 1998. The atmosphere of the game is demonic and gameplay mechanics are revolutionary. Six weapons are available, plus the powerful short-range Radiant Sword: it absorbs enemy fire by storing energy. When you stored enough, you get the Hyper Sword attack. Add to these innovations a great combo system and a unique atmosphere, and then you hold a jewel of gaming.
Radiant Silvergun - Treasure - 1998