SHOOT THEM UP THROUGH AGES
PAGE 7
1999: The Dreamcast and its amazing capabilities arrives on the videogame market, and this is the ultimate: thanks to this incredible 128-bit Sega console, you were granted the arcade at home (even if it has already been done before, it does not happen so often!). The system is hosting some heavyweights this very year with Capcom's Gigawing and the strange -but very good- Bangai-O from Treasure, mixing RPG and free multi-directional shooting game. And when Treasure makes some noise, its counterpart Cave is not far: Guwange is the editor's annual manic, and it packs some originality, by putting the player in control of human beings: but don't worry, they shoot as much bullets as the vessels of DoDonPachi!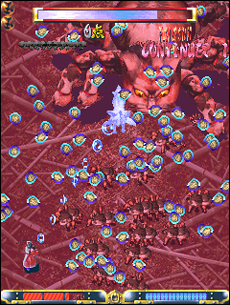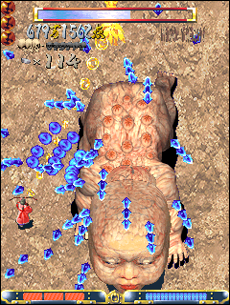 Psikyo, the third man, made ​​two new installment in his Strikers saga , these will be the last: Strikers 1945 II (running on the firm's hardware SH2 for arcade) with its tate  screen, and Strikers 1945 Plus on the Neo Geo, which is a false twin of this one, using a standard yoko. SNK's system also hosts this year Prehistoric Isle 2 made by Yumekobo. This is a nice sequel to Prehistoric Isle in 1930, released  by SNK in 1989.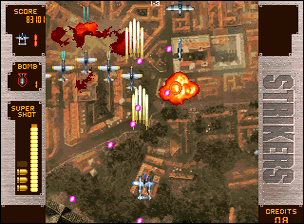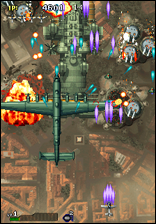 Side of 32-bit machines, we saw that Saturn and Playstation were very spoiled in this twentieth century ending, and these are almost at the end of their lives, with the new Sega 128-bit already on the market and Sony's Playstation 2 announced for the next year. Meanwhile, Omega Boost from Polyphony Digital (Gran Turismo) on the Playstation 1 re-explores the Rail Shooter genre with a very well managed 3d: we feel that the system is now fully exploited by programmers.
              Omega Boost - Polyphony Digital - 1999
1944 Loop Master is a new episode of Capcom's 1940 saga. This episode -very successful, the most beautiful of all- is launched on CPS-II in 2000. Amazing detail, the game retains its vertical scrolling but but now runs on a yoko screen (à la Ghost Pilots) rather than a tate screen as before. On the same model, the editor -in great shape- also releases in this beginning of millenium Gigawing 2 (2000 Naomi, 2001 Dreamcast) and Mars Matrix. Both games are part of the manic scene. The first can play four simultaneously - this tells a little about hardware's firepower - while the second runs on CPS-II but includes  beautiful 3D backgrounds and intuitive, taking gameplay.
Capcom is strong, but the game of the year, even if it is distributed by them, is being developed by Raizing: it's the vertical manic Dimahoo, programmed on CPS-II, like Mars Matrix and 1944. Psikyo releases Dragon Blaze while Visco back from the deads ends Vasara. Treasure puts the finishing touches on the first sequel of Silpheed - which hit the market seven years ago! - with Silpheed: The Lost Planet on PlayStation 2. Vertical yoko shooter featuring beautiful 3D capabilities with the brand new PS2, the game keeps a great old-school gameplay and sells pretty well on the system.
If we make a brief review on entering the twenty-first century, we find:
- Manic Shooter is a recent sub-genre in Shoot them Up that predominates on the market. After a shy hatching on the market in 1993, these games have made ​​their way and conquered the major part of gamers. Specialists of this kind of games release new titles every year, getting better and better with hardwares becoming more and more powerful. In 2000, more than half of the shmup titles released this year are Manic.
- The number of editors involved in creating Shoot 'em Up has considerably decreased. In the early nineties, there was Konami, Sega, Irem, SNK, Taito, Toaplan... and so on. Most of these companies have gone on to something else or make very rarely a title, if they ever don't have closed their dorrs yet. In 2000, major Shoot them Up designers are four: Cave, Treasure, Psikyo and Capcom. However, some firms less involved gratify us from time to time with a hit, and it's not denial...
The story continues - and the shmup world is still there... Between 2001 and 2003, few good titles are made, but the quality will satisfy everyone. This time we really feel, however, the advent of a serious decline, with only thirty shooters published on a period of three years, all media included. As a reminder, just back in 1990, twice as many games were released. This is best explained partly by the decline of arcade gaming, but also by the emergence of new genres more popular on 128-bits systems (FPS, sports, RPG...). Handheld consoles take over and woo customers over 25 years-old: The Nintendo Game Boy Advance and later the Sony PSP will give birth to many re-issues of classic Shoot 'em Up and compilations (Gradius, Nemesis, R -Type, 1940 ...)
Cave remains at the forefront of the Manic Shooter market with DoDonPachi II: Bee Storm in 2001 and DoDonPachi Dai Ou Jou in 2002. The mythical saga never ends to fulfill fans, the editor has understood it and takes care of its customers. Innovations are few, but it's still as good as ever and nobody complains. For innovations, we have to look at the Dreamcast: Rez from United Game Artists, re-explores the Rail Shooter genre in a completely psyche virtual world, combining music and action: an amazing - and hippy - experience  for all amateur of new sensations. In the arcades,Treasure's Ikaruga creates the event. Radiant Silvergun's sequel which is not really one (...?), this impressive masterpiece combines action and strategy with the use of a shield and an absorption of fire and energy system. It was released in 2001 for the arcades, 2002 and 2003 for Dreamcast and Gamecube: the game literally became a legend among hardcore gamers. Simply one of the best Shoot them Up of all time, period.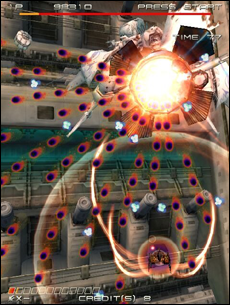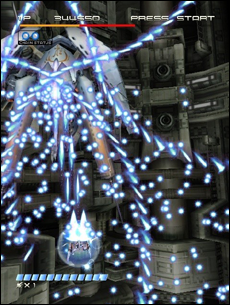 Rez (left video), Border Down (screens on the right).
2003 saw three major titles point the tip of their nose. The Naomi system and the Dreamcast welcome an exception title with Border Down. This Gradius inspired horizontal shooter developed by G.Rev, a team of programmers who worked on several Taito games in the past (G-Darius for example). ESP Galuda is neither more nor less than the annual Cave game, following ESP Ra.De released five years earlier. There's a new energy management system, a 'timer' with which player can slow enemy fire, and of course a fabulous realization. Meanwhile, R-Type Final was released for the PS2 (Irem is still there), excellent and faithful to the original gameplay, but using 3D graphics. A hundred different vessels are playable: wow!