SHOOT THEM UP THROUGH AGES
PAGE 8
Balance and Stats
In the early twenty-first century, Shoot them Up is still alive. The world of gaming has dramatically changed: once upon a time, arcade were the holy temple of gamers, the place of all debauchery, where young guys came to drool on the most beautiful games of the planet - and also play! - on the most spectacular new softs. Then the market for home consoles appeared and have quickly grown up, offering more and more faithful adaptations of these arcade games. With the massive influx of 3D in video games since 1995, Shoot them Up declined and left place to new genres. Below, a table showing STU creative statistics through time: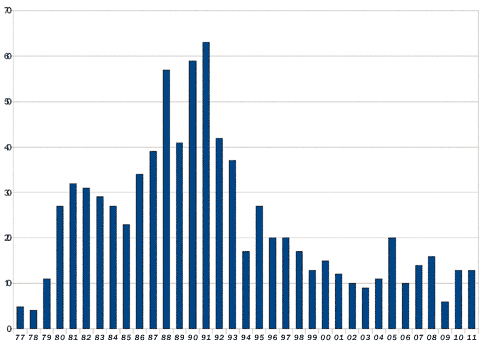 The world of Shoot them Up has declined, we can not deny it. But the genre has won enough players to survive until today, and still offers new titles or new episodes of famous sagas. Players love shooting games, the principles are accessible, the pleasure immediate. Its 'straightforward' intensity might appeal novice players first, then when it comes to more technical games, complex mechanisms from sophisticated games can addict the most seasonned gamers. The room for improvement is often significant, anticipation and reflexes are solicited as rarely in other games. If 2d Beat them Up is indeed dead despite some spasms, Shoot them Up is still alive. In an underground world for sure, but it lives.
Major dates of the Shoot them Up history:
1962 - Spacewar, the pioneer
1978 - Space Invaders first hit
1980 - Defender, first shoot horizontal
1982 - Tempest, the first rail / tube & Zaxxon, first shoot 3d isometric
1987 - R-Type, the revolution
1988-1993 - The golden age of Shoot them Up
The Shoot them Up nowadays(2004-...)
The titles that are able to enrich editors are clearly no more our good old shooters, but these do not shun the 'core gamers' who keep on delighting with classic Shoot them Up. Konami released in 2004 a final episode in one of its legendary sagas, with Darius V. It was not until the following year that we saw more great titles, like ESP Galuda 2, Gigawing Generations, Under Defeat, Raiden III ... Four more superb manic. Indeed, this is the swan song, for the following years will be quite poor with news, but hey, we still have plenty to play with.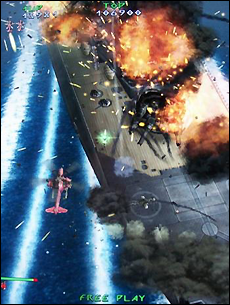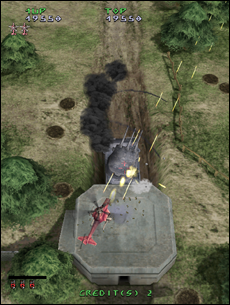 2006 and the following years will see some good news - most often in the manic subgenre - but also a few great revivals of the most famous eighties'/nineties' shmups. Sega tugs the heartstrings in the arcades by releasing After Burner Climax, almost twenty years after the first Afterburner! The 3D is amazing, the gameplay still fun, and the nostalgia necessarily rises when you see this technical improvement. Consoles side, the Neo Geo reborns from its ashes with some German geeks (the NG.Dev Team) that releases a game on the 16 bits: Last Hope. It's a good RType-like for a homebrew game, certainly far from Pulstar or Last Resort, but the evidence that retro-gaming is alive. SNK's system is not dead...
From 2007 to the present day (2011), the small world of Shoot 'em Up continues its merry way, Cave keeps on releasing DoDonPachi versions, but also some fresh creations like Death Smiles, and there's also Nichibutsu's Raiden IV, for example... Meanwhile, the new 128-bit machines as the Xbox 360 or PS3 feature more and more retro gaming downloads on their networks. R-Type Dimensions on XBLA offers to play the first two games of the series in their original version or 'remastered' ones. Galaga Legions DX harmonizes old-school gameplay, hd graphics and manic trend, while 1942 Joint Strike PSN revisits its ancestor and integrates 3d. Like the Beat 'em Up, Shoot them Up had its rise, its legendary games, its heyday, its decline... and is now part of what we usually call 'retro-gaming'. Retro yes... but still strong in the heart of players!