SNK BEFORE THE NEO GEO
PAGE 2
1979. Ozma Wars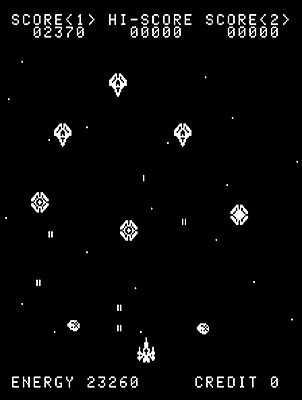 As one of the pioneers of modern Shoot them Up - in the line of Space Invaders - Ozma Wars is a fusion of this latter and a classic vertical scrolling game. In fact, your ship can only move sideways - and shoot, don't worry - but the enemy ships are coming from all directions, like in Alpha Mission for example. Running on a Z80 harware displaying two colors in 224x256, at the time, the game was beautifully crafted, featuring energy bars, which descend when you are hit, and can be reloaded during the levels. It's part of the infancy of vertical Shmup...
1980. Sasuke VS Commander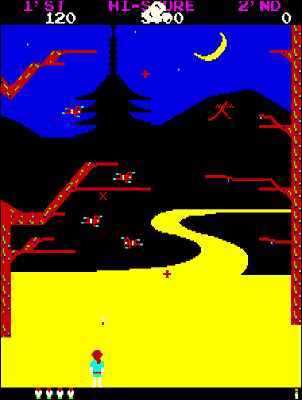 Only game released by SNK this year, Sasuke vs. Commander was a small revolution in its time. In fact, the game was in color! And many, s'il vous plaît: no less than eight displayed simultaneously. The game features Sasuke (yourself), and you must protect the Shogun from ninja attacks. Armadas of them will wash over you while you'll desperately try to dodge while throwing shuriken. Innovative, right? Well actually, it is neither more nor less than the principle of Space Invaders once again resumed, but this time decorated with graphics of different stages and a smarter gameplay.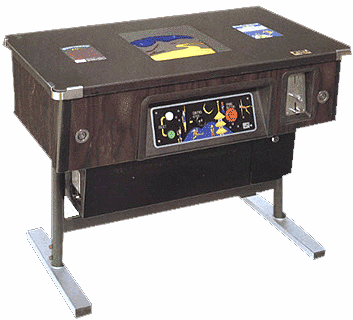 1981. Vanguard & Fantasy
If the third title in the editor (Satan of Saturn) was just another improved version of Space Invaders, Vanguard and Fantasy are two great games that provide remarkable new features. The first looks like an horizontal Shoot 'em Up, but is in fact a multi-directional one, with simple but colorful graphics. The same year, Konami was counting on its Super Cobra, a direct competitor of SNK's game. Far from just only competing with its rival, this Vanguard was going to be one of the first big success of the firm. The game features high speed action and impressive scrollings, requiring cat reflexes to come through. The ship can fire in all directions and can catch bonuses making it invincible. A very good Shoot them Up, taking and stressful as possible, certainly standing as one of the distant ancestors of R-Type. About Fantasy, this one's a little more original. The game is quite successful graphically, alternating phases of platforms à la Donkey Kong, and other phases of platforms viewed from 3/4 high (à la Zombie ate my neighboors), and also phases of flight in a balloon, in which you have to avoid contact with enemies! A game full of fun, certainly, which suffered a little from the release of Donkey Kong the same year. After a few time and a series of quite mediocre arcade releases such as Lasso or Joyful Road, SNK began to develop on home system, in this case with the Atari 2600 adaptation of his hit Vanguard. The firm successfully revives in the arcade in 1984 with the successful Vanguard II or less known Main Event, a boxing game that knew a certain popularity. The company strikes a blow in 1985 with ASO, aka Alpha Mission, a remarkable vertical Shoot them Up that attracted attention back then.
1985. ASO ( Armored Scrum Object)
First real vertical shooter of the firm, and ancestor of Alpha Mission II on Neo Geo, ASO looks pretty good in 1985! The game is beautiful and colorful, the animation is fluid and the gameplay fast and rich, with special weapons and bonuses to recover through the stages. In short, a great game that experienced great success in arcades, so much so that the game will be ported on the NES the following year. SNK reaches the next level... Now the editor has made himself ​​a name with  these titles that haven't gone unnoticed.
1986. Ikari Warriors
Ikari Warriors is a milestone in the history of the firm. Acclaimed in the arcades and ported on almost every media of the planet (CPC 464, 6128, NES, C64, Amiga, PC, Atari 2600, 7800, Spectrum, MSX2, etc ...), the title generated huge profits for its editor. And for good reasons! In the midst of acute Ramboïte, the game was the icing on the cake: you simply incarnate two mercenaries in Vietnam. Apart from this, the game is technically excellent: cooperative play, new innovative gameplay (you can drive enemy tanks, pick special weapons...) plus nice graphics, great soundtrack and appropriate animation of excellent craftsmanship. SNK reaps the rewards of perseverance. However, the influence of Commando (Capcom) released the year before, is not negligible, as the game mechanics are almost the same, while the publisher added the cooperative play, new controls and vehicles. The first fruits of a Capcom/SNK war shall we say...?