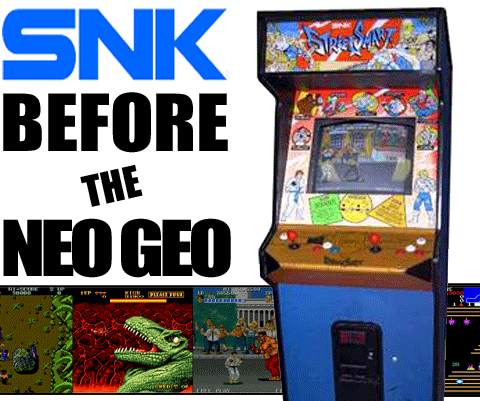 The SNK company, founded in 1978, has developed a lot of games for the arcades and some titles for 8-bit systems, before releasing the Neo Geo and MVS. This article's goal is to retrace the course of the company during the twelve years that preceded the advent of its famous 16-bit machine. This is the time to remember a few hits of the past, or maybe discover some marvels you never heard before... This is also an opportunity to highlight some filiations. You will discover in this article arcade coin-up released in the eighties that inspired some famous titles on the Rolls-Royce of videogames. Welcome dear reader, in the heart of the company that gave birth a few years later to the Neo Geo.

FULL LIST OF SNK GAMES RELEASED BETWEEN 1978 & 1990
1979

 
 Ozma Wars
 Safari Rally


1980

 
 Sasuke vs. Commander


1981

 
 Fantasy
 Satan of Saturn / Zarzon
 Vanguard
1982

 
 Lasso
 Pioneer Baloon


1983

 
 Joyful Road / Munch Mobile
 Marvin's Maze


1984

 
 Gladiator 1984
 Jumping Cross
 Mad Crasher
 Main Event
 Vanguard II
1985

 
 ASO - Armored Scrum Object / Alpha Mission
 HAL21
T.N.K. III / T.A.N.K.
1986

 
 Athena
Ikari Warriors
Meijinsen
Victory Road
1987

 
 Bermuda Triangle / World Wars
Guerilla War / Guevara
Mahjong Block Jongbou
Psycho Soldier
Touchdown Fever
1988

 
 Chopper I
Fighting Golf / Country Club
Fighting Soccer
Gold Medalist
P.O.W. - Prisoners of War / Datsugoku - Prisoners of War
Paddle Mania / Touchdown Fever 2
1989

 
 Beast Busters
Ikari III - The Rescue
Mechanized Attack
The Next Space
Prehistoric Isle in 1930
SAR - Search And Rescue
Street Smart
Super Champion Baseball
1990

 
Crystalis
During its first twelve years of existence, the firm managed to build a serious reputation in the world of arcades, and just by taking a look at the list above, you can see it's fulfilled with various great arcade games. The editor is present on all fronts, and tries its talent at many different styles, offering sometimes remarkable innovations. By 1990, SNK completely abandoned development on other arcade platforms to devote himself solely to MVS and AES. It would be difficult to present here all of the SNK titles released before the Neo Geo, but let's rather review a few emblematic games in which the firm has built its reputation and success, as well as other less famous ones, but which might have generated more or less recognizable filiations on the 16-bit system.