THE ART OF FIGHTING SAGA
PAGE 2
THE CHARACTERS - CONTINUATION

If the main plot of the saga is mainly happening  around the Sakazaki family, Art of Fighting still features a lot of secondary characters, among whom the most memorable ones are included in the first game. One can  easily remind King (and the doubt about his/her personality), of course Todoh who we face early in the game; there's also in the second game Eiji the ninja and Temjin the ... fatso, who probably less marked memories. Art of Fighting 3 took place much later and staged brand new fighters. The last character linked to the saga appears in 1999... in Garou: Mark of the Wolves.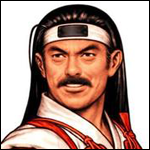 RYUHAKU TODOH - Born 30.09.1949
1,74m - 65Kg  Style: Aikijutsu
Creator of the Todoh school, which is mixing Kendo and Aikido martial arts, Ryuhaku is a longtime rival of the Kyokugenryu style. He still feels an ancient grudge against Takuma.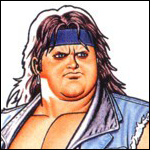 JACK TURNER - Born 24.03.1962
1,84m - 138Kg  Style: Brawler
Member of the street gang managed by Mr. Big, this impressive fighter is practically the right-hand of the Boss. He frequently spends time at the Mac's Bar and is often at the forefront when it comes to fight!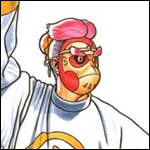 LEE PAI LONG - Born 07.01.1912
1,71m - 62Kg  Style: Kung-Fu
Master of both Chinese medicine and martial arts thanks to his adoptive father Gakuoso, his arrival in Southtown influences his destiny: fascinated by the local Kenpo, he enjoys occasionally street fighting.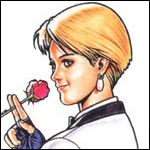 KING - Born 08.04.1957
1,75m - 59Kg  Style: Muay Thai
This formidable Muay Thai former fighter has long time taken the appearance of a man for fights. After being beaten, she joined the gang as Mr Big's 'bouncer' in their various establishments.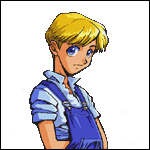 JEAN - Age unknown
Jean is the younger brother of King. He was abducted by Mr. Big to force her to work with the gang. The boy will get sick, and his sister will still have to fight in order to help him.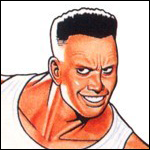 MICKEY ROGERS - Born 16.08.1951
1,89m - 80Kg  Style: Boxing
Former professional boxer, Mickey was banished by the Federation because of the accidental death in the ring of one of his opponents. Desperate, he became an adept of street fighting and illegal jobs...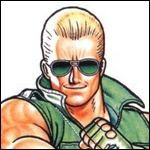 JOHN CRAWLEY - Born 15.02.1948
1,82m - 76Kg  Style: Close Combat
Captain in the U.S. Navy and close-combat instructor, John Crawley is nicknamed 'The Killing Machine' by his soldiers. Injured during a mission, he was rescued by Mr Big to whom he kept a certain loyalty.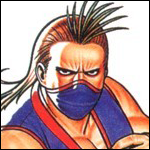 EIJI KISARAGI - Born 25.12.1953
1,72m - 70Kg  Style: Ninjutsu
Direct descendant of the Zantetsu, this master of clan Kisaragi ninja arts has vowed to fight the Kyokugenryu students, the last school that has resisted them. He wields deadly daggers and swords.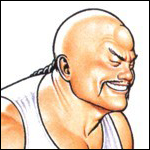 TEMJIN - Born 10.05.1944
1,50m - 85Kg  Style: Mongolian Wrestling
Docker at the port of Southtown, Temjin dreams of getting enough money to go teach in his former school in Mongolia. After much fighting, he will eventually become the Principal of Southtown's College.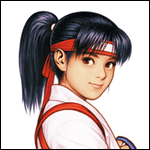 KASUMI TODOH - Born 29.03.1965
1,54m - 45Kg  Style: Aikijutsu
Ryuhaku's daughter, Kasumi was a brilliant student at the martial arts school of her father. After the defeat of the latter against Ryo Sakazaki and the disgrace suffered against the Kyokugenryu school, she struggles to avenge the insult.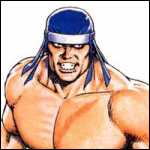 JIN FU-HA - Born 04.09.1953
1,85m - 80Kg  Style: Ninjutsu
He was an adept of Eiji Kisaragi, but the master betrayed him and left the scar on his chest. He tries to fight Ryo to gauge his strength and then take revenge on his former master.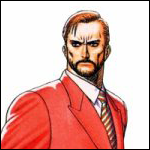 KARMAN COLE - Born 13.06.1951
1,85m - 87Kg  Style: Self-Defense
Henchman of the Garcia family for many years, Karman is a loyal person but also a powerful expert in martial arts. He was sent to search for Robert at Grasshill Valley in AOF3.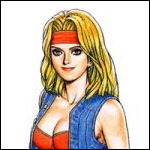 LENNY CRESTON - Born 20.03.1958
1,73m - 56Kg  Style: Whip
Opportunistic journalist rather detestable, this blonde has learned that Wyler was looking for Freia Lawrence and decides to follow the case closely, for this to be her bread and butter. Rody Birts helps the investigation.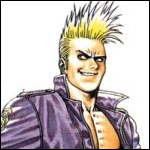 RODY BIRTS - Born 24.07.1958
1,82m - 80Kg  Style: Double-Tonfa
Hired by Lenny Creston to find Freia Lawrence, this bounty hunter has a bad reputation. The rumor says he was a former police officer removed from the profession ...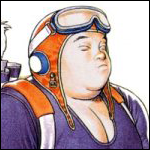 WANG KOH-SAN - Born 17.04.1957
1,50m - 87Kg  Style: Shiniriku Gokuken
Designer and fighter a little crazy, Wang arrives at Grasshill and hears about the elixir of Wyler. He thinks that his friend Lee Pai Long might be interested and decides to learn more about it...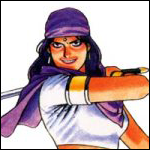 SINCLAIR - Born 14.11.1955
1,75m - 58Kg  Style: Kenjutsu
This mysterious swordsgirl is working with Wyler, but gave pretty few information about her past and her motivations. She encourages him in his experiments but secretly would prefer these to stop.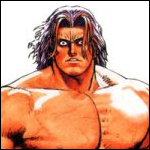 TOM WYLER - Born 22.10.1958
2,40m - 124Kg  Style: Original Grappling
Wyler is trying to complete the elixir started years ago by his father and Freia's. The latter preferred to withdraw; Wyler's dad has since died, and Tom with the help of Freia wants to complete the experience ...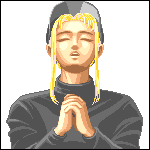 FREIA LAWRENCE - Born 30.03.1959
1,70m - 52Kg - 85-56-83
Childhood friend of Robert and Wyler, she was given the secret ingredients list for the elixir of her father and Wyler's. She seems to have a secret passion for Tom Wyler...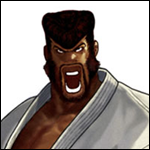 MARCO RODRIGUEZ - Born 04.09.1959
1,83m - 93Kg  Style: Karaté Kyokugenryu
This follower of the Kyokugenryu school is one of the best students of Takuma. He appears late, in Garou: Mark of the Wolves episode in which he becomes sensei of his own Kyokugenryu dojo.