THE ART OF FIGHTING SAGA
PAGE 4
THE EPISODES - CONTINUATION
Apart from the three episodes of Art of Fighting, several characters in the series have made ​​appearances - more or less noticed - in other fighting games on Neo Geo. Ryo, Robert and others have often crossed swords with fighters of other SNK-stamped fighting games... Next, a quick overview and a memory refresh for fans of Versus Fighting!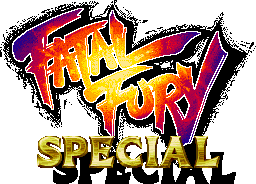 Fatal Fury Special is the first 'Dream Match' the fatal Fury saga. It includes the twelve characters from Fatal Fury 2, plus three iconic pugilists of Fatal Fury, namely the late Geese Howard, the incredible Tung Fu Rue, and the funny Duck King. Geese Howard is a character who appeared the first time - chronologically in the SNK sagas - in Art of Fighting 2. Another defector from the saga with giant sprites: Ryo Sakazaki. The young man is a hidden boss that players will only face after a faultless full game. A "crossover" before its time!

The King of Fighters clash sees two generations of Southtown fighters: the heroes of Fatal Fury, Terry and Andy Bogard accompanied with Joe Higashi, representing Italy (Andy's stage in FF2), facing the ancient warriors of Art of Fighting Robert Garcia, Ryo and Takuma Sakazaki, representing Mexico (Grasshill Valley, AOF3). Other characters in the series include various teams: King and Yuri joined May and fight for England, while Fatal Fury's Kim creates its own Korean team. No more Geese Howard or Wolfgang Krauser in KOF 94 ', but a new Boss: Rugal. There are still five characters from AOF in this first installment of the saga, which is not bad at all!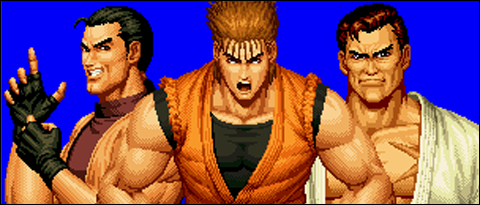 Thereafter, all games from The King of Fighters series will stage the iconic characters from the 'Southtown series'. If we find almost invariably the Takuma-Ryo-Robert trio, Yuri is sometimes part of the group and also replaces her father in 96 and 97. Eiji Kisaragi - a ninja appeared in AOF 2 - signs a brief return in the 95 episode, alongside Billy and Iori. In 1996, the protagonists of Art of Fighting appear stronger than ever: not only Ryo-Robert-Yuri are one of the most powerful teams of the game, but we also see the sensational comeback of Geese Howard, Mister Big and Kasumi Todoh (which appears the same year in AOF 3). She integrates the women's team with King and May. In 1997, all these newcomers disappear in favor of newcomers proper to the KOF saga (all the 'Orochi' clique). In 98, only five heroes from AOF remain: Takuma, Ryo, Robert, Yuri and King. These are probably the most representative of the saga for many players, and they will be found in all subsequent episodes. The King of Fighters 2000 is the most friendly album for fans: with the appearance of strikers, we see some warriors return to battle in the series a bit in limbo. In total, no less than ten characters from Ryuuko No Ken are included!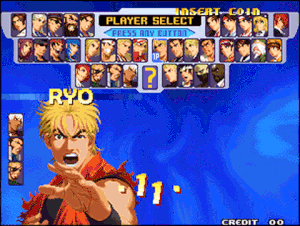 Conclusion
Let's mention also the appearance of Ryo and his cronies in SVC Chaos in 2003, and of course in SNK vs Capcom and Kof 'out of the Neo Geo library. Major figures in the history of Southtown, ambassadors of SNK's quality fighting games, warriors from Art of Fighting - Ryo and Robert in particular - have become emblematic fighters in the VS Fighting world. Their affiliation with the heroes of Fatal Fury is an important link in the Southtown series scenario, giving an undeniable depth to the plot around Geese Howard. Chronologically, the history of our friends takes place ten years before Fatal Fury... and we therefore see that in fact, the protagonists of Art of Fighting are a little "older" than Terry Bogard and others! For example, Ryo is fourteen years older than Terry, and Yuri and May have thirteen years of difference, despite what it seems!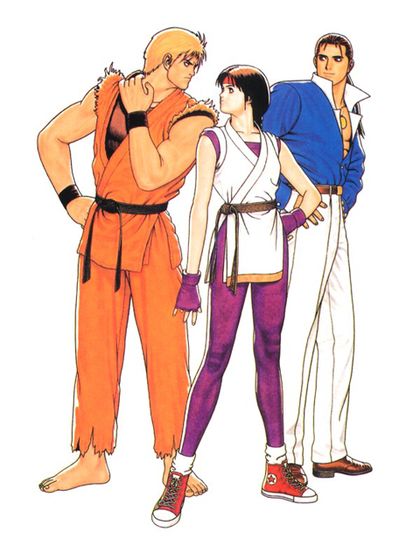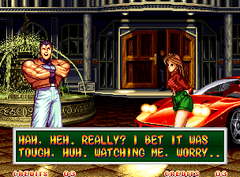 Art of Fighting vehicle morals precious to Japanese people, ​​such as loyalty, family, honor, but also a quite unique martial atmosphere. Sakazaki dojo's values facing the underworld of Southtown and thugs, the dramatic situations which will have to clear Ryo and Robert, but also the clan family values ​​and the redemption of some characters - particularly in the second episode - are all important features of this saga. Geese Howard is camping - like in Fatal Fury - a real lawless junk once will not hurt, with an incredible charisma. Indeed, it's very interesting to relate the stories of the two sagas... In parallel, the AOF games are real jewels of the fighting game, which provided ​​numerous innovations in the VS Fighting world.