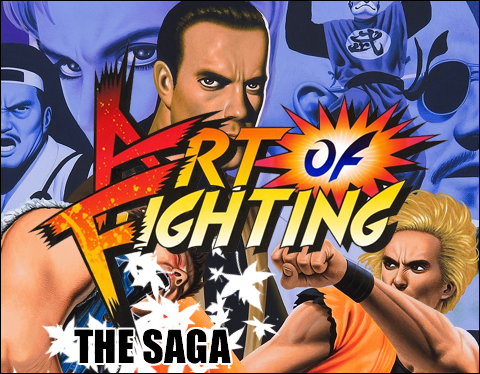 Along with Fatal Fury, SNK creates a second great martial arts saga: it's Art of Fighting. Also known as Ryuuko No Ken, this fighting series begins in a dramatic frame reminding the best action movies of the era, such as Lionheart with Jean-Claude Van Damme or Marked for Death with Steven Seagal. The heroes of the game are also not without recall these martial arts experts. Ryo Sakazaki - The Invincible Dragon - and his childhood friend Robert Garcia - The Roaring Tiger - are two masters of Kyokugenryu Karate, an ultra-violent version of Karate. Takuma Sakazaki, Ryo's father, is their instructor but also an important figure in this saga. This little world is living in Southtown, the city itself where The King of Fighters tournament and also the story of Fatal Fury take place. But Terry, Andy and Joe will not cross the road of Ryo and Robert for the moment: the action of Art of Fighting takes place much earlier than these two series. The action of the first game is happening in 1978,  in 1979 for the second one, while the third installment takes place two years later (1981). The story of Fatal Fury began a little more than ten years later.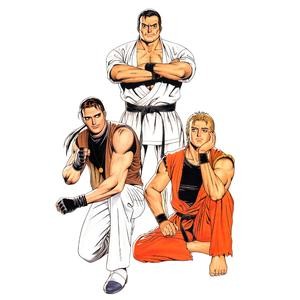 Introduction
It all began in 1992 when was released the first game of the series: Art of Fighting. Like Fatal Fury first of the name, the action of this pilot episode happens in Southtown, a luxurious resort on the eastern coast. Ryo Sakazaki and Robert Garcia are preparing for The King of Fighters tournament, which takes place next year, but their plans will be temporarily compromised. Yuri, the little sister of Ryo, has been kidnapped by gang members, but no further information has come. Ryo immediately warns Robert and the two friends get to Southtown streets in search of the girl. Relying solely on their fighting abilities and their knowledge of the city, our heroes visit the people most likely to learn them something about the kidnapping ... and they will stop at nothing to reach their goal.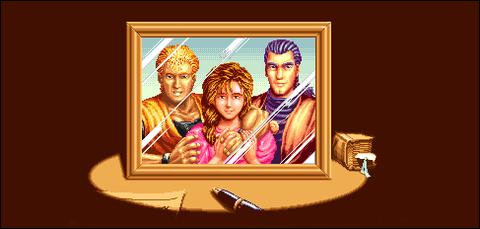 In Southtown, the Sakazaki family is known and respected by all. Takuma founded the Kyokugenryu dojo in the city for many years and forms great fighters. His son Ryo is definitely tipped as his worthy successor, and his childhood friend Robert Garcia is its equal in fighting. The man is the son of Alberto Garcia, a wealthy Italian businessman, himself close to Takuma. He has woven close ties with Yuri Sakazaki, Ryo's little sister... and therefore sees himself pretty involved when the rapt happens. Their journey through the city - and in particular shallows - to find her, will experience a totally unexpected outcome for our fellows ...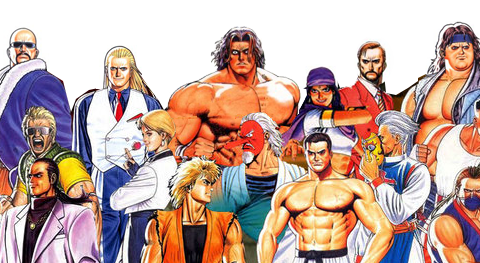 MAIN CHARACTERS OF THE SAGA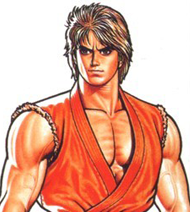 RYO SAKAZAKI - Born 02.08.1957
1,79m - 75Kg  Style: Karate Kyokugenryu
Son of Takuma and Ronnet Sakazaki, Ryo immersed since childhood in the Kyokugenryu martial culture . At the age of ten, his mother dies in a car accident and his father leaves home: he finds himself alone with his young sister Yuri. He had to fight for its survival, but also to become a renowned fighter.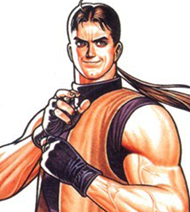 ROBERT GARCIA - Born 25.12.1956
1,80m - 85Kg  Style: Karate Kyokugenryu
He's Alberto Garcia's son, a wealthy Italian businessman who is also Takuma Sakazaki's best friend. It's against his advice that Robert decided to enter the Sakazaki school: he became a Kyokugenryu disciple, but also the best friend of Ryo. As for his relationship with Yuri, these two remain discreet ...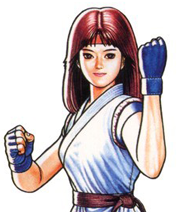 YURI SAKAZAKI - Born 07.12.1961
1,68m - 53Kg  Style: Karate Kyokugenryu
The youngest of the Sakazaki family is also a fearsome warrior. After the death of their mother, Yuri and Ryo grew up more or less alone, while they kept training for combat. She is very dependent with her brother and still suspicious of Robert, despite some affection.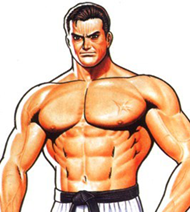 TAKUMA SAKAZAKI - Born 04.02.1931
1,80m - 88Kg  Style: Karate Kyokugenryu
Best known as the Kyokugenryu creator, Takuma is a famous fighter who when he was young, attended the same dojos as Jeff Bogard, Ryuhaku Todoh or Saisyu Kusanagi. Geese Howard was able to use him for a while thanks to blackmail: he used to wear a Tengu mask and was called 'Mr Karate' ...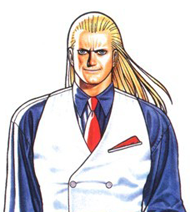 GEESE HOWARD - Born 21.01.1953
1,83m - 82Kg   Style: Aikido
The sponsor of the underworld of Southtown is a great master of Aikido, but also a man with a violent past, ready to do anything to achieve his ends. He will use Takuma by threatening harm on his children to eliminate some enemies. It will take time to Ryo and Robert to reach him for vengeance.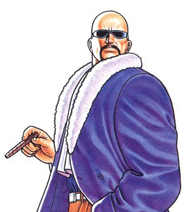 MR BIG - Born 04.07.1946
1,87m - 81Kg   Style: Fencing
Former kingpin of Southtown, he had to submit to the domination of Geese that spread on the city. Now right-hand of the latter, it was him who organized the abduction of Yuri with the complicity of a few bad guys. After the Art of Fighting episode and the failure of his mission, he will leave Geese and try his luck by his own.