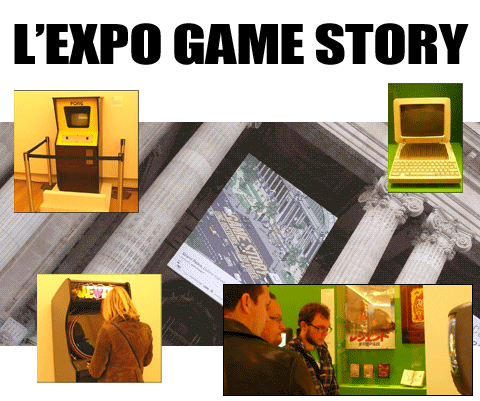 From the 30th of  November 2011 to the 9th of January 2012 at the Grand Palais in Paris, you can take a tour at the Game Story exhibition! And it is likely to interest many of NGK readers , and for good reason: the show retraces the history of videogame since its inception, including almost 50 years of creation, no less! Here's a brief overview of this tribute.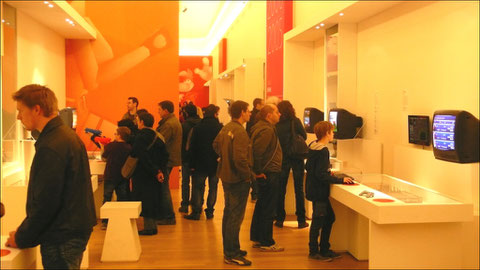 A living exhibition which is housed at the Grand Palais, and this is particularly classy! Usually reserved for master paintings and other historical items, the area is one of the most beautiful Parisian monuments. It's a quality showcase for some beautiful machines and great softs: is the videogame becoming a new major art? This Game Story event is experiencing some success with hundreds of people queuing to enter at certain hours of the day : dozens of geeks, of course, but also some parents accompanying their young children - yes, the youngest are interested retro games - and couples, some journalists and seniors (40 years old and more) probably fell into the magic potion on the late.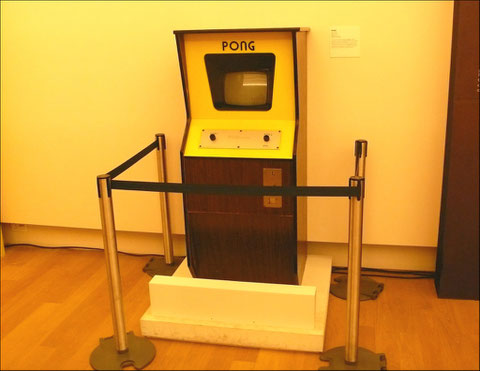 The show starts with some impressive stuff: once entered, you face nothing less than the official Pong arcade cabinet from the seventies, and a whole spiel about the history of the game and its variations and ports. Some beautiful antiques, as a Seb console (namely a brand of household appliances) but also a beautiful Magnavox system, and other lesser known consoles from these ancient times. Sympathetic note, it is possible to test Pong in its table-top version, as well as most other games on display. Well, they forgot about Spacewar, anyway! It continues with logically Space Invaders and Pac-man on their sublime dedicated cabinets, then appear the first popular home systems with some demo games (you can play these, of course!): enjoy Coleco with Pitfall and Gunfight on Videopac! As surprising as it may seem, the machines are squatted by crowds of players competing for high-scores, while our very old 8-bits systems are monopolized by dozens of ten years-old gamers... That's the power of ancestral gameplay!
Exotism and great variety of machines, consoles in their own juice with controllers available: the organizers wanted the show to be fun and attractive, and that's a good thing. After a review of the mythical seventies, we enter the era of successful 8-bit computers and consoles, with some great names such as NES, Master System, Commodore 64,  Amstrad CPC 6128, Amiga and Atari ST. Last 2-D arcade cabinet of the event (is that all!?), OutRun throne at the entrance of the 8-16 bits section. Yes, 8 and 16 are mixed, as well as 32 ​​and 64, while 128 bits are the second part - and this is a bit oversimplifying the story for all the other machines, let's face it. Besides, choices of games ​​are varied and nice: Monkey Island for the Amiga, Vroom for Atari ST , Street Fighter II & Mario Kart for the SNES, Sonic & Streets of Rage for the Genesis, R-Type for the PC Engine, Metal Slug for the Neo Geo, Mario & Bubble Bobble for the NES... Not bad, but it's too bad that arcade games  purely and simply disappear from the landscape since this section. Reducing the history of video games of the nineties only to home systems is quite abusive... especially when 'Game Story' claims to cover the whole history of videogames. But let's not spoil our fun, as a great effort has been done on the presence of rare machines like the Super CD-ROM ², the Neo Geo AES or a superb Vectrex, but also some very rare Game & Watch. Duels are improvising on Street Fighter II, some players try a Superplay on R-Type, others are fighting against the clock on OutRun... Halfway between arcade room and exhibition, Game Story provides above all a great atmosphere and a friendly place and this is pretty cool, we have to admit.

The rest of the show is also looking good , we sail from one era to another with fairly representative systems and games. The transition from 2d to 3d is very sensible, and visitors are entitled to demos of Super Mario 64, Tomb Raider, but also to the Crazy Taxi arcade cabinet; and the icing on the cake is Rayman running on the Atari Jaguar... Afterwards, we travel a bit around console or PC hits, with notably Counter Strike, Final Fantasy VIII or other surprising things, such as Donkey Konga cab and the very attractive (unfortunately) DDR platform. About current gen machines, Kinect on the 360 is in the spotlight, but you can also try some dumb Wii games and some beautiful and super boring games on PS3, such as Assassin's Creed. Game Story is an exhibition that I recommend to all our readers, despite some small gaps and a treatment that could have been more comprehensive and neat. The narration is relatively complete, the games and machines represented many and showing a resolutely 'gamer' approach, made for everyone, especially neophytes. An exhibition also strongly oriented for general people, so much that any gamer worthy of the name will feel outraged with some oversights on the story told at the discretion of billboards, as well as the lack of essential titles (Samurai Spirits, Double Dragon, Donkey Kong...). I will not mention the 50Hz displays all around the place, providing reduced picture and slowed down gaming, and also the many junk controllers... Because as an old timer, I can only be overly hard to please with kind of event, of course! Anyway, young and old ones will find what they were looking for here, and you meet in GS a lot of players invariably friendly with who you can improvise some unlikely matches on mythical titles. So, I can only recommend for everyone to visit this exhibition, which is a great try that I hope will experience richer and more complex continuations. Game Story, a show that is great, as a show!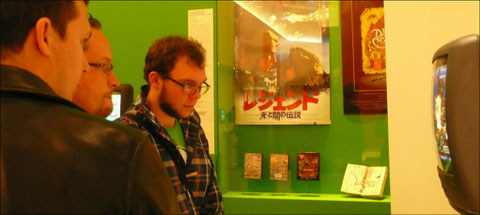 GOOD
- great atmosphere
- a lot of 'playable' stands
- all generations were present
NOT GOOD
- some important things are missing
- not enough arcade games
- ugly 50 Hz displays
- poor or damaged controllers