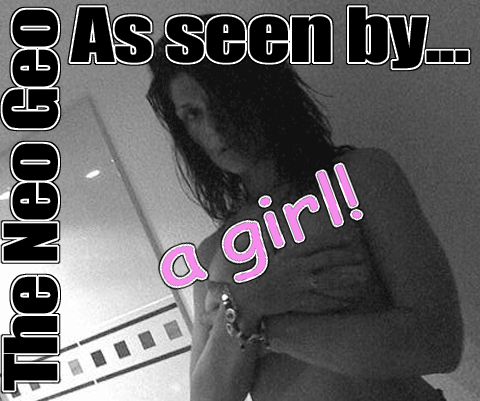 Here's a rarely discussed topic, to say the least. Video games, is for generally something for sock-stinking geeks! We don't often see pretty girls getting into it, and yet... there are some girls who play don't they? You know that your servant is ready to sacrifice everything for the best news and exclusive interviews, so here I go. We know that most girls are not connected with videogames, it's no mystery. Some of the younger ones fell in love with the Nintendo DS, and others by the Wii... and there's also some hardcore-gaming women on Next-Gen systems or even World of Warcraft, but they remain a minority to play seriously. So, what about the girls and Retro-Gaming? Entrevue with Beatrice, player on Neo Geo, Super Nintendo and other ones.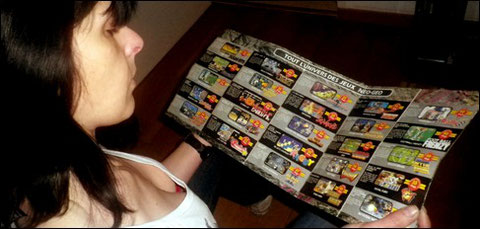 Presentation
NEOGEOKULT: Can you introduce yourself to our dear readers?
BEATRICE: My name is Beatrice, I am 38 years old and I work as an optician.
NGK: Do you own a videogame?
B: I have a Xbox 360 for me and my children. I play occasionally Guitar Hero, Rock Band and Civilization.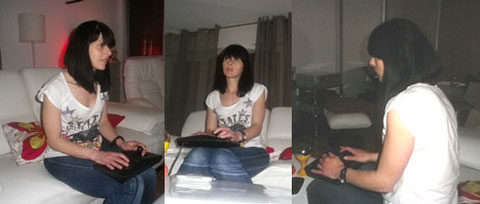 NGK: What was your first gaming console, and the first video games that have marked your memory?
B: I started to play on some Game & Watch when I was 11 years old, especially Donkey Kong and Mario, and later with the Super Nintendo on which I played a lot Street Fighter II Turbo with my friends. I was Chun Li and I did the helicopter kick all the time!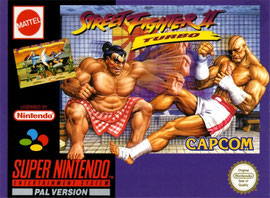 NGK: What kind of games do you like in Retrogaming?
B: The Shoot them Up and Puzzle Game in general attract me, and some fighting games when it's not too complicated and that I can win!
NGK: What do you think about retro systems and the Neo Geo in particular?
B: I don't know all of these old systems, but I love the Super Nintendo: the graphics are not the best, but this machine has a sentimental value because I had it when I was a teenager. As for the Neo Geo, the design of the console is pretty classy and sober, there's no frills. The sticks are large and easy to handle, you can maul it like a moron without breaking it and that is nice! The boxes are very nice, and I have a preference for Japanese versions, because these are very colorful.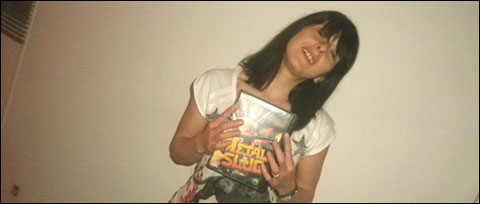 What games do you play?
Here are the five favorite games of our reviewer Beatrice on the Neo Geo, in order of preference!

It's one of the few games where I can win often! Two-players' games are pretty intense, I like the concept of chain reactions, and the graphics and characters are nice! A game in which you have to use you brain, it's cool.

A platform game that combines reflection and speed. The game is very fun, the tables are easy to clear and original; vampires and night as a theme, I like it! Playing in cooperation is taking and it's about competing for making the highest score. Excellent!

The graphics are original, the colors are nice and bright, and it's fun to save people (or not) with the helicopter.  It requires quickness, to anticipate enemy attacks, and also a lot of concentration. This game is really addictive and fun from beginning to end. I love it!

A very interesting game that requires analysis, taking into account the course, wind ... BTG is very realistic, it feels like a real game of golf. We can make many choices, like club, effects, pitching height, power ... At least you can win using by using your brain, unlike a fighting game!

One of the few fighting games where I managed to win a few matches! I particularly like Real Bout for the characters, and especially the fact that you can eject the opponent out of the fighting area to win the round! The game is fast and I can make some beautiful combos ... My favorite characters are Blue Mary and Hon Fu.
NGK: Here's a tasteful and quite eclectic Top five ! Congratulations on your choices... Is there other games that you would like to quote?
B: I also like Samurai Shodown for its violent and bloody atmosphere. Puzzle Bobble 1 or 2, in the same spirit as Magical Drop, are excellent: these are the first games I've played on the Neo Geo. I like the Metal Slug games as well, especially for its beautiful graphics and the fact of playing two simultaneously! The fact to play 'together' rather than 'against each other' is more fun in my opinion! In the genre I can also quote Shock Troopers that I like a lot. Then, there's also Strikers 1945 +, Pulstar, Blazing Star, Ironclad... Speaking about fighting games, I can not say I love them because I do not win enough matches! This said, Ninja Masters, Breakers and Fatal Fury Special: I appreciate these ones.
NGK: And games that you really don't like playing?
B: Games of football, Baseball (too complicated, I don't know much about the rules)... And fighting games where my opponent is too strong!
NGK: Beatrice thank you for this interview!
B: It was a pleasure, a nice time with my interviewer!