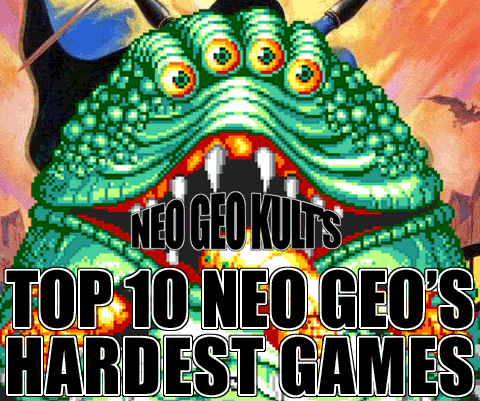 Neo Geo games aren't know for being easy, and for good reasons! Arcade video games are meant to oppose resistance to the seasoned players wandering the arcades. Those have to make the customer spend the maximum money, and to do that, a hit in arcades has to be addictive and challenging. However, all publishers are not gamers' tormentors and they usually set the difficulty level of their games at a standard range, so the soft can be cleared within decent number of 'credits' and have the players improving when playing. Forget that notion in the Top 10! Titles in this classification have only one goal: kick your ass with no chance to let you come through! Discover the ten hardest games of the Neo Geo in the lines below ...
Few players are familiar with Magical Drop III: this is an excellent puzzle game from Data East, probably one of the best games of its kind on Neo Geo. This offers a very nice and taking story mode, in which we advance on the spaces of tea a table, intersected with stages to complete and duels. Well, good luck to you to get around with the credit limit! Some passages are extremely difficult, even for a seasoned player. After three or four tables cleared, we fall cyclically on an extremely complex and fast one, which will definetely end your hopes of 1CC... A game that is not unclearable, but littered with credit-eater obstacles.

Things are different here, as the vast majority of arcade and Neo Geo gamers have played Fatal Fury Special. So they will understand what I mean when I say that the game is pretty tough! Some characters like Andy or Jubei are simply intractable when they are controlled by the machine, but let's not talk about the Bosses! Even if you ever manage to reach them, Billy Kane and Axel Hawk are real murderers, and they'll leave you limited hopes of seeing Geese, Krauser and Laurence!

The Super Spy is one of the longest games on the Neo Geo, and let's say that the infinite credits are the bare minimum if you want to see the end. Fists/feet attacks are little effective against certain opponents, while the knife dulls quickly, losing 90% of its efficiency; weapons are packed with few ammunitions, and then can be used mostly to help you out temporarily. Add to that little bonuses for the life recovery, very few weapons or ammunition to pick over the levels, an astronomic quantity of enemies that will at one time or another kick your ass. Good luck!
DIFFICULTE: BADLY DISTRIBUTED

Ninja Combat has never really been considered by critics as a difficult game, and for a single reason: the players were allowed infinite credits. If you look closer, you realize that the One Credit Clear is totally impossible in this game. Indeed, certain passages are extremely tough, even to the point that it is essential to use the special attack -that costs one life point- to survive. I think about the trio of blondies armed with combat fans that come several times in the game, the mechanisms of the fourth level, and of course simply the last Boss, which will steal you a half a dozen credits to beat him.
DIFFICULTE: IMPOSSIBLE PASSAGES

At the sixth place, again a Beat 'em Up: Sengoku. Released shortly after Ninja Combat, it is even more difficult! The enemies are too numerous and sometimes difficult to reach: players must take the risk to come close, most of the time at the risk of taking blows. Bosses are very difficult, and to top it off, the game is very long!
DIFFICULTE: VERY EXCESSIVE

In Legend of Success Joe, everything was organized to have you murdered: imprecise hitboxes, character moving slowly, crappy controls, annoying CPU... Believe me, whatever is your level, you will take a beat. Finishing the game remains a great challenge, whether for your patience as well as your level of play!
DIFFICULTE: LINKED WITH GAMEPLAY

The best platform game is also one of the toughest games of the Neo Geo. It exists in two versions: in the first, there are two basic points of life but after death, one starts exactly where he died. In the second (most difficult), there are three life points, but one starts from the very beginning of the stages or the last door reached. Add to that very difficult platform parts, very vicious enemies knowing how to harass you beyond your expectations, and the Bosses sometimes very, very difficult to beat.
DIFFICULTE: EXTREMELY HIGH
Already seven titles in this ranking, and I can already imagine your reactions: some titles that you've been waiting on the podium are listed below in this ranking, or worse, the game that you consider the most difficult of the Neo Geo is still not listed! Quickly discover the next page, the three toughest games of the Neo Geo!