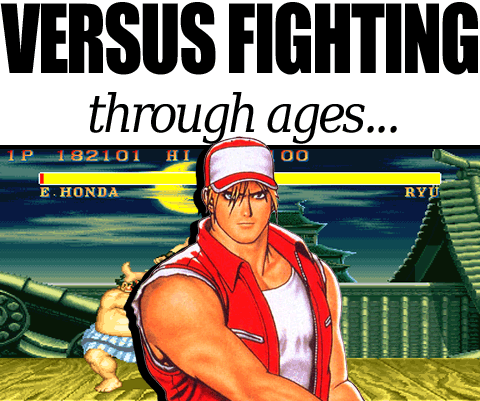 Versus, opposition, confrontation, face to face (behind the cypress) ... Video game since its infancy, is orchestrated around a match between players: Spacewar put two humans in control of vessels whose winner was the sole survivor, and later Pong  was about rivals clashing around a ball. Gradually as hardwares became more powerful, a single player was able to play against an artificial intelligence. It's only a few years later that appeared the Versus Fighting genre itself: a game of combat, with or without weapons. Previously on Neogeokult, the article on Shoot them Up showed how such gaming was at the origin of everything in videogames (in 1962) and transformed into an extremely popular standard; on the other hand, our article on the Beat em Up secondly, taught us that players had to wait the eighties to fight in these ones. VS Fighting on its side, knew its first draft in 1976. In this article, we'll review the history of this kind of games, starting from these ancient times until the present day... But once will not hurt, here's a puzzle for historians of videogames:
2D VERSUS FIGHTING GAMES FULL LIST
Note that this list includes the Versus Fighting games architected around 2D gameplay. In this article, we will also talk about those using 3d like Pitfighter or Virtua Fighter. This list was made in a retro-gaming spirit, to consolidate what a handful of diehards calls 'real VS Fighting', namely those using 2D!


We are dealing with a genre that which erred long before finding its real standards, and many editors have brought their stone to the building -even if only a handful of them made history. We will look more closely at the titles that marked their time, and the most iconic series of fighting games. In fact, the attempts in VS Fighting games were legion during the past thirty-five years, and let's say that there was much waste, obviously... Climb aboard the time machine, we're going straight back to the seventies. Ready... Go!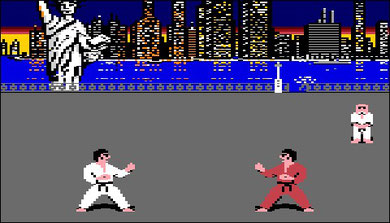 Infancy(1976-1984)
After seeing vessels fighting, ghosts running after a yellow ball, cannons stopping alien invasion and many other exotic creatures, it was sorely lacking videogame to propose two good old humanoid punching each other. Actually, it was first necessary that it can be properly transcribed on the screen and therefore, that the machines are capable to do that without providing an ugly result, looking like  a pixel soup. Ok, some are still beautiful pixel soups nowadays, it's true. Sega is the first editor to release a VS Fighting game in 1976: Heavyweight Champ is a boxing game released in arcades, featuring a dedicated cabinet. The soft features two boxers in a ring and offers players special game controllers. HC is in black and white, but still packs good sized characters, with a count of points and several different moves. The set is very basic and apart from two dudes sending punches, it did not have much in common with a 'modern' VS as we figure it nowadays. It's nevertheless the first ancestor of fighting games, and if Sega clearly doesn't re-invents the powder with its title, it remains nothing less than the true pioneer of the genre, more on substance than on form.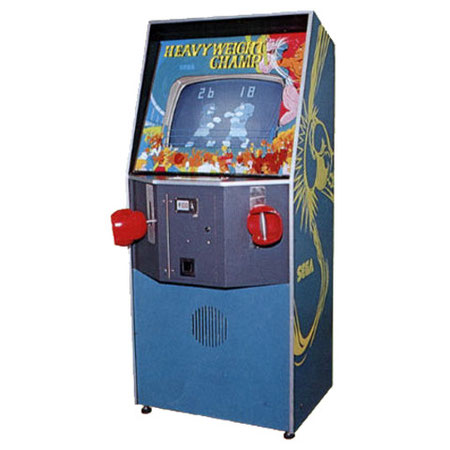 The second VS game in history was born three years later (1979). Warrior is made by the company Vectorbeam, and it is designed with vector graphics (lines on a black background, like the Vectrex), featuring two warriors armed with swords, seen from above. An original aerial view combined with lateral movements... A variant of the Sega game that explores a different gameplay, after all still very, very infancy.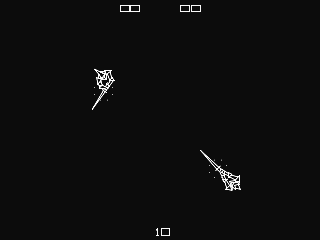 The most popular fighting sports in the early eighties are Kung Fu, Karate and english Boxing, of course. Major sport in the United States and globally in the western world at this time, it iwas not surprising when Activision released Boxing on the Atari 2600 in 1980, and Boxing (!) this time on Mattel Intellevision in 1981. The first uses a top view, the second a side view. If Atari's soft is very basic and doesn't bring anything new, the Mattel game includes several different punches, knockdowns and even KO! Therefore some nice innovations on the Intellevision system, despite this rudimentary realization due to the limitations of 8-bit consoles at the time.
Other boxing games will emerge in the wake of these precursors, such as Rocky on CBS Colecovision. The protagonists can move in depth, inducing a gameplay significantly different from VS Fighting as such, halfway between boxing simulation and arcade - all things being equal. Most of the apps featuring the noble art that will emerge will subsequently feature a three-dimensional environment. Fighting game takes several different ways, but the genre as we study it here departs significantly from these games, there as well as the popular wrestling games that came out in the late eighties. While Shoot them Up comes as the gaming genre in vogue at that time, the VS Fighting continues its quite dramatic wilderness breakthrough! Not only the titles that are made break no bricks, but these are few! Only four titles were released between 1976 and 1982, and it's just this year that came the fifth one: Swashbuckler! It runs on Apple II and features a swordsman facing successive and sometimes multiple enemies, and it's really not a blast...
Apart from two games totally harmless next year, it takes 1984 to finally see a first soft stand out: Karate Champ. This is the Data East company - well-known of Neo-Geo owners - who provides this. It features karatekas and offers for the first time a large range of moves and a true martial atmosphere. Each blow causes knockdown and scores a win, fighting being based on winning decision. Not yet any gaurd nor life bar, but gameplay a bit deeper that makes evolve the bases.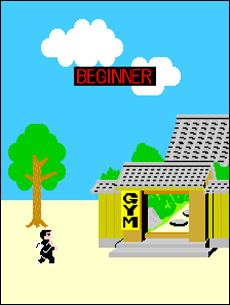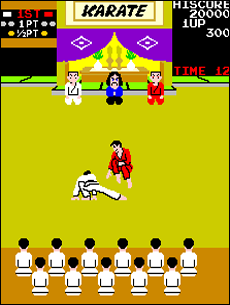 The NES welcomes Urban Champion the same year. The game looks like a real game of Versus Fighting (no no, this is not pejorative!). The fighters are all looking the same (moustached plumbers) and about the game itself, it's about two different punches and four different stages. Although rudimentary, the game still packs the typical bases of the genre, and finally among the very best VS games back in 1984, that is to say not too good!
The Primitive Times (1985-1990)
1985 marks a turning point in history, as the first vintage offering some creativity: six VS Fighting games emerge, whereas in previous years players were only granted one or two new softs rather bland or nothing. The Commodore 64 is the more spoiled machine, with good titles like Fighting Warrior or Chop Suey. The Way of the Exploding Fist is the most remarkable title on the bike, taking deeply back the Karate Champ basics, with some substantial improvements. But a particular soft comes out of the crowd and gives a brand new dimension to the genre: it's Yie Ar Kung Fu from Konami. This name will probably mean nothing to the younger readers, but any fan of arcades or owner of a computer at this time, probably spent hours on this amazing game. Konami was then a little-known company that as we know, will make history later, more with its action or shooting games than with fighting ones. The editor remains one of the founders of Versus Fighting with this title. Yie Ar Kung Fu is the real ancestor of the genre as we know it today. Life bars, jumping, varied moves, precise impacts, various fighters and many different fighting techniques... Progress in the game was a challenge and a pleasure: that of improving its fighting techniques and discover the next opponents (eleven in total!).
The editor releases the same year Galactic Warriors. The game features a gameplay significantly different from YAKF and stages combat robots in a futuristic universe. For the first time, you have the choice between three different warriors: yes, it's the first 'roster' of history! This is the main innovation of the title, which is very steep, offers a restrained range of attacks (3) and pretty unintuitive ... but it has a second interesting novelty: the ability to block! If the first VS Fighting from Konami wowed players with its cute graphics, its various blows and enemies, and its dynamism, Galactic Warriors is not very playable and far less attractive, but has the advantage of incorporating for the first time in a VS Fighting game the choice between several characters and the guard. In parallel, Data East put the finishing touches to Shanghai Kid, a true clone of Konami's hit : it's quite successful in terms of realization and for its environment, and despite poor controls and a superhuman difficulty, the game is the first to integrate combos in its gameplay.
Konami and Data East thus open the breach, yes, these guys are the two precursors that show the way to the other companies. Suffice to say that next year, good titles will tumble. Exploding Fist + (WOSEF sequel) and International Karate  take back the Karate Champ paterns, adding more fluidity, better realizations and more dynamics, not to mention the ability to play three for EF +. Both apps are very enjoyable and if there is still no guard or life bar, attacks are relatively diverse and backgrounds as well. Yie Ar Kung Fu II also arrives in 1986, adding some new elements (pretty irrelevant) since the first one: new enemies and additional bonus in training, new stages, more projectiles... The most interesting novelty remains the opportunity to play two simultaneously, which wasn't possible in the first game.