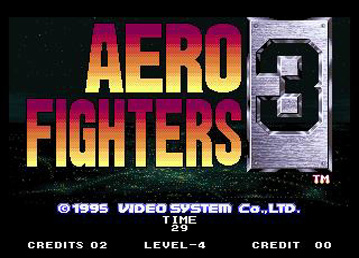 The Japanese Thunderbirds
by Tibe (2013)
After a rather 'not too bad' Aero Fighters 2 released on Neo Geo in 1994, Video System still choose this hardware for the third installment of its saga, the following year. Vertical scrolling shooting games, using the standard 4:3 aspect ratio, the two episodes in the series depict old planes driven by some characters as strange as ridiculous. Robot, Vikings, ninja, dolphin (still not in the fisherman's net) but also a mother with het little girl and other folks coming straight out from YMCA: these are just some of the atypical heroes available in the game. Suffice to say that the charisma of these pilots won't go through the roof, and when you see the little humor and fantasy of the game itself, one wonders why the programmers have chosen to create such foolish characters. Oh yes of course! There's the intermediate screens decorated with humoristic dialogues... sounding very, very special. Awesome!
Nevertheless, Aero Fighters 3 still packs a roster of ten crews, and it's not bad at all for a Shoot 'em Up! In addition, the game takes place in eight stages that must be crossed twice. The subtlety is that surprises await you during the second pass... such as tougher enemies, new Bosses and even some more surprises. Finally, it's also necessary that you get far. Because without infinite credits, I wish a lot of courage for any player coming to play this game, even seasoned ones. As for the One-Credit, better immediately forget this idea: the game is horribly difficult, so much that it would have deserved to appear in the Neo Geo Kult toughest NG games ranking! If the first two levels can be cleared relatively easily, the six other courses to come are a real torture. The enemies are strong, resisting to multiple shots before exploding, their shots are provided and fast, and combinations of attacks when surrounded by a lot of opponents leave very few chances of escape. In fact, the vessels are a bit slow and poorly equiped with weapons, in addition to have a bit too large hitbox. It's like playing a Manic Shooter, but controlling an heavy, slow Ghost Pilots' airplane!
In summary, expect have a rough time with Aero Fighters 3. Level of difficulty could be compared to Viewpoint for example, and that should cool down some players... Of course the difficulty can be set to mitigate the kill, the two-players cooperative play and all the different planes to test, which still provides the game an honorable life. The stages are short and consist of a few screens where we fight against some enemy vessels, leaving a major part to clashes with the Bosses (à la 1944 The Loop Master). Moreover, these are much more impressive than in Aero Fighters 2, like the new backgrounds: an effort has been made on the graphic quality, and it was not luxury. This is still significantly dull and lower than the best shooting games of the system. The same can be said for the soundtrack, slightly improved since the previous album. The animation is still what AF3 packs best, with a great rhythm, a nice intensity and virtually no slowdowns. No spectacular effects here, zooms and morphing are not too much used: the programmers wanted their game sober, but of quality.
Aside from the ridiculously high difficulty, there is nothing much wrong with this Video System's shooting game. Players might be surprised, however, that the editor has reduced the number of levels from ten to eight, while we also wonder why they were significantly shortened. In addition, programmers could have learn from the previous episode and improved the gameplay, by offering a little more powerful and faster aircrafts, but also harmonizing a bit the difficulty... Guess what? They didn't. We can still note that the realization slightly improved since AF2, while the gameplay and the life of Aero Fighters 3 don't match those of its predecessor. This third episode might probably interest players in search of an ultra-hard Shoot themp Up, mixing Manic and Classic genres for hardcore gamers. For others, the use of infinite credits is recommended, but it significantly lessens the attractiveness of the game and a potential challenge.
GRAPHICS

65%

It's as much uninspired as Aero Fighters 2, with nonetheless some efforts done on backgrounds and Bosses.

ANIMATION

83%

The game is fast, smooth at will and packs intense and taking action, with some big, big opponents!
SO

UND

69%

Nothing special here, but still a little better than the previous episode.

REPLAY VALUE

73%

There's eight stages to clear twice, and these are different on the second passage. The game is incredibly difficult and the stages short, consisting essentially of the fights againstthe different Bosses.
GAMEPLA

Y

68%

AF2 basics are kept, featuring a quick and intense gameplay, but way too difficult: a vast majority of players will skip their turn here!

NEOGEOKULT

Overall

71%

Less balanced than its elder, Aero Fighters 3 only offers a slightly better realization, penalized by a repulsive difficulty.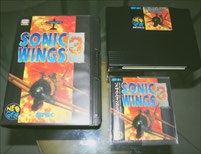 VALUE FOR MONEY (2013)
Sonic Wings 3 recently had its price increasing strongly , now flying above 400 euros and still relatively rare. The second episode was a bit more balanced and a bit cheaper, if you absolutely wanted one of Video System's shooters.