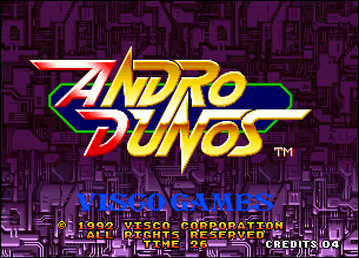 Visco's Tom Thumb
by Tibe (2011)
Went almost unnoticed when it was released in 1992 on the Neo Geo AES, Andro Dunos is one of the smallest games in terms of memory (thirty-four megabits only), and by far the tinyest shooting game ever made for the system of SNK. Inspired by various shoot them up currents, is this dear little Andro has what it takes to hold in breath a bunch of demanding, seasoned arcade players? The first thing you think when you begin playing with it is: wow, Visco's guys have balls for daring plagiarize so many other games! Elements, enemies, backgrounds, weapons... almost everything present in the soft was pumped either from R-type, Gradius or Salamander... and I some others ones i probably forgot! Taking back some good ideas featured in a few great shoot them up, ok, why not after all. But here, there's almost no innovation at all! Ok, I'll be more reasonable and fair as AD nonetheless packs some new ideas, such as its in-game selectable weapon system, or free full power up when collecting all the bonuses of a stage. This is still very thin!
But let's see what else our Tom Thumb of the Shoot them Up has. After a brief kinematic of the ship on its launch pad, we're projected into interstellar space! Playing alone or cooperative, Andro Dunos shows a great classicism in its gameplay. Four different weapons can be switched at any time by hitting B, and these are upgradeable thanks to the bonuses you can collect through the missions. Except for the basic weapon, you can use defensive modules, missiles, bombs... It's simple to use, but enough to already allow some tactics. The ship is fast, and it's fine, because there's no speed up to collect in the game. The first stages can be cleared quite easily, but difficulty falls on your head like bad news on happy people right since the fourth stage: no more gifts, hard times now! Suffice to say that from this area, Andro Dunos becomes a real little slut - yes, I weigh my words - and entourloupe and shots from behind will be legion! But it would not be fair to complain about this, after all ... It's not that bad a game that, for once, can't be cleared within fifteen minutes.
A simple gameplay, an impressive difficulty level, and in consequence a pretty good life for the game itself: it's all good on this point, Andro Dunos packs good game mechanics and a tough challenge, even for seasoned players. Now, let's see the realization: Ouchhh, that's were it hurts! It's so mediocre... the prettiest stage of the soft remaining probably the third (the alien one) with its organic design and glaucous enemies. That said, it's far from matching the expectations of any Neo Geo player worth of the name. All the other areas of the game are a notch below... you got it, graphics of Andro Dunos are too simplistic plus they're not very diverse, while the enemies are a bit more successful, without reaching the summits. The soundtrack, if it's catchy, doesn't impress anyone either... S-F synthetic noises, completed with pioup-pioup and beep-beep effects are punctuating the action. In short, you feel like playing on a Sega Genesis. Animation on the other hand is just making Par: there are no slowdowns (at the same time, given the few there is to display...) and the game is fluid, fast and action addictive.
Our little game features eight long and hard stages to clear, guarded by pretty tough and massive Bosses. With the four credits available at the beginning, you certainly won't be able to clear Andro Dunos on your first runs (at least in normal difficulty). The realization being what it is, it's only the simple gameplay and the nice ambiance that provide a semblance of personality to Andro Dunos. Bonuses to catch are here to spice up the scoring system, with the ability to upgrade all your weapons at the end of each stage if you catch them all. A little bland and uninspired, Visco's shmup is clearly no match for hits like Last Resort or Thunder Force. Anyway, players should give him a chance, because there's still a lot of fun and a good challenge to meet. Its terribly dynamic gameplay makes it pretty addictive, in fine. This is probably why I come back to it regularly, with still a lot of pleasure, despite its few flaws.
GRAPHI

CS

65%

Not really "ugly", but far from honouring the system... Andro Dunos looks like a beutiful Genesis game, no more, no less.

ANIMATION

80%

Without being hyper complex, animation meet no slowdowns, but only rare blinkings (when playing two simultaneously). Enemies and explosions are nicely made.
SO

UND

69%

Themes are catchy, but effects and music doesn't show a quality worthy of the Neo Geo, as well as the graphics.

REPLAY VALUE

75%

Eight stages total, and it's about forty-five minutes all the way. The great difficulty will give you some hard times, even if you're an adept of shooting games. And there's still the cooperative play, always a pleasure!
GAMEPLA

Y

84%

Four basic weapons that can be upgraded, fast ships and intense action... Simple principles, but nice sensations.

NEOGEOKULT

Overall

76%

Technically somewhat limited, Andro Dunos is still a cute Shmup that provides instant satisfaction!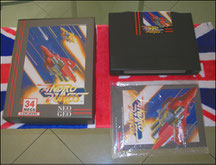 VALUE FOR MONEY (2011)
The game costs more than a hundred euros in its european or U.S version, and two times more for a japanese one. Expensive for such an average game, but the gameplay is worth it. Andro Dunos will catch you for hours and you won't regret your money.