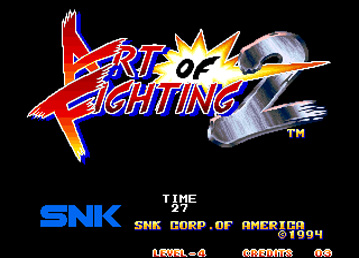 Back to Southtown
by Tibe (2012)
After a very successful first game offering a fantastic realization but alas a too limited roster, the Art of Fighting saga is back two years later with this second installment, in 1994. Takuma was unmasked, and peace returned in Southtown after all the drama. This year, Geese Howard has decided to organize the King of Fighters tournament, in which our martial arts experts are of course involved. Back in force with a 178 Megs cartridge, the Art of Fighting characters are now twelve total plus Geese, who's the new boss of the game. And unlike in the first AOF, every single character can be played in story mode! Each fighter has his own story, and now packs a real range of attacks, special moves, and some combinations for few of them. Ryo and Robert have even improved since the last two years!
First observation, the options are very comprehensive for an arcade production, with the language setting, but also the difficulty and speed of the game that can be adjusted. This last option is quite interesting, but it quickly becomes obvious that the initial velocity set was in fact awesome. Anyway, crazy players can still try the 130% option... Graphically, the sprites are still huge and all have been slightly redesigned with good taste: it is great art, especially for characters such as Ryo, John or Takuma (Mr Karate). What was already good in the first game, gained in finesse and depth, and we can say that the style has improved since AOF. The backgrounds, thriteen total, are full of colors and beautiful, fitting in the series ' style. Three new bonus stage are available. Like before, those bonuses can improve your fighter's stats, which is a pleasant "RPG" touch (in this world of brutes). Moreover - it's another nice detail- your AOF 1 backup can be re-used here, taking account of your progress!
All characters now pack furies, combos and new special moves for a few ones. Power gauge is still there and the button system is borrowed from the previous installment, but it's now more sensitive and more accurate. The zoom is still in the game too, even more powerful than in the first episode espcially for the zomming-out feature. All backgrounds are new and I have to say, graphics are amazing, keeping a style close to AOF. In addition to these hyper graphics, the game also benefits a very good animation, pretty fluid, fast and featuring numerous stages of animation. Some characters are more smoother than others (I think of Ryo, Robert and John, above the rest, including Jack and Mickey), but the overall achievement is excellent, in view of what was existing in 1994. The melodies consists in re-arranged Art of Fighting themes, sounding even better than before. The audio effects themselves are the best ones among fighting games of this era: diverse, super-powerful and perfectly adapted to blows.
Art of Fighting 2 uses exactly the same stick configuration as the one of the first episode, still using four buttons: A for the punches, B for the kicks (two power levels for each, depending the way you press the buttons), while C triggers a throw when close, or perform powerful blows combined with the A or B buttons; the D button is kept for the taunts, efficiently decreasing the opponent's spirit gauge. This second installment is much better for the versus matches than before: with twelve available fighters, we now have a real variety of matches combinations, moves, combos and also an additional technical depth. The only downside comes from the daunting difficulty in Story Mode, downright diabolical, and the difficulty to improve, high and requiring many hours of training. Too bad that AOF 2 is so elitist,  because it's difficult to find other flaws to this beautiful game.
GRAPHI

CS

96%

The backgrounds are awesome and varied, and like in the first episode the characters are huge and even more detailed: AOF 2 provides the cream of the crop!

ANIMATION

89%

Far superior to its predecessor, the animation in this second game is fluid and fast, especially given the sprites' size. Too bad some secondary characters are not as smooth as the main heroes.
SO

UND

95%

Always more musics and vocals, and various audio effects perfectly chosen.

REPLAY VALUE

80%

Thirteen characters (with Geese) is far better than in AOF, but almost makes Par back in 1994. The difficulty level is set too high, and this will discourage a majority of players... but versus mode still remains the main feature.
GAMEPLA

Y

87%

More precise, faster, more comprehensive. Anyway, it requires a little training to be mastered, unless you're already familiar with Art of Fighting mechanics.

NEOGEOKULT

Overall

88%

Great realization, deeper gameplay: AOF2 is one more gold nugget in the Neo Geo's library.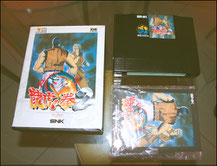 VALUE FOR MONEY (2012)
Here's one of the most competitive value/money rate on the system: you can find the game for less than 30 euros in its japanese AES version. Given the soft's quality, there's no hesitation to have! If you don't like too difficult games, go for the first episode.