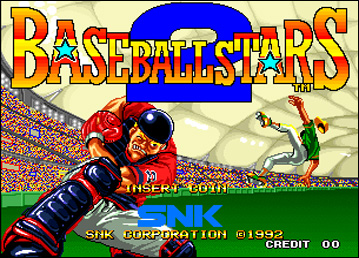 Large Jaws and Giant Bats
by Tibe (2011)
Baseball Stars 2 is actually the third game of a videogame series about this sport, begun in 1989 by SNK with Baseball Stars on the NES. This one was considered the best game of its kind on the Nintendo system. The saga continues in 1990 with the awesome Baseball Stars Professional released on the Neo Geo. Meanwhile, the happy Neo Geo owners are granted the cybernetic 2020 Super Baseball, which declines this sport in a world of robots. Finally, our BS2 arrives two years later, standing as the ultimate game of the saga, heavy with a 68 megs cartridge. Of course, many neophytes will hit the road, sealed with obscure rules of this barbaric sport came overseas. Yet it would be unfortunate to be deprived of the pleasure afforded by this excellent software, promise of good times with friends aware of this sport. At NGK we're not wild dogs, so here are some basic rules to introduce you ignorants to this wonderful game of baseball.
BASEBALL RULES FOR DUMMIES:
Two teams face each other for nine rounds. One of them plays on offense and the other defence, each once per round. The offensive team lines up a hitter, while the defensive team has a pitcher, a catcher and seven players who can retrieve the ball once it's hit. The playing area consists of four bases forming a square, in the playing area in which the ball is can be landed. The hitter has to cross each base and get back to the starting point -fourth base- to score a point for his team. Hitter is eliminated if he misses 3 times the ball (provided it is properly launched), or if his shot is caught before touching the ground, or if he's stopped before getting on a base - if the ball is in possession of an opponent already on that base. If he performs 'Homerun' (ball hit out of bounds) the hitter automatically get a point, and more for the team if there are already other hitters on bases. When three hitter are eliminated, the phase ends, the attacking team passes on defence and vice versa.
BS2 is a beautiful game, sympathic and engaging. The very 'Comics-looking' graphics show beautiful colors, muscular and oily characters with good-looking faces. The stadium is sublimely designed: there's only one environment, but very successfully designed, fine, colorful and lively. Players' moves, both hitters, pitchers or runners, are fluid and fast while handling is a real treat. The sound effects are firmly joining the action, bat sounds, crowd... it's a great job. And of course, voices are legion: remember you're on the Neo Geo! As you can see, Baseball Stars 2 offers a splendid realization, as expected on the Rolls Royce of videogame systems. The replay value can be huge if you like the sport, as long as you have professional players or friends you converted to Baseball around. The duels between humans, as in a VS fighting game, are super addictive and will have you spending good times. Feints, devolution, intimidation, tactics, timing, reflexes... The nerves are strained, and every battle can last half an hour or more! Twelve different teams can be picked in versus mode, while the single player have six of them available in hard mode, and six league clubs in easy. Story mode is taking, very long to be cleared indeed, since it will take fifteen games to win the championship. Each match can last half an hour or more, so don't forget your memory card! 
Choose either the auto mode (simplified operations) or manual, in which you manage all the maneuvers. The gameplay packs everything that an honest player can expect from a baseball game: as a hitter, the quality of your hits of course depend on your player's skills, but also on your position and timing. To run fast, you'll have to smash B button as fast as possible, eventually winning several bases during a run. Other subtleties, pushing C-button when bating is performing a pitchenette instead of a heavy hit; and with the pitcher, using stick 's directions during a throw changes the ball's course. D is a assigned to the 'coach' function. It pauses the game to change a player (in case of injury, or if you want a better hitter to attempt a homerun, for example) or use a 'Power up ', a Hulk's E.P.O, exceptionally legalized here, giving more power to the pitcher or the hitter. Rather complete stuff for an arcade game! With such smooth and complete controls, six selectable teams, fantastic two-players matches and a godly realization, it would really be a miss to avoid this baseball game. SNK signs here probably the best soft of this kind on a 16-bit system.
GRAPHI

CS

85%

Beautiful, polish, full of colors... all this in a great 'comics' genre, full of kinematics and intermediary screens.

ANIMATION

93%

Nothing to blame: smooth moves, fast scrolings, intense zooms... all this combined to offer intense action!
SO

UND

82%

Effects are quite realistic and voices catchy; hard-rcok themes are punchy although a little repetitive.

REPLAY VALUE

90%

Major League with 6 teams + a great championship for a single player... but the soft takes all its sense when playing two, like inWindjammers!
GAMEPLA

Y

92%

Almost anything can be done in BS2! Gameplay is smooth and complete, requiring some training to become a great player. Taking and fun when playing two, and big challenge in solo.

NEOGEOKULT

Overall

91%

Magnificent realization, exhaustive game mechanics, fun all the way... What could we ask more? Ah yes, I hope you like baseball!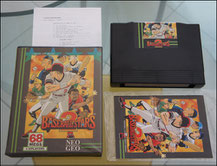 VALUE FOR MONEY (2011)
JP is cheaper than Euro or US, which have dramatically increased lately. So prepare to spend ONLY 70 euros for this AES: it's a great ratio, as BS2 is the greatest 16-bits Baseball game. If you love this sport and/or want to have fun with a friend, go for it!