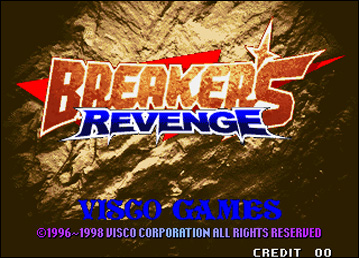 The Bare Minimum
by Tibe (2012)
Visco's programmers are really the bad boys of gaming. Each new game from the editor sounds like a finger to other companies, no matter who they are! Remember: in 1992, Andro Dunos shamelessly plagiarized other classical Shoot them Up (Salamander, R-Type, etc), few months later Puzzle de Pon and Puzzle de Pon R (two identical games) were purely and simply copying Taito's hit Puzzle Bobble, while even later Flip Shot and Bang Bead would be made using Windjammers gameplay basics, still shamelessly. Best of all, in 96, the company released its first versus fighting game: Breakers. And guess from where come the team's inspiration? Street Fighter II, bingo! So for this sequel released two years later, Visco simply spoiled us: one new character and new colors for the backgrounds! This time, the finger is not destined to the rival companies, but apparently to players.
I exaggerate a little yes, but barely. There are only two possibilities: either Visco is really making fun of its clients, either... they are incorrigible lazybones. And finally, I feel deep in myself that this option sounds pretty right. Within two years, the editor could have improved its already very good Breakers, which suffered in substance only from a too small roster and sloppy musics. The game was doing pretty well with a nice atmosphere, an impressive amount of fun and a particularly captivating gameplay. All this has of course not disappeared from this 'Revenge' version, but let's say that the new features - as the improvements - are almost nonexistent. Just looking at the introduction, we can guess how we'll be eaten. The kinematic is exactly the same as Breakers' one, with a single image of the ninja crept among the others. Saizo, the new guy, seems like coming straight out of a Naruto episode. He's equipped with all the paraphernalia and attacks of the perfect little ninja, teleportations and invocations included. 
His design is nice, the character is well animated and packs a broad range of moves. But most of his attacks are unfair compared to other fighters. Duels are thereby often off balance, and Visco has tried clumsily to restore the equilibrium by making some of its moves less powerful  (they remove relatively less life)... but this doesn't really solve the problem. So this isn't starting very good, with this balance between characters less adequate than in the first game. Let's continue with the fighters' portraits, revised and renewed: here is another improvement which we would willingly have declined. These have been redrawn in a not too convincing style, with the graphic designer - unfortunately - discovering Photoshop filters on the late of his career, thus providing us a superb 'color pencil' filter on the portraits of our heroes. No need to lie, the result is ugly. Only Saizo's stage finds salvation: fighting on the roof of a japanese house at night, that's cool and not without recalling Ryu's stage in Street Fighter II (definetely!). Yet it's even more beautiful, I have to say.
About the sound and animation of the game, there's nothing wrong - nor good - to report, as the whole program is stricly identical to what we've seen and heard before in Breakers. No miracle, Visco kept on not working too much as usual, no worries. Breakers was a good game, Breakers Revenge couldn't for sure be a bad game, for sure. With its only improvements being an additional character and a code to play Bai- Hu, these few upgrades don't weigh heavy in the balance... especially if one considers that the new portraits are completely fucked up, while the new colors for backgrounds make these less beautiful. In addition, we're more regardant on the small defects coming from the first episode now that two more years have passed. Breakers Revenge could have been a killer fighting game, but that would have been forgetting that at Visco, people don't like working too much: gently in the morning, not too fast in the afternoon.
GRAPHICS

75%

New colors for the backgrounds are not always well chosen, while the portraits have been terribly re-designed.

ANIMATION

92%

No changes since Breakers, but let's render to Caesar what belongs to him, animation's still great.

SO

UND

74%

Here again, no changes... So it's still average with quite crappy musics, but excellent effects.

REPLAY VALUE

75%

We're going from eight to nine selectable characters, yeahhh !!! Let's say ten with the code for playing Bai-Hu: nothing to bother kof 98' and its forty-two fighters.
GAMEPLA

Y

89%

Still very fun, but one downside here: Saizo imbalances sensibly the roster's equilibrium.

NEOGEOKULT

Overall

80%

Released two years after Breakers, this Revenge brings only one more character and a few improvements that were completely useless.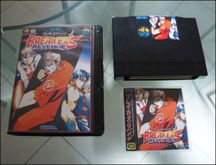 VALUE FOR MONEY (2012)
In this point of view, Breakers Revenge is doing better than its predecessor: a conversion cost "only" around 200 euros. It's still too expensive for what it is, but if you really want to try a Breakers game, it's still better than the 500 euros of the first episode.