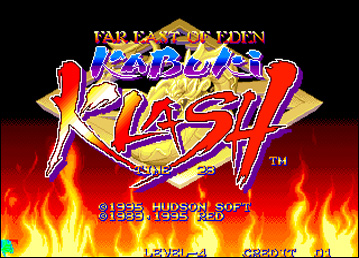 Hudson Soft's Samuraï Shodown
by Tibe (2010)
Could you imagine a skilful blend between Samurai Spirits and Waku Waku 7..? A game packing (almost) the violence of SNK's bestseller series and the manga style of the Sunsoft title? That would be quite an UFO for sure, but in fact it's a real game programmed by Hudson Soft, released in 1995 on the Neo Geo. The first time a player boots the Kabuki Klash cartridge, all he can see is a cute and refreshing VS game, packing funny japanese characters armed of weapons. And the editor must have had balls back then to try its own versus fighting interpretation, by choosing the most perfectly supplied 16-bits system in this domain. Using the same rom size as Samurai Spirits II (202 megs), let's see what have for us this episode of the Far East of Eden series on the Rolls Royce of consoles.
Hudson Soft, known for having released many great games for the PC Engine in the past, is a renowned japanese company, especially in the retro-gamers memories. Adventure Island, PC Kid... and above all a bunch of awesome Shoot them Up and a few nice little adventure games on the cute NEC system. They also created the Tengai Makyo saga, which consisted of a beautiful series of RPG on the various machines of this manufacturer. Kabuki Klash is part of this pedigree, but for the first time ever the saga is declined in a VS fighting game. This brand new installment features an eight characters roster, easily brought to twelve (with the boss that can be unlocked) via a code or the universe bios chip. That's not necessarily huge, especially when you think that in 1995 there was games like The King of Fighters 95 ruling supreme in the arcades, but yet it's still fresh and varied enough to attract some players. The four buttons are used, with two assigned for sword slashes - or punches when you're disarmed - and two for kicks.
As said before, Far East of Eden was mainly a role playing game saga released on the PC Engine. Declination of a fighting game on Neo Geo was rather unexpected, but it's a nice surprise anyway. Given the success of SNK's Samurai Spirits saga on the home system and the arcades, Hudson probably wanted some of this glory too. Most of the characters included in the manga are samurais or ninjas, so it was rather legitimate for this series to have an adaptation as a VS fighting game. Our little warriors (well, not all of them are so little...) are cute and lovely, and very finely drawn in a purely technical aspect. The line is borrowed to the manga style, and the backgrounds are perfectly in tune. The fighters look great in these landscapes, and the "asiatic-fantastic" ambiance of the saga is nicely retranscribed. After choosing your favorite warrior, you will have to punish the seven other contestants one by one, and then face the four Bosses of the game! Those are really impressive, going from burlesque to pretty huge... but I'd better not tell you everything about it, and let you discover by yourself. Special moves, combos, dodges: the gameplay, although simple, is complete and smooth.
The pleasure of discovering a brand new saga is also valuable, because if the game is inspired by Samurai Spirits, it does not simply copy it. Special moves, combos, dodges: the gameplay, simple but comprehensive, is nice and offers the pleasure of discovery. If the game takes inspiration in Samurai Spirits, it innovates enough to create attraction. For example, during the fights, you can pick up items for restoring life or magic, but there's also poison or other dirts. Graphics are original and have a style on their own, never really seen before in a game of combat. The sprites, slightly smaller than those of SNK's analog titles, are thin and don't lack personality. Animation and soundtrack are no exception to the visuals, there is no flat, achieving an overall remarkable realization. The various characters are fun to discover, improving your skills is relatively easy, but not too much either. The game is not so easy to finish though, and that's a good point. With a fun atmosphere and a nice touch, this little Kabuki Klash is a nice surprise, and radically changes from the ultra-known franchises on the system... It's a breath of fresh air!
GRAPHI

CS

90%

Cute and nicely colored, stages are very beautiful and characters have personality.

ANIMATION

83%

In the standards of its time, the animation is smooth and decently decomposed.
SO

UND

85%

Good sound FX et 'japanese' themes are putting you in the mood right from the first fight!

REPLAY VALUE

81%

Good in single player mode, the replay value for versus is good too. The twelve characters are fun to discover and to master, while the range of moves isn't huge indeed.
GAMEPLA

Y

72%

Less technical and advanced than Samurai or Last Blade, gameplay is nonetheless fun et allows to perform some good moves quickly.

NEOGEOKULT

Overall

78%

An excellent fighting game, very cute, which while not dealing with the big names on the system, stands as a good amusement.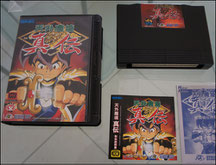 VALUE FOR MONEY (2010)
Hudson's fighter can be found for a decent price of 120 euros. This game will not be a priority for most players, who might largely prefer Samurai Spirits III released the same year, or even the II, six times cheaper and providing more benefit!