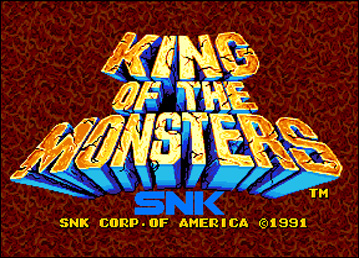 Piledriver in Tokyo
by Tibe (2012)
You were warned: by keeping not sorting your wastes and driving ultra-pollutant Yugo, you fucked up the planet. The world has become a huge bin, and all this finally devolves on your head: the decline caused by the human race has ended up creating monsters, frightening creatures whose genes have mutated, measuring dozens of meters and packing supernatural powers. And such as precognitive dreams mentioned by Lovecraft and Clarke, these giants have taken the form of mythological entities. Japanese side we have Astro Guy, who is nothing else than Ultraman coming back to life, while Geon looks like Godzilla like two drops of water. Comics side, Woo is a giant gorilla escaped from the jungle and Rocky an elemental stone, a huge version of The Thing from the Fantastic Four. There's also Poison Ghost, a snot entity quite appetizing, and Beetle Mania, a gigantic insect equally disgusting.
SNK provides us, with King of the Monsters, a mix between a dumb monsters' game (Rampage) and a straightforward wrestling game. It is possible to play alone or two against the CPU, but two players can also fight each other like in a versus fighting game. You guessed it, we have to choose our favorite behemoth among a roster of six characters: that's not too bad for a 1991 game. The action takes place in six major japanese cities: Tokyo, Okayama, Kobe, Osaka, Kyoto, and Hiroshima, of course. Each of these stages exists in two different versions, for example we have the city of Kyoto during a sunny day or snow-covered, or Hiroshima by day or by night, bringing the total number of 'different' backgrounds to twelve. Twelve is the number of fights it will take to win, in order to finish the game... and it will not be an easy task, because KOTM is difficult. Don't worry, not as difficult as the second installment, phew! We are saved!
The 'wrestling' gameplay is remarkable, with a full range of moves: you can hit with punches or kicks, run, jump, and of course use a lot of varied wrestling moves (each monster has four different throws). By performing these techniques, you unleash 'P' spheres with which creatures evolve, after ten collected. It's also possible to perform the famous hit of the clothesline, to launch the opponent into the ropes, hit a grounded opponent, or even recover unfortunate humans vehicles to throw it on our adversaries: tanks, trains, jet fighters, and other airliners. Icing on the cake, every corny packs a Special-Move-Of-The-Death-That-Kills that can be be charged by depressing A+B simultaneously. For example, Woo launches a superb fireball, Geon breathes fire, Poison Ghost propels its extendable arms... the power of these attacks depending on the level of your wrestler. All these techniques leave a lot of opportunities and a good time to discover the soft, especially because when playing in team, there are many different strategies to crush your enemies!
The range of moves is more than adequate, but the gameplay quickly finds its limits: each fighter is playing the same way, all being 'standardized' with attacks and throws almost identical or similar. This being said, it's particularly enjoyable to destroy entire cities while having fun, especially when you explode the face of an opponent against a building or having your rear supplex landing on the Osaka Castle! Perspective graphics of japanese cities are beautiful and detailed, providing many details and animations. The monsters are also well drawn, but fairly average sized and animated basically. Anyway, it's still the soundtrack that impresses the most: the six themes of the game are very original, inspired and brilliantly orchestrated. The sound effects are not bad either, with  dozens and dozens of beautifully digitized effects. Much better than its sequel, King of the Monsters is an original and fun game, offering a fairly good realization.
GRAPHICS

83%

Six cities are available in two different versions. The stages, drawn with a nice perspective effect, are large and well-drawn, offering an impressive amount of details.

ANIMATION

79%

King of the Monsters abounds with animated details and very well crafted effects. Besides, the monsters' animation is just average.
SO

UND

92%

G-R-E-A-T! Effects are numerous and well chosen, but musics are clearly the climax of the game: original, fun and catchy, congrats to the composer!

REPLAY VALUE

81%

There's six different monsters, a challenging mode for one player, cooperative play against the machine and the traditional versus mode: that's not bad!
GAMEPLA

Y

76%

KOTM is for sure a fun and addictive game, offering a good range of moves and throws for each character. Too bad they're all playing the same way and the action is sometimes repetitive.

NEOGEOKULT

Overall

80%

SNK performs with King of the Monsters one of the best games of giant monsters ever made: beautiful, fun and original.
VALUE FOR MONEY (2012)
With a Dog-Tag version costing less than fifty euros, King of the Monsters deserves to be bought by any retro-gamer worth of the name: if you never played it before, the discovery will be a good time, and for the others, the cooperative play is enjoyable at will!