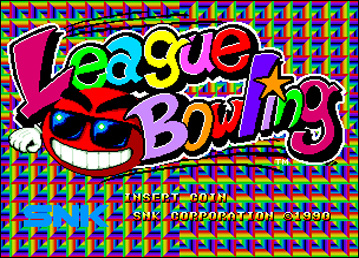 Bowls, Pins, and Beers!
by Tibe (2011)
From its 26 megas high, League Bowling  is still a fucking big mouth. LEEEEEEAAAAAGGGUEEEEE .... BOWLLIIINNNGGG! A crazy voice welcomes you after an intro worthy of the greatest mushroom hallucinations. The tone is set, humor and fun are in the game! Released in 1991 on the young Neo Geo, this friendly game of bowling is a clown figure on the system. Indeed, other titles around then were more "serious" and dramatic, see the Super Spy, Cyber Lip, Magician Lord or Ninja Combat ... None packed this fun and quirky atmosphere we have in League Bowling! For the world, terrorized cities, populations decimated... No no, here we'll just throw a ball into pins! The multiplayer is on the big feature: you can play four on the same console, and up to eight by connecting two systems.
Three game modes are proposed: "Regulation" is the classic game of bowling, with ten sessions per player and the standard point counting. The "Flash" is a way that will require timing! On each launch, there's an additonal screen to score extra points for any spare or strike. Between 50 and 300 pts can be won, depending on your timing skills... because the impact of the ball stops the score on the screen: if you have been accurate enough, you can collect 300 points for a strike and 200 for a spare! Finally, the "Strike 90" mode adds addtional points for spare (60) and strike (90). After choosing how you want to play , you can set the orientation of the player (right or left handed) and the weight of the ball. Then, let's go to the lanes (bowling ones)! Place your guy wherever you want on the launching area (left and right directions). An initial gauge determines the direction (control), then a second sets the power. During the launch, it's still possible to move laterally, and that's good for correcting bad trajectories!
The game is full of gestures, animations and many, many fun details. Every action, every success or crash and burn is dotted with small cut scenes. You find yourself always wanting to discover new ones, especially by passing several strikes in a row! The kinematics for each multiplication of strikes are all different and more spectacular than each other. Try the "Perfect Game" if you feel you can! The simple, intuitive interface, and damn funny atmosphere are good things, but the single player game quickly shows its limits. Besides the challenge for score, skits and fun to be discovered, we quickly make turn around and I doubt that anyone might play League Bowling more than twenty minutes in a row on his own. Competition with friends gives its full dimension to the game, and then League Bowling becomes friendly and fun. Good gameplay and addictive competition make games of bowling with 2, 3 or 4 mates lasting for hours!
There's one and only bowling alley and players are all the same, but a plethora of small animations pushes up the atmosphere. The graphics are nice: colorful and alive, the SNK Bowl is rather sexy! The musical themes, one different for each game mode, are fairly repetitive, sounding like groovy elevator musics. Besides, sound effects are doing good. Rolling noise of the ball, shocks into the pins, the soles of sneakers on the floor... all are very realistic. But the highlight in League Bowling is its animation: fluid, well-licked and detailed. Great zoom effects are used when launching the ball, while the protagonists moves, ball and pins lacks not realism. Not to talk about the top screen animations, they're not only delusional, but here again, brilliantly crafted. You feel like watching a cartoon! Finally, one could hardly do better as a game of bowling. By seeing Wii Bowling today, while the realization is different, the defects remain exactly the same: repetitive and quickly boring when playing alone. We can therefore say that SNK did a good job with this little title. The atmosphere, the fun, the three modes available and the full options, all this make LB a very good game of bowling. Recommended for gaming nights, between KOF and Samurai Shodown!
GRAPHI

CS

72%

Characters, lanes, bowls and pins are nice. Anyway, only one bowling alley is quite limited.

ANIMATION

92%

Remarkable: League Bowling is a real high-end cartoon!
SO

UND

76%

Three main themes is few, but the sound effects are flawless.

REPLAY VALUE

59%

RV is almost infinite when playing with friends, providing fun and good times. Playing alone, you'll quickly get bored!
GAMEPLA

Y

70%

Directions, effects, power, ball weight, tactics and accuracy: it's just a bowling game, but it has it all!

NEOGEOKULT

Overall

68%

Alone, it's fun but you'll get bored quickly. Playing 2, 3 or 4 players, fun and competition come through and it rocks! Super fun multiplayer game, with excellent realization.
VALUE FOR MONEY (2011)
League Bowling's price increases slowly, but surely! Now, it's available between 70 and 100 euros depending on the version. You have big fun times ahead playing with friends between two fighting games, but it's definitely not worth the price.