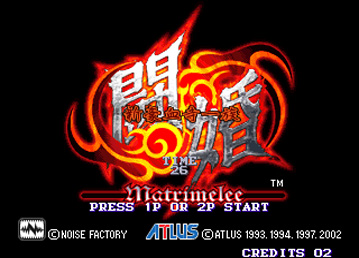 Programmers on acid
by Tibe (2011)
Beginning a review with the title "programmers on acid" seems a bit tough at first, but this is indeed the only explanation I have found, after the few hours spent playing Power Instinct Matrimelee. Not that the game is bad, far from it: on the contrary! It's precisely this particular crazy atmosphere that many players might love in this title. And a little crazyness, it feels good in a fighting game on the Neo Geo, since this didn't happened often, except with rare games like Waku Waku 7. Distant descendant of Power Instinct from Atlus (released in the early nineties), our Matrimelee has a rather nice pedigree, its ancestors being real good and original VS fighting games. The past installment known some success during their era in the arcade rooms. In line with the games-that-have-sequels-ten-years-later, next to Sengoku and Prehistoric Isle, here's Power Instinct Matrimelee!
In addition to a bunch of completely crazy characters, and some other ones totally zany (human-dog hero in a pajamas, powerful-farting grandpa, toothless aggressive granny, sadomasochistic priest... and that's enough for now) we are granted backgrounds as cute and weel-drawn as full of fun details (boy sleeping on a nightclub's bench, display disseminating a giant ad for noodles, depressed girl playing guitar on a swing...), but the software also features a rather demonic soundtrack. Next to great and varied sound effects fully using the Neo Geo capabilities, we're offered incredible themes. A few ones are are sung in japanese, using top-notch quality vocals in a totally whacky style, sticking perfectly to the game. There's also other great melodies, catchy rhythms, and even some demoralizing ballads particularly recommanded for depressive people (ready to gun with these). But all this with a very funny humor and a remarkable dandy atmosphere !
The gameplay itself is very well screwed: combos, counters, juggles, everything is there, plus some variations like for example a contest of reflexes when both players press start during the fight, or the opportunity to use the referee (clone of Samurai Shodown's Kuroko, like Passe-Partout in Fort Boyard) to swing him in your opponent's face. Desperation Moves, Super Desperation Moves, nothing is missing, and in addition Power Instinct Matrimelee offers a nice roster of twenty characters - fifteen basically + five that can be unlocked with codes - each one more crazy than the other. Really, we don't know where to give head! In order to give you a precise description of gameplay, it's a bit slower than a KOF, it featuresReal Bout Special's sensations for the controls, and technically it's between the first and the second without having the same depth. Matrimelee is fun to play, it's undeniable, especially when fighting against a friend... players in need of freshness and fun will find happiness here, but be warned that in story mode, the game is rather difficult... especially because of its final Boss, Sissy.
The realization is one of the prettiest among games that were released in the Playmore era, still pretty far from equaling Garou: Mark of the Wolves or Last Blade 2 for sure, but clean and finely drawn, with its own 'photo-realistic' style that looks good. Animation is nice, smooth and moderately fast. About the soundtrack, this is probably the highlight of the game: melodies provide much exotism, with its japanese pop-rock, guitar riffs, disco-funk... many melodies are sublime, I have to admit! Sound effects and vocals are doing good too, sticking perfectly to the beat-up atmosphere that prevails from beginning to the end. Developed by Noise Factory - the Sengoku 3 guys - and licensed by Atlus, this Power Instinct Matrimelee, in its full name, is a nice surprise. This fighting game unprecedented on the Neo Geo is a breath of freshness and originality, among the KOF and Samurai Shodown games no longer being what they used to be, in these years of disorder. Incidentally, here is an illusion of renewal for a console that - we know by now - lived its last months of commercial life in year 2003.
GRAPHI

CS

82%

Beautiful with many digitized graphics, but we'd have loved more pixel art. This said, game is nice, despite the little number of stages: six only.

ANIMATION

93%

Nicely decomposed and smooth. All characters have very natural moves and rendering is perfect.
SO

UND

96%

Sung themes are the blow, and sound effects are fabulous!

REPLAY VALUE

87%

Twenty characters, fun, comprehensive VS mode... the story mode is sympathic but a little too hard (Sissy...). Anyway, there's hours of amusement awaiting players!
GAMEPLA

Y

80%

Pretty fun, taking, original, but still light years from Kof and Garou. Anyway, some change is welcome!

NEOGEOKULT

Overall

84%

A lovely fighting game, with a good realization and nice mechanics. An interesting alternative to great classics on the Neo Geo.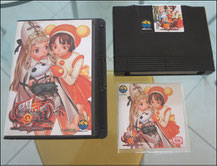 VALUE FOR MONEY (2011)
A little bit high-priced, unless you're a kitsch lover. More than 200 euros nowadays, it's slightly too expensive for a game (sympathic, that is) running on the Neo Geo, a system where the competition is wild concerning VS fighting games.