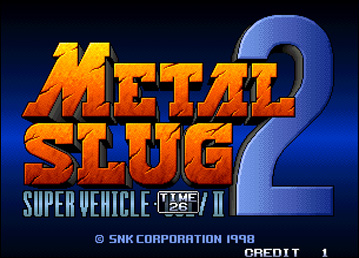 The Second Layer
by Tibe (2012)
After the resounding success of the first Metal Slug game in the arcade halls worldwide, SNK strikes back two years later, delighting the thousands of players who fell in love with the previous episode. In addition to the ports on 32-bit consoles (Saturn, Playstation) and the Neo Geo CD, the company is also determined to exploit the seam on the arcade format, putting the overdrive to Metal Slug 2. From 193 MB for the first game, it goes squarely to 362 after a good cure of steroids under the form of octets! The basics of the first episode are of course preserved, but programmers have added in this newcomer some very, very nice ideas. For example, great weapons make their appearance (Laser, Flame, Fire Bomb ...) but also splendid brand new vehicles, like the Flying Slug (a jet fighter) and the Camel Slug, literally a camel equipped to fight! Also, pay attention to obesity when too much food is collected, as if it's making your character more powerful with his shots , it also makes it much slower!
Many new enemies are introduced, and the six levels of the game are completely new. SNK has really spoiled us! Atmosphere have a little changed since the "World War II" style set in the first installment: now, it's a parody of the Gulf War that takes place here, tinted with conflicts from near and mid-orients... all this with an episode remaining faithful to the inimitable, recognizable Metal Slug own graphic style. Mummies, Berber warriors, slimy aliens, gigantic Bosses... all the new stuffs show very exotic and brings a breath of fresh air to the saga. The excellent bonus system with prisoners you have to rescue is retained, but they are much more numerous here, plus a lot of hidden ones to discover, and we won't complain. Metal Slug 2 contains many winks to other games or even movies all through its levels, as long as you pay enough attention to see them. The designers have perfectly kept the Metal Slug style, while renewing the atmosphere with brightly colored and fine backgrounds, which are also very varied.
The enemy sprites are not left behind, with a damn reinforced bestiary: Morden soldiers received reinforcements! Even more impressive, we have to deal with new bosses that are even bigger than before, while they're still beautifully drawn. All this stuff is pretty well animated, even too much! Hyper detailed explosions, hundreds of sprites on the screen simultaneously, shots, enemy soldiers, large vehicles, debris combined with the intense action and decomposition of everything... all this incredible stuff cause a lot of slowdowns during the action. It's a shame, especially because even by shwoing a little less stuff, the game would have rocked all the same. That being said, Metal Slug 2 suffers slowdowns especially when playing two. Alone, it's almost acceptable, as they're less numerous and sensitive. The soundtrack make a great performance: it's even better than the Metal Slug one, with new catchy melodies and an awesome panel of special sound effects. The music of the first stage in the desert is totally mesmerizing, it's like the Marigold!
Other nice themes such as the Bosses or the gingles like "Mission Completed" are borrowed from the Metal Slug ancestor. The gameplay is probably the element that has undergone the least changes, except that the action is a little harder and the game lasts longer. News side, there are four playable characters, new weapons and vehicles, and jumps a little more accurate. Even when fully cleared, the game is always so attractive and players come back regularly, eager to discover and perform hi-scores. The room for improvement is wide, for sure! This Metal Slug 2 is awesome in many ways, it's just too bad that there are so many slowdowns during the action. If it's sometimes welcome and convenient for some difficult passages, most of the time these lags are really penalizing the gameplay and the fun of the game. Anyway, SNK had the good idea to revise this great episode and offer an improved animation as well as some goodies in the next opus: Metal Slug X !
GRAPHI

CS

97%

Brand new backgrounds and enemies, keeping the Metal Slug style intact: it's gorgeous.

ANIMATION

72%

The animation is the weak point of Metal Slug 2. Slowdowns penalize the action when the screens are loaded with enemies. There still a lot of animations and decomposition is hyper thrust.
SO

UND

97%

It's awesome, featuring new themes, screams, explosions... SNK did again a great job with the incredible Yamaha Chip.

REPLAY VALUE

90%

MS2 is pretty tough to clear, but anyway you'll come back anytime with great pleasure, alone or with a pal.
GAMEPLA

Y

94%

Simply awesome, new vehicles, new weapons... The fabulous basics have been improved. Too bad those numerous slowdowns undermine the action.

NEOGEOKULT

Overall

93%

A very good Metal Slug episode, which only flaw is an animation with a lot of slowdowns.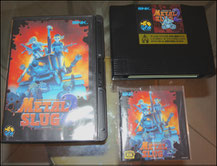 VALUE FOR MONEY (2012)
Its value rises again and again, as with time it seems that this episode 2 is quite rarer than Metal Slug X. You got it, it's a pretty expensive game, but if you have to choose, take the X: it's better, have almost no slowdowns, and it is cheaper!