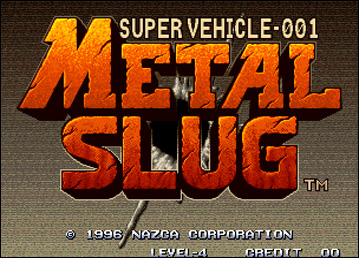 Heavy Machine Gun !!!
by Tibe (2011)
It's a little late, in 1996 exactly, that the Nazca studio made its debut for SNK on the Neo Geo. And how brilliantly! Two titles were released this very year: the excellent Big Tournament Golf and the famous Metal Slug. If the first one is a nice and catchy golf game to book for amateurs, the second one is simply a small revolution in the Run'n'Gun world. Indeed, what we have here is a game with its very own personality and an inimitable style, that brings back to life a forgotten genre: The "pedestrian" shooter! Irem had already released two Gunforce games rather good in the genre... But what Irem and Neo Geo have to do together? Nazca is a team of former programmers and graphic artists coming from Irem, the same people who worked on Undercover Cops, In the Hunt or Gunforce. They're working for SNK as a development team since 1995, and so release Metal Slug just the next year.
Run'nGun using a horizontal - but sometimes vertical - scrolling, Metal Slug is fulfilled with fun and action. There are six stages to go through, lots of weapons, grenades, and even tanks to pick up (like in Ikari Warriors)... and also big, slobbering bosses to destroy at the end of each stage. Two players can cooperate, which obviously makes this epic adventure even more fun to play. All along the way, you will have to deliver prisoners that strangely look like the ones rescued by John Rambo in Vietnam or by Chuck Norris in the movie « Missing in Action ». These hostages will drop bonuses and bombs when rescued. And if you manage to clear a stage without dying, rescued hostages will add points to your (high) score! The basic weapon is a simple Beretta handgun with limited firepower, but you will be able to pick up shotguns, flame-throwers, rocket launchers, and of course, if you are good and deserve it, the HEAVY MACHINE GUN!
Let's go straight to the point: Metal Slug's gameplay totally renews the Run'n'Gun genre, and the first time you discover its sensations, it's marvelous. Every time you start a new game, even after hundreds hours of play, it's a pure moment of pleasure and fun. The facial expressions of characters, the lovely graphics, cool musics and realistic sounds, plus the fluidity and harmony of the whole... all these features are simply remarkable. The game itself is rather quick to finish (about thirty minutes with normal difficulty mode), but its replay value is almost infinite. This game is part of the few ones to which any arcade player goes back regularly... as it's always such a pleasure. Technically, the colors are chosen to offer some realistim, combined with a cartoon style that provides the game its own personality. A real success! The animation is incredibly fluid and detailed, making in fine the game look like a real cartoon.
Yes, the various melodies are very catchy and stay in your head even after the game is over! As for sound effects, it's a no-fault. The sound of gunfire, the cries of soldiers, prisoners bellowing "thank you!", explosions and shellings are very well made, a part of these sound effects coming straight from Gunforce II. And let's say it's good news Nazca kept those ones, as they were already perfect. About controls, the set is perfect, the game is smooth with a hero who is highly maneuverable, as well for the vehicles. Moreover, it's possible to fire in every direction with the tank and Heavy Machine Gun, while jumps are very accurate. The game has been thought and worked until perfection on every part.  As if I needed to present Metal Slug... It's clear that most players have already tried this game, or at least have heard about it. True piece of art in the 2D anthology, this flagship title of the Neo Geo is a must. The pleasure of play it offers is rare, the fun is great, and the game design has aged pretty well, still ready to delight pixel-art lovers. Pull out your guns!
Translated from french by G-Mantle
GRAPHI

CS

96%

Metal Slug created its very own graphic style. Detailed, realistic, but cartoonish and colorful, in a word: unique. It inevitably reminds of Irem's great past titles like In the Hunt or Gunforce II.

ANIMATION

94%

Highly fluid, over-decomposed and quick. Very rare slowdowns occur when playing two simultaneously.
SO

UND

95%

Sound and musics will put you in the atmosphere perfectly: it's a success.

REPLAY VALUE

86%

The six stages are quickly cleared, but the replay value have almost no limits. There are lots of hidden little things that will make you come back over and over!
GAMEPLA

Y

98%

A

 

treat

 for the 

controls

,

 

maneuverability

, and

 

accuracy:

 arcade at its best!

NEOGEOKULT

Overall

95%

Although being a bit short, Metal Slug is a pure masterpiece, with a design and gameplay that come very close to perfection.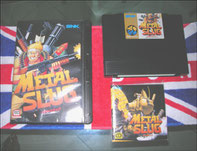 VALUE FOR MONEY (2011)
This is one emblematic title of the Neo Geo. The AES is very expensive, with a japanese version going for more than 1.500 Euros, and the US one above 2.500 Euros. If you just want to play, the convert is a great deal for less than 200 €.