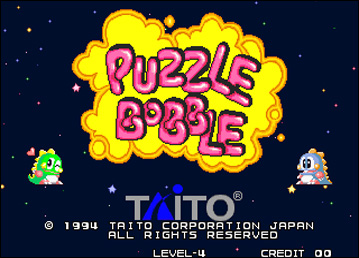 The Neo Geo is of course, the undisputed queen of fighting games. But the machine has also brilliantly illustrated itself in the register of sports with its golfing, football, bowling, basketball games... obviously not to omit its beautiful shoot 'em up with masterpieces as essential as Blazing Star, Pulstar or Viewpoint. But SNK - and third-part editors on developing the machine - thought about the most cerebral players and also about the girls, as the system hosted a bunch of great puzzle games. After the one and only release of the modest Puzzled in 1990, the Neo Geo receives Puzzle Bobble in 1994 for its second puzzle game. And the least we can say is that Taito will make a strong impression with this new title, in the arcades around the world, but also through its many ports on popular home systems.
Unfortunately for fans of the Neo Geo AES, the soft was only released for the MVS, and later on Neo Geo CD. AES players had to wait the 'converts' a few years later to play on the home console. With only 32 megs to the counter, do not expect a riot of gorgeous graphics, nor extraordinary animations and special effects, nor overpowering sound effects. No, nothing like that! With Puzzle Bobble, it's the neurons of the players who will be solicited. The principle is simple: in single player mode, the player is facing tables on the top and sides of which are clumped balls of colors, in varying amounts and colors depending on the course. We're in control of a pivotal launcher located in the bottom of the screen, with which you throw balls of various colors, coming randomly. It's about completely cleaning the table: the balls are affected by gravity but attach to each other. To have these exploding, you must unite at least three of the same color. Those suspended below are destroyed as the spheres tumble, freeing up even more space.
Whether playing alone or against a friend, the gameplay is based strictly on the same concept, except that the fact to have suspended balls dropped in addition to these we blew (I hope everyone follows) sends a penalty to the opponent who sees his game screen filling with balls sent by the enemy! This little cruel interaction spices up the matches between humans and makes taking damn funny the gameplay, with players battling to have their balls falling in cascades, in order to get tough with the adversary! Games are played in two or three winning sets, and competition is taking and exciting, but always very fun. The single games are long and brainstorming, with thirty tables varying in difficulty. In order to succeed, you'll have to totally master the principles of the game, but also show an accurate speed and important thinking ability... Warm up your neurons!
As I mentioned a little earlier, do not expect a spectacular realization as we've used to see on the Neo Geo. The graphics are simple but pleasant, althought they variety is poor, while the animations is simply about a few explosions and some average effects. Regarding the musics, they're cool and catchy but it quickly turns round, with two or three themes that recur repeatedly and a dozen sounds effects only. Anyway, what makes the strength of Taito game is more its hyper-addictive gameplay and excellent replay value, both playing alone or versus. This latter mode is the main feature of the game, as the games with friends are exhilarating! Whether you're an addict and want to play the hi-scores and wins, or you want to have an opposition game on the Neo Geo other than a VS fighting game, and Puzzle Bobble awaits you. Amazing jigsaw puzzle game, this Taito production known several sequels that have never made much more than this first installment. The simplest recipes are, indeed, sometimes simply the best.
GRAPHI

CS

68%

Cute and colorful, but not very varied, graphics are not the big feat of the game.


ANIMATION

79%
Balls explode and show some reflections and effects, and to say the least, there's not much things to animate. This said, it's fast and fluid, the job is done.

SO

UND

64%
Effects and musics are cool and shows quality... but are quite repetitive, as they're pretty few!


REPLAY VALUE

96%
More than thirty stages to clear in single mode, while versus game is the most taking part of Puzzle Bobble, offering an almost infinite replay value.

GAMEPLA

Y

95%
Original and interesting, Puzzle Bobble's gameplay requests 100% of your brain and provides a great addiction!


NEOGEOKULT

RATE

93%

Here's a legendary puzzle game, first of a successful serie which stands as a timeless classic for any fanatic.

VALUE FOR MONEY
Puzzle Bobble is only available in conversion for the AES. Expect to pay about 150 euros for a legitimate one, I mean a convert made with original SNK roms. That's a high-price for a puzzle game, but Taito's title is the best value/money rate on the system.