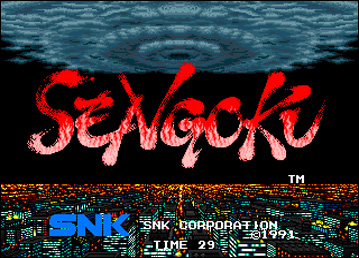 Spirits, Ghosts & Samuraïs
by Tibe (2012)
Here's a frequent tribute from SNK to their culture, oftenly seen in their games... The japanese folklore and traditions, with its samuraïs, ninjas, kabukis, and other mythologic figures, are regularly featured in the company's games. Here is the second system's Beat 'em Up , released in 1991 between Ninja Combat and Burning Fight. Four-hundred years earlier - thus approximately in 1591 - a powerful warlord, with ambition to conquer the world (only that...) was sowing death and desolation in his path, razing cities and killing populations. Two strong samuraïs joined the resistance, and managed to stop the vile lord. During his agony, the latter promised that he would return to our world, four centuries later, more powerful than ever. His prophecy fulfills today. And now, we need you! Featuring two players simultaneous game, Sengoku puts you in the shoes of a japanese martial art expert (P1) or a gay cowboy coming straight out of YMCA (P2). 
The basic moves are simple: it's A to hit , B to jump, C to change form. Transformations are threefold: a ninja, a samuraï in armor, and a combat dog. You will first need to release these spirits in the parallel world to have them helping you. Some subtleties are proposed, one can strike twice in the air, varied combinations of moves can be used by pressing A in different timings, and keep A depressed releases a fireball. The transformations are many different ways to play: the dog is basic but effective and quick in the air, the ninja fights with his bare hands, and the samuraï uses a devilishly effective katana. Add to that the colored spheres to collect during the game, and everything becomes customizable! Collect ten green spheres to regain one life, while the four other colors give a special power for a short time. Under your normal form, these spheres provide a weapon or a special power, but when you use another warrior form, it's as many different abilities! An excellent idea, which greatly enriches the gameplay. 
The levels are actually a mix between the real world and several incursions into a parallel world, filled with fantastical creatures and spirits. All this is really nice and varied, there are some surprises, and we appreciate the game being not linear (as is often the case in BTU). Six levels only, but they feature an astonishing variety of environments. As for enemies, the bestiary is surprisingly varied, much more than in Final Fight or Sengoku 3, for example! And that's this wide variety which also what makes the charm of the game. Enemies and scenery are particularly successful, a true reference. The more you advance in the game, the more graphics are beautiful, and we won't complain! The soundtrack and themes in particular are full of voices (usually voices from beyond the grave, singing strange incantations ...) and give Sengoku an incredible atmosphere. Sounds and effects for the game are also remarkable, with nice quality and involved interpretations. Finally, only the animation  really lacks quality, but the game is aging! The stiffness of the characters that shocked no one back in 1991 is palpable now, and the game would have aged better with a greater flexibility and smoothness.
By cons, Sengoku never slows down, and the game is enhanced with zooms, multiple scrollings and some incremental morphing effects, which are very well done. The difficulty is high, and to clear it with allotted credits is a great challenge! The game requires technique and patience with the enemies, if you do not want to blame it on the chin. Suffice to say that running into the pile is not a very good idea! The spheres are very useful sometimes, and transformations can be lifesaving if properly used. Strategy in a Beat 'em Up, it's not so common! And we do not complain... The game is fairly comprehensive, despite an apparent simplicity, its gameplay and difficulty makes it pretty competitive in terms of lifetime. In the light of years that passed, it seems a little stiff, a bit imprecise, but it still makes par. It's a good old-school gameplay like hardcore players love them. Its flaws are its charms, and if we may regret some important things in realization that could have been improved, we have to admit dozens of qualities to this game. Especially its premium varied graphics, both for the enemies and backgrounds, participating in a splendid dramatic atmosphere. A drama staged to perfection, in  a warm-fantastico-feudal Japan with the best effects, all overseen by a soundtrack worthy of a Kurosawa movie. Aligato!
GRAPHI

CS

86%

Showing nice and particularly varied environments, Sengoku's graphics are an anthem to japanese folklore!

ANIMATION

62%

It's stiff and averagely decomposed, but fast. This chapter is a little deceiving for a game running on the Neo Geo...
SO

UND

91%

Music and effects put you in the mood... Remarkable! War drums and "beyond-the-grave" voices will be back in number 2, guess why! 

REPLAY VALUE

82%

One hour to clear the game, with a tremendous difficulty and a good variety make the game pretty taking.
GAMEPLA

Y

64%

Packing a restrained range of moves, stiffness and a lack of precision, Sengoku catches up with magic balls and mutations that make the gameplay good enough.

NEOGEOKULT

Overall

69%

Controls are mediocre, animation is stiff... But Sengoku features many other qualities that advanced players will appreciate for sure.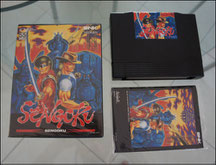 VALUE FOR MONEY (2012)
Usually sold for less than fifty euros whatever euro, us or japanese version, Sengoku is a good choice for any old-school BTU amateur, provided the Neo Geo is not providing the best choice in this particular genre of videogame.