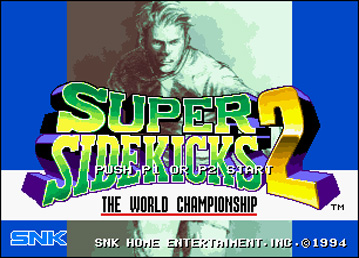 Part-Time Referee
by Tibe (2013)
Yes, arbitration is performed part-time for this Super Sidekicks 2. But hey, there's no reason to complain: in the first game of the saga, this function was assumed full-time... by Ray Charles! Jumped knee kicks, high-kicks, uppercuts in the balls, rotative headbutt... almost everything was allowed. For this new album, SNK has tightened the bolts: premeditated murder while on the playground is now punished with a yellow card. Yes, the 'arcade' soccer games were permissive, so what? After all, this is what some players like this kind of titles. In Super Sidekicks 2, there is not only the referee who has been revamped: the whole game starts from scratch, nothing coming from the previous installment has been preserved. Now with 106 Mb on the scale instead of 54, let's say we can expect heavy.
The first innovation that jumps out is the field made in pre-calculated 3D: the grass 'scrolls' with an illusion of depth when the players run on the length of the ground, while a slight zoom effect is applied for the lateral moves. This part of the game has been finicky, and the result is impressive for a 1994 game, let's remind this. Ball and players are both pretty well made, for a fluid and dynamic whole animation. So, the graphics have completely completely changed since Super Sidekicks: no more 'old-school' football field as before, now welcome more realistic 3D arenas, even more varied than before. The other big graphical improvement are the intermediate screens, such as for incidents, phases of 'Chance' or goals: we are entitled to beautiful animations with close-up of players with high-quality graphics. Even the various presentations are beautifully designed, like the team selection screen and games announcements.
Forty-eight national teams are available: it's a beautiful panel, plus each of them has its own characteristics: speed, technique, attack/defense abilities, team play, individual talents... it is possible to vary the pleasures and balance games between players by choosing a weaker team, if one is stronger than the other. In addition, the single-player competition is fierce: if the first three games are easy, the following ones will give a hard time even to the most experienced players. You'll have to be cunning and use well-established tactics to come through. Whether on offense or defense, there are various strategies available. In front of the goal, you can opt for a single shot, center-volley, center-head, lob, cross-shot, or even dribble the goalkeeper... but the shot to the goal is too limited (only two possible directions). In addition, once in the penalty area, expect crazy attacks from the opponents. The defenders will stop at nothing to recover the ball, the referee usually closing his eyes during these actions. Hopefully, there is another opportunity when in front of goal: at times - usually near the penalty area - the word 'Chance' appears above your active player. By pressing A, you enter a subjective screen in which for a few seconds, you can adjust your shot and try your luck.
Technically, we must admit that there has been too few improvements since SS1, but what is unfortunate is that some regressions have also occured: the playground seems more restricted than before, the gameplay less intuitive and a little less fun. On the positive things side, a third button now allows to switch the active player or put a 'pitchenette' to the ball. The soundtrack is brand new and way better than before, and it was necessary: adios the shitty digits of the first episode! Here, the sounds of the public are very realistic, as well as various effects on the ball, the referee whistles, falls or slips on the grass. The game features music only during menus and intermediate phases, leaving the pure atmosphere of soccer during gaming. Super Sidekicks 2 made an impressive facelift, both aesthetically and in terms of gameplay. However, some players may regret that SNK did not simply chosen to improve the first Super Sidekicks, rather than start from scratch something pretty different.
GRAPHICS

88%

Stadiums are nice and colorful, with a decent variety. Anyway, intermediate scenes are even nicer!

ANIMATION

91%

The playground is now animated with pre-calculated 3D, very well crafted for the time. Player's moves are fluid and the action dynamic!

SOUND

81%

SNK has done way better than the first episode at this chapter, with a more realistic audience and high-quality sound effects.

REPLAY VALUE

87%

There's 48 national teams each packing its own strenghts and weaknesses; the difficulty for the single player is high and versus between humans are pretty fun.
GAMEPLA

Y

76%

Timing and accuracy of the first Super Sidekicks disappeared for new standards... not necessarily better. Tactics for goal are fewer than before and the gameplay pleasure, if it's still good, doesn't match the ancestor.

NEOGEOKULT

Overall

82%

A game that re-starts from scratch, erasing the previous episode basics. A goodrealization, a wide choice of teams, but a gameplay really different from Super Sidekicks.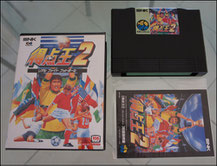 VALUE FOR MONEY (2013)
Super Sidekicks 2 gets into any gamer budget with its forty euros value, that is to say a very good value/money rate for any arcade soccer game amateur. If you're just looking for a competitive game other than a fighting game, it's a good pick.