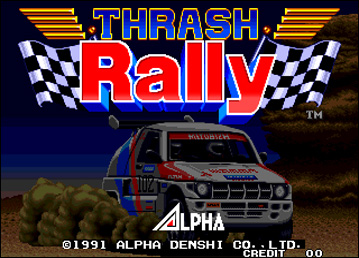 Ready for the Trash Rally?
by Tibe (2012)
Do you remember the golden age of world rally championships during the eighties? Any kid who was watching these races on TV must remember Carlos Sant, Didier Arend, Michael Bastian... Such majestic names, so evocative in rally enthusiasts' memories! They are part of the cast of Thrash Rally, but wait! I have not even mentioned their even more famous vehicles: Blaster LX, Land Crusher (!), Warp ATV, Thunderjet... but also the legendary OD 6000X that no one has forgotten! Ah ... I guess the nostalgia starts flowing  in your veins by reading these mythic names. We'll have to face these formidable competitors in the two events of the game: a traditional 1992 World Championship, or the legendary Paris-Dakar race. And all this is packed in a majestic 46-megs cartridge on the sexiest 16-bits sytem Ahem, you guess the name, the Neo Geo.
Arcade racing game using a top view, Thrash Rally is in line with a bunch of similar titles released during the same period, including the famous F-1 Grand Prix saga from Video System. Those games featured high-speed scrolling getting the adrenaline high for players, requiring cat reflexes and the reaction time of a... mosquito? In short, long before the advent of 3D in driving 'simulations', racing games were this or the Monaco GP games and clones, made in fake 3d. On the Neo Geo, no need to brainstorm: Thrash Rally is the only racing game with a top view, while Neo Drift Out and Overtop that were released years later featured a 3/4 high view. Gameplay of these three games are very similar for sure, although Thrash Rally keeps more the old-school spirit with its simplier graphics and the real 'top' view. Two events, up to nine selectable vehicles: it begins well! However, once finished the championship and Paris-Dakar rally, the time trial is only marginally interesting. 
The gameplay, while not bad, is still far from perfect. It's a bit stiff, imprecise and requires some time to be mastered. Vehicles behave differently and it's is rather interesting. Too bad that we can't play two simultaneously! Both races are relatively difficult, and it's a good point: you will need several tries and a certain rigor to overcome. The opponents' AI is about the level of a trepanned penguin, while the clock is becoming tighter when one approaches the end of the game... Attention, the slightest mistake severely penalizes in the race rankings! Despite the fact that it takes some training to clear the two main events of the game (World Championship and Paris-Dakar), it's even more difficult to improve your best time.First you'll have to try the different vehicles in order to see which one fits best your driving skills, but then you'll have to improve each trajectory and brake to save the few seconds you need to end first or simply beat your best time. 
Here's another feature that should interest hardcore arcade players, the 'contre-la-montre' also stands as high-score record too in Thrash Rally: by the way, if you plan to play this game one day, take a look at the best chronos realized by players all around the world in our high-scores table, here, on Neogeokult. Thrash Rally is neither beautiful nor ugly: the top view doesn't allow much fantasies but the game is clean, quite varied and colorful. Programmers are still groping with the Neo Geo (1991) and it feels a little. However, we have to admit that the animation is flawless, with very fast scrollings, small animations here and there on the vehicles, but also in the backgrounds. The various melodies, well... after five minutes you don't hear these anymore! The sound effects aren't totally satisfying too, whether for the engines or the sounds of squealing tires. Finally, Thrash Rally of ADK is not a bad game: fun and rather addictive, but with short life and not so accurate gameplay.
GRAPHI

CS

77%

Aerial views are "arcade-quality", with a palette that is well used and backgrounds which are varied. 

ANIMATION

82%

Clearly a highlight of ADK's game! Fast scrollings, with zoom functions of the system nicely used and a lot of details.
SO

UND

63%

This is quite average! Engine sounds are not convincing and the musics are very bland.

REPLAY VALUE

64%

From six to nine vehicles are available, it's not bad... But once finished, the game loses most of its luster.
GAMEPLA

Y

67%

Controls are stiff with this 'step-by-step' steering system. Once mastered, any player can have fun but in the end, Thrash Rally remains quite limited technically.

NEOGEOKULT

Overall

68%

ADK signs here a good little racing game on the Neo Geo: simple and short, but quite fun and packing two hard challenges.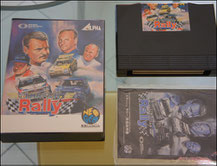 VALUE FOR MONEY (2012)
Here's a quite common game that can be bought for about fifty euros "only": Thrash Rally stands as the best value/money rate for this kind of game on the Neo Geo. Overtop and Neo Drift Out might look slightly better, but they are way more expensive!