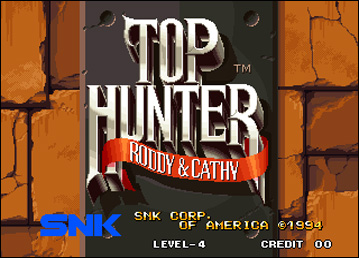 The Dhalsims from Outer Space
by Tibe (2011)
Ahh! Finally, another platform game on the Neo Geo, it's been a long time! Unfortunately, we can count them on our fingers... After Alpha Denshi's (ADK) Blue's Journey and Magician Lord, Data East's Spinmaster , here is Top Hunter, the first game of the genre from SNK parent company. Two players can play simultaneously, through five different worlds full of winks, surprises, and enemies all more funny and cute  each other. You play as Roddy and/or Cathy, two space bounty-hunters. You got it, we are in the future. The universe was colonized, and it now counts many planets inhabited by pioneers of space. Thus was the life, and civilizations were growing in peace in their respective worlds. Until the space pirates make their appearance! An army of clones, the Klaptons, led by Captain Klapton (Eric?) and his clique, has already taken possession of four planets. You are hired to kick these fucking space pirates' asses, who in addition have the nerves to carry around in Captain Harlock's ship...

In order to fit in the adequate length of the game at an arcade game, some content was purely and simply removed from the MVS version. AES version contains one extra level for each world. The difficulty is well measured, but beware: it's still far from easy. The five stages, composed of thirteen levels total, are quite long (almost one hour to clear). So much to tell you, that seeing the end by only using the four basic credits won't be piece of cake. We are dealing with a 'traditional' looking platformer, but make no mistake: there is nothing common in Top Hunter, innovations are very numerous! First wink to Fatal Fury, the game plays on two planes. One can jump from one to another with C button. This allows to dodge enemy attacks that are too fast or unstoppable, but also some strategies against bosses. The B button is used for normal jumps, on the same plane. A button finally sends a punch with a short press, while a long press stretches your arm to grab an object, switch or enemy. And to kick enemies' asses, the range of techniques is vast! You can, of course, use the classic 'jump on the head', but also the jump on the head from one plan to another. There's also the simple punch to stun the opponent, that can be followed with a body throw; you can catch an enemy (long press on A) to launch it across the screen or better, on other enemies. 
There are vehicles to pick up: small cute combat robots, that are extremely efficient. Weapons can also be picked up during your missions: shotguns, rocket launchers, and a large array of projectiles: boxes, signs, bombs, spare parts, stones ... you name it! Top Hunter makes a great difference with a nice particularity: each character can perform a range of special moves worthy of Fatal Fury and Street Fighter! Fireball, Dragon Punch, Burning Knuckle, Thousand Fists, Reppuken, tackles... it feels like in a VS fighting game! As you can see, Top Hunter's gameplay is fun and quirky. Plus, it's full of winks to other games or films. The humor is everywhere, with enemies who are full of expressions and gags (they must be seen waving in the background, it's fantastic) and a totally "cartoonish" atmosphere. Hidden in each level, bonus stages must be found so you can get maximum bonuses and recover some life, during a skateboard race: this is great! Another subtlety, the 'Power'. This is a gold sphere which multiplies your strenght and abilities. A kind of Super-Sayan transformation, another wink... 
On your route, switches will also appear. Bonuses or penalties if you trigger, it's up to you: random drops rocks, bombs, blocks of lead (ouch, not on the head!) but also food to regain life, extra time, bonuses and other exotic things! The different worlds were drawn in an artistic style. Backgrounds are treated unusually - neo-impressionist style - while colors are perfectly chosen, with nice effects of light and an excellent depth. In summary, the graphics are gorgeous! It can be criticized though, for the enemies are not being varied enough: we encounter the same all through the game... Too bad, the action would have been less repetitive with a little more variety. Animation is fluid, decomposed and full of details, like in a Metal Slug episode. The soundtrack is still probably the most impressive part: it packs cool, catchy musics and successful effects, especially the sound environments in each world, absolutely gorgeous. Wait by and hear the forest world's noises (bird songs, animals, rustling of leaves). Here is a refreshing platform game, full of good humor and surprises. The high difficulty and fun provide a good replay value, the realization is also excellent, no complaints. Only downside, the action is a bit repetitive due to the few different enemies. More variety in action and enemy bestiary could have done a mega-hit of Top Hunter.
GRAPHI

CS

91%

Rich and full of relief, Top Hunter's graphics are high quality 'comic' looking.

ANIMATION

87%

Each character have many moves, mimics, and moves pretty fast and smooth. Besides, backgrounds are pretty alive. The action is intense, despite a few slowdowns.
SO

UND

93%

Good musics nicely fit the game, and theffects and digits are awesome.

REPLAY VALUE

79%

Five levels not very varied yet, but a good difficulty and cooperative two-players action. About one hour to clear, it's not bad at all!
GAMEPLA

Y

82%

Characters have a great range of moves (specials, weapons, combined attacks) and vehicules to drive, weapons to pick up, bonus games... It's fun and addictive, but the action is a little repetitive.

NEOGEOKULT

Overall

83%

A game between Spinmaster and Metal Slug, fun and rich, offering a good challenge for each action/platform fever.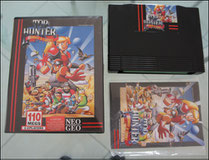 VALUE FOR MONEY (2011)
Top Hunter used to be sold 400 francs in the goo'old'times (...) but nowadays, prepare to lighten your purse from 120 to 150 euros. A good little platform game, but considering Magician Lord's value/money rating, you should rather go for Elta's.