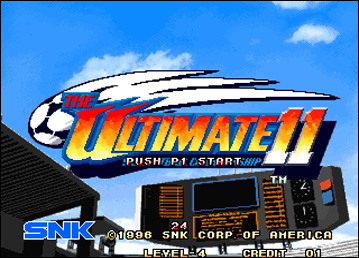 Et Un, et Deux, et Trois Zé-Ro!
by Tibe (2012)
The least we can say is that the Neo Geo had some 'soccer' games! If we look back in 1996, the machine received three Super Sidekicks, Soccer Brawl featuring robots, Visco's Goal Goal Goal, but also Pleasure Goal - also called Futsal - featuring two teams of five players on a small playground. And with SNK releasing Super Sidekicks 4 - Ultimate Eleven this year, the editor didn't do things by half: the game features no fewer than eighty national teams! In other words, it doesn't lack choice and diversity, and best of all, each team is distinguished by its own qualities: speed, power, attack, defense, technique. During team select, you can 'specialize' your workforce even further, choosing between offensive, defensive, balanced or technical types: These options improve your players along the suggested line. The world soccer hierarchy is respected, with teams such as Germany or Brazil showing higher skills, or for example the France team with an iron defense. Okay, it was fifteen years ago.
Handling has little changed since Super Sidekicks 2: you perform a pass or shoot with A, a long pass or a lob with B, and C performs a short pass; when defending, this corresponds to tackle for A, to shove (or other violent maneuver) with B, and change the active player with C. This latter function is poorly managed, and it's difficult to efficiently switch player during an action. In addition, because of the relatively close view, it's rare to have more than five players simultaneously on the screen: at best, three players from your team - including the active one - and two opponents. Tactical choices are thereby drastically limited... most of the time you'll play like atrisomic myopic, restricted either to run alone to opponent's goal or perform frantic passes to players you can see. Super Sidekicks 4 gameplay is firmly oriented with rough arcade mecanisms, with useless goalkeepers. They can hardly control balls or perform a stop when an attacker shoots, especially YOUR goalkeeper: he looks like a straw! SNK included the game a gauge of power, which fills during ball possession. The more it's full when you shoot, the more powerful your player will shoot. 
When 'SHOOT' appears above the player, you can shoot with A, while aiming with the stick. Sometimes when you're around the penalty area, the word 'LUCK' might appear: by pressing A, the view changes and you get a chance for a goal. Arbitration is a little tighter than before. No more knees to the face, devastating uppercuts, or shotgun assaults going unpunished! Mr. referee has bought glasses, and if it mindlessly tolerates tackles from behind, more virile attacks are severely punished, usually by a red card. Ultimate Eleven also manages all phases of a real football game: out of bounds, corners, free kicks, expulsion, six-meter, penalty ... It is comprehensive and each action is punctuated with nice cutscenes, as when a goal is scored. In this context, realism and game mechanics are more like a babyfoot game: prepare to end match with scores like 12-0, 9-5 or other of this kind! But don't expect too much exploits, especially if you plan to clear the game: the CPU will let you win the first three games... but you will inflict violent spanking from the fourth. As if the difficulty was set to block the passage from this fourth match. 
Anyway, the game is pretty nice, and beautiful lawn lovers will love. Ultimate Eleven offers a lot of different stadiums (at least five or more) and whether the field itself, the audience or the players, everything is colorful and well drawn. The illusion of 3D is perfect with some depth and zooms. About zooms, one wonders why SNK didn't include a zoom-out during game phases in the center field: it always feel like there's only four or five players on the field! More distance would have provided more depth and strategies. But here, you have to play in the precipitation and the soft focus... So ok it's all about fun, but it's very, very limitative. About sound, everything's fine: musics, voices and sound effects do the job flawlessly, as often on Neo Geo. This fourth installment of SNK's football saga of is in my opinion the most successful in terms of graphics, animation and soundtrack. It's also the one offering the widest choice of teams. The fact remains that the gameplay,while fun, is relatively simplistic and hasn't really evolved much since Super Sidekicks: the first game of the series seems even more playable in comparison, although it's much less visual. A football game featuring a remarkable realization, with which two players can have a great time.
GRAPHI

CS

88%

Intermediate screens are nice, the game packs multiple stadiums and it's overall quite beautiful, without being very much detailled.

ANIMATION

90%

The 3/4 view in "3d" is a success. Action is speedy, moves are detailed and game scrolls fast.
SO

UND

92%

Speakers shout loud, effects are punchy and 'realistic', musics catchy: all this within premium quality.

REPLAY VALUE

93%

Two big tournaments, VS mode, eighty teams, and a lot of fun when playing with a friend: Ultimate Eleven could stick you in front of your TV for hours!
GAMEPLA

Y

79%

The camera is close and gameplay is thereby pretty limited, not to tell about the 'arcade' mechanics. UE is outdated but fun, especially for two players.

NEOGEOKULT

Overall

86%

One of the best Super Sidekicks of the series, to be reserved for fans of rough football games!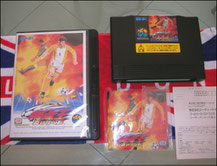 VALUE FOR MONEY (2012)
If you plan to possess Ultimate Eleven on your Neo Geo, better forget about it. The US version is just good for the museums (5 copies known) and the still very rare japanese AES still costs 800+ euros. Better go for the first Super Sidekicks, which is still excellent.