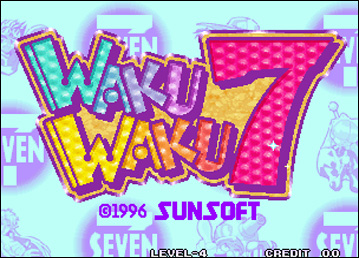 The Magnificent Seven
by Tibe (2012)
Prior to 1996, Sunsoft were known for their games on 8 and 16 bit, like Lemmings, Aero the Acrobat, their Master Blaster series, or even the Batman games. One might also note the very good adaptation of World Heroes on Super NES.  On the Neo Geo until then, it was a little less brilliant... We were only gratified a very mediocre Galaxy Fight, and the announcement of Hebereke's Pair Pair Wars  (which, incidentally, was never released). Waku Waku 7 will it raise the level? Find out by reading the lines below. And let's say it: it's a pleasant surprise that awaits the players when booting the cartridge. We're hooked with a dynamic introduction kinematic, flashy and funny! It's a quick overview of the game protagonists in a very nice manga style. The "how to play" is surprisingly complete (probably the clearest and the most explicit that I've ever seen on the Neo, that's not too difficult will you say) and brilliantly explains the mechanics of the game. Then, we arrive to the character select screen...
And there, a little disappointment awaits us... there's only seven selectable characters! Predict-a-bowl, as the game name is Waku Waku "Seven". Anyway, this total can be brought to nine playable warriors through an universe bios or a small tip! During a single player game, next to the selected character is displayed the list of Doki Doki Moves (equivalent to DM or SDM). Nice! It looks very complete, each fighter packing several special moves, combos galore, and a wide range of basic moves. This sounds already better! The graphic style, original, cartoon, colorful, puts a smile on our lips: Waku radiates an excentric and exciting atmosphere! The introduction of each fight is dynamic, we see the characters speaking in bubbles, while pre-fight animations are sometimes hilarious. There's a special care for detail that feels good to see here, Sunsoft has not botched its game for sure! The backgrounds and characters are drawn in a childish style, but it's finely drawn and flashy. The line is simple, but beautiful, precise, and provides the whole quite personality! 
Of course, all this reminds invariably Galaxy Fight, but Waku looks much better. It's more detailed, less dark, and the backgrounds are not lacking depth. Moreover, a powerful zoom effect is there to accentuate this: it's purely and simply the most powerful zoom effect ever used in a 2D fighting game. Arenas, who occupy about three screens large, can be seen almost entirely when the two characters get away from each other! As for the closer view, it offers very large-sized sprites... and even some huge ones. The protagonists' animations are also worthy of a cartoon. Rarely fighters in a game were so much alive! As for the range of moves, it's pretty comical: giant syringes, monumental slaps, heavy weapons, whips, electrical attacks, poltergeists ... We no longer know where to give head! The combo system will ask some accuracy anyway, and a precise timing. The special moves can easily be done, and the geometry of the specials is not especially demanding. Again, the game offers enough basic moves, with varied recovers in every direction, dashes, dodge, hitting opponent on the ground, etc.. All this to give us a gameplay as we love them, deep and taking! 
Dynamic, the soundtrack is, too. We are granted manga-stylized melodies, with sung themes, catchy rhythms... which are not without reminding Twinkle Star Sprites, for example. There are plenty of voices, accompanied with original and brutal sound effects. Some musics are a little offset, and fit perfectly with the characters involved (among other ones, Tesse and Slash!). The battles are interspersed with bonus stages, where it's in fact about fighting a giant Pao, Bonus Kun, which proves to be a pretty formidable opponent. If Rai seems to be the basic warrior, like a Ryu/Ken hero, easy to use, the game offers a few more difficulty when it comes to master Mauru, Politank or Tesse. Still, the roster is balanced and it provides a lot of fun when playing two. This astounding game is really a little masterpiece from Sunsoft: what a nice surprise! Between the King of Fighters games, Samurai Shodown, and others Fatal Fury, Waku Waku 7 offers a completely different point of view, with a comprehensive and original gaming system. Obviously, we retain as a major shortcoming that the game basically features only seven selectable characters, and for sure it's few, compared to its rivals. Besides, each of them is charming and tends to be very interesting to master... Anyway, WW7 packs hours of pleasure for happy players!
GRAPHI

CS

87%

WW7 uses an excellent manga design, simple, but colorful and joyful!

ANIMATION

96%

Impressive deep zooms, near-perfect fluidity, comfortable playing speed... What else to ask for?
SO

UND

94%

Musics are catchy, vocals and effects excellent, for an overall soundtrack very 'japanesing'!

REPLAY VALUE

79%

There's only nine characters (7+2 Bosses to unlock), a one-player game way too easy... but on the other hand, the range of moves of each is amazing, announcing hours and hours of discover and pleasure.
GAMEPLA

Y

90%

Breathtaking and deep, this Waku Waku 7 is a real golden nugget. Fresh, original and catchy!

NEOGEOKULT

Overall

89%

WW7 is a very nice realization from Sunsoft on Neo Geo. An exotic and funny fighting game on the Neo Geo!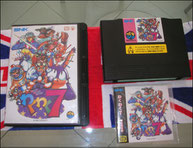 VALUE FOR MONEY (2012)
Waku Waku 7 often exceeds three hundred euros for sale nowadays. I would say it's a pick for 'exotic' fighting games lovers, and also japanime fans. Its originality and depth are really cool, but there's better for cheaper on the Neo.