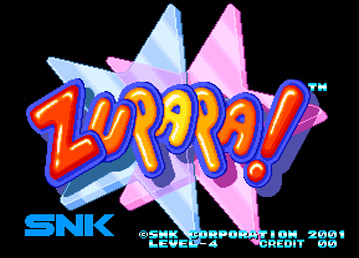 Bubble Bobble à la Snk
by Tibe (2011)
Platform game amateur, you loved Nightmare in the Dark and Bang Bang Busters? If the answer is yes, don't miss Zupapa! The only arcade platform-game (Bubble-Bobble-like) created by SNK on the sacrosanct Neo Geo. The system didn't hosted much of those titles, the major titles of this genre existing on other arcade systems. The platform fevers might immediately think about prestigious games such as Bubble-Bobble, Snow Bros, or even the good sequels of these ones. A 46 mega cartridge in 2001, it's kinda small for an arcade game, of course... but wait to see the game in full! This quite unknown title - only released in the arcades for the MVS - still deserves the attention of aficionados. Original, fun, playable two simultaneously (of course), pretty hard to finish... Sounds good, isn't it?
Zupapa happens in nine different worlds. For the first six ones, you can choose in which you want to begin. You control a weird freak, a Zupapa: this is a horned platypus equipped with boxing gloves. Yes I know, drug is shit... Apparently SNK programmers involved in that have not only sniffed glue. This very special hero - to say the least - can get rid of his enemies in various ways. A button can send a beautiful hook to knockout opponents: then you just have to walk on to have them disappearing. The other method, more fun, is to first recover the Zooks scattered in each level: these folks are sort of mini-zupapas who will follow you once recovered. You can - still with the A button - throw them on the enemies. They immobilize them for a moment, then once you step on they will not only be eliminated, but the action will trigger a special "star attack" that kills everything it touches. The scope of this attack is determined by the number of Zooks you used.
Still about the basic controls of the game, B allows to jump or skip down the platforms by combining it with the down direction. Power-up and speed-up can be recovered to upgrade your Zupapa, while many many other bonuses will allow you to perform great scores.  And the scoring system of the soft is quite taking, as it's pretty technical. The originality lies in the fact that these bonuses appear depending on your actions. Number of jumps, attacks, speed ... You learn to play and progress with great pleasure in Zupapa, and it's not only exciting to go more and more far in the game, but also to attempt the highest scores, with all these bonuses. Zupapa is enough difficult not to have you clearing it in a few minutes, and if I have a good advice to give you, don't use a memory card in order to keep a taking challenge. In the last levels, this damn game thickens and becomes way hard to clear, even with a friend!
Zupapa's realization is far from being fabulous, but this doesn't mean it's a shame for the system, not at all. In the genre, NITD was looking and sounding a little better, but the game was much less diverse and terribly shorter. Here, levels are exotic and fun:  forest, horror, Japan, toy factory, Dino-Land... all this action is punctuated by stressful bonus stages! Graphics and animation are just a little above average, and if the style is particularly simple, quality is not lacking. The soundtrack is varied, with music and sound effects that are intended to be sound as childish as the rest, and the result is fun and quirky... but far from unpleasant! Featuring an original - and never seen before - gameplay, well thought out, taking, and a replay value just fine, Zupapa is standing as the best platform-game on the Neo Geo. The game mechanics are excellent, and the player quickly realizes that the game is more technical and harder than its competitors: this little SNK game promises some great hours of play!
GRAPHI

CS

78%

The style is infantile, simplistic, but varied and colorful. Various environments are successful and Bosses for the most beautiful.

ANIMATION

75%

Animation is fast while not particularly decomposed. Anyway, no slowdowns are to be noticed, and the game dynamics are great.
SO

UND

72%

There's one theme for each world, childish and outdated. Effects are well chosen, but anyway soundtrack is overall average.

REPLAY VALUE

79%

No less than nine worlds and forty-two stages, packing a good difficulty level for an interesting challenge, and the cooperative play. Zupapa is going to entertain you for a long time!
GAMEPLA

Y

90%

Game mechanics are more complex than it seems, giving great depth to the game. Controls are responding perfectly for a maximum game pleasure!

NEOGEOKULT

Overall

82%

Here's the best' Bubble Bobble' game on the Neo Geo, facing such feeble rivals for sure, but still standing as an excellent arcade-platform title on the system.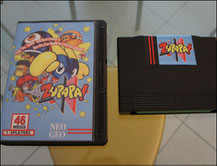 VALUE FOR MONEY (2011)
A conversion available between one hundred fifty and two hundred euros, that is to say the average price for any Neo Geo conversion. Zupapa! is fun, cool, taking and quite long: it's the first pick for the genre on the system.