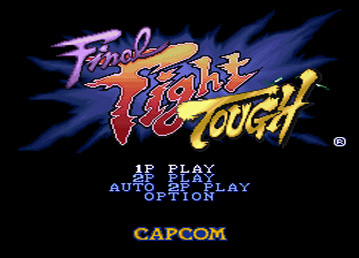 Back in 1995, while the Neo Geo was still not in the latter half of its commercial existence, the Super NES has already started its fatal decline. Indeed, the 16-bit of Nintendo was then only destined to host sporadic releases of good games - including Yoshi's Island and the latest Donkey Kong Country - while the bell tolls with the last title (Frogger) beign released in 1998. But like it was the case for SNK's system, the latest games to hit the SNES market remain the most impressives ones. Final Fight Tough, strong with a 32 megabits cartridge, has come to impress... no doubt about that! And at first sight, the graphics have not been botched. The result is downright impressive for a title running on this system, as no Beat them Up made on it even comes close. The backgrounds are declined on a palette very well chosen, with beautiful effects of relief on the various vehicles and buildings. The characters are finely drawn and show a nice attention to detail that still improves the picture.
The soft also features some nice kinematics highlighting the scenario, either at the beginning of the game or between the different stages. Capcom is applied and we feel that Nintendo's 16-bits console spits its guts! The animation in Final Fight 2 was already doing good, but this third installment yet improves it: the smoothness of the main characters is remarkable and the game speed perfectly set... only  downside, enemies are slightly bumbling but well, it doesn't change from what we've seen before! There are a lot of interactions with the backgrounds (players can break windows, sink doors, barrels, plus the various animations ) and this is especially significant in a Beat 'em Up. There's some slowdowns and flashes when two players cooperate, but these are still rare. About the soundtrack, we will not dwell too much on the subject... the Super NES being moderately equipped to spit good sound on the one hand, and Capcom having never done too much for the soundtracks of its past Final Fight games.
The good news that most of you readers were waiting for, is not only that Final Fight 3 features a 2-P cooperative play, but this time, there's also a mode where you can play with the CPU as a partner! A fun mode for the people who don't have friends, in which you can adjust the aggressiveness of your teammate and choose his fighter. About the fighters, there's also some good news: this time, fourare avilable instead of three! We have the ever-present Haggar, but also Guy who makes a resounding come-back. Small newcomers named Dean and Lucia are pretty different from our two heroes, which makes them interesting to discover. The game is long with six levels and bonus stages, all taking place in varied areas of the city (bus, boat, landfill...). Only drawback, Final Fight Tough is way too easy: Any player worthy of the name game might clear it on the first time with a single credit. The progression is simple through the waves of anemic enemies, and the Bosses really poorly aggressive. Let me give you an advice: try Expert mode directly! 
But the highlight of this third episode, as for almost every other fighting production from the editor, it is the gameplay. Capcom became the master of Beat them Up genre through the years, and Final Fight Tough packs every single element that provides fun and entertainment in those games. Everything that made the success of Final Fight is still there: jumping moves, wrestling moves, weapons to pick up, elements to destroy... Capcom even added some new features: dash, backdash, running attacks, special moves and 'Supers', and even some new throws. All this stuff is - of course - declined to the four different heroes, this rocksl! Still, one can blame this opus for its difficulty made for 3-years old children and its average soundtrack, but everything goes from very good to excellent. This Final Fight 3 only lacks a little more innovations and an even better realization to join its illustrious ancestor in the prestigious courtyard of mega-hits...
GRAPHICS

80%

Impressive! The Super NES is pushed to the limits, with great drawings, beautiful colours, full of relief and varied backgrounds.


ANIMATION

81%
Rhythm is good, slowdowns few; our fighters have numerous animations steps, while enemies are a little more 'anemic'.

SO

UND

69%
Sound quality's still quite poor, themes average: anyway, it's better than Final Fight 2!


REPLAY VALUE

79%
Shorter than the previous Final Fights (45 minutes straight), the game is too easy and can be cleared on the first play. However, cooperative mode is taking and fun, while the different characters and the varied stages are raising the replay value.

GAMEPLA

Y

86%
The four fighters pack a great range of moves for a Beat them Up, plus weapons and 'Supers' with the gauge. The game is accurate and fun, it's a pleasure to trounce enemies...


NEOGEOKULT

RATE

82%

The last episode of the Final Fight saga don't make it to equal the fantastic 89' arcade game. Yet, it's an excellent Beat them Up on the SNES: beautiful, properly programmed and featuring a nice gameplay... but a little too easy and not enough innovative.
SAME ON NEO GEO?
In 1995, Beat them Up is fallen into disuse on Neo Geo. It's not until 2001 with Sengoku 3 that players are granted a new title on the system: this one packs some similarities with Final Fight 3, but shows even more complete.