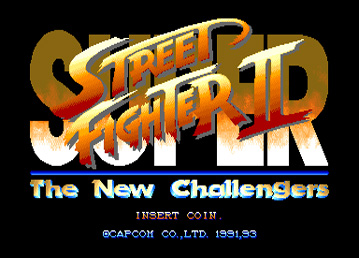 Eventually, some fresh blood!
by Tibe (2012)
One more episode in the Street Fighter II saga! After Champion Edition and Turbo versions, players didn't really imagined what Capcom could do more. With the competition going wild and strongly rivaling with the last installment, Street Fighter II' Turbo, one guess that it was time for the editor to create! And this 'Super' version provides what players were waiting for: an improved realization, and no less than four new fighters, shiny new. The twelve warriors available from SFII' are still there, and with the newcomers the roster is now rich of sixteen characters. A figure that puts this new episode at the top of VS fighting's table, even with Fatal Fury Special that year, and just ahead of Samurai Shodown and Mortal Kombat II (twelve playable). The character design was completely revised with this Super Street Fighter II: this one is more precise than before and fighters have more charisma than ever.
Newcomers of this chapter are more or less successful. Let's start with the 'not too bad' ones, rather playable and charismatic: there's Fei-Long, who is no other than a Bruce Lee clone, fast and very effective, loaded with many combos. There's Cammy, the second female fighter of the game: she's the female alter-ego of colonel Guile, a skinny but powerful girl, packing some triggerable throws (à la Blue Mary) and some interesting reversal shots. Let's now review less interesting ones with Deejay, a follower of Capoera pretty boring at first (it will be greatly enhanced with the Turbo game), while T-Hawk is the lazy nag, incredibly slow, unwieldy and disadvantaged over most other fighters... not to say this character is simply uninteresting. But let's not gossip and welcome the onset of real new features in the series, as this means that Capcom no longer rests on its laurels. In addition, we went from CPS to the brand new CPS-II system with this new Street Fighter, and it feels, particularly when you first hear at the soundtrack.
And this is very sensitive in the early minutes of the game, thanks to the 'Q Sound' chip implemented by engineers. The quality of sound effects is a good improvement, while Capcom had the good idea to keep the themes of the veterans while raising quality and remixing some of these. New musics are about equally good - especially those of DeeJay and Cammy - and graphically, if the game has not improved much, it's still nice to leave the CPS and limited sound capabilities. Colors have been added in some backgrounds, while the new stages are very successful (particularly Mexico and England) and most of the protagonists see their moves refined and a few postures retouched. The game speed is set between C.E and Turbo version, which is a good compromise. The characters were also somewhat balanced, having a few fighters that were totally neglected by the players until now, coming back on the front of the stage...
For example, Zangief is more interesting to play thanks to a few new moves allowing him to rivalize with fighters he could never have beat before, while Honda became way too strong with its jumping attacks and thousand-fists special now totally degenerated. Balrog (Vega at home) has lost its luster in order to balance with others. Ryu and Ken get some differences between each other, but are still very good choices... to name a few. New blows and throws were also added to many characters. The gameplay varies slightly but in the end seems more precise, with a tighter timing, being overall definitely more technical. A 'Super' version is that Super Street Fighter II! Capcom once again delights the fans, with some good news and the oncoming of CPS-II, which is a very good benefit for the realization of the game. An excellent episode, sadly became outdated very quickly with the arrival a few months later of the Turbo version, bluntly better.
GRAPHI

CS

95%

New backgrounds and characters are nicely drawn, and some re-drawings have been done to improve ancient backgrounds and portraits.

ANIMATION

92%

The speed of the game have been set between Champion Edition and Turbo version. Game' s still very fluid, and the newcomers are smoothly animated.
SO

UND

93%

CPS-1 to CPS-2 change is appreciable! The musics and sounds have greatly improved in quality.

REPLAY VALUE

96%

Sixteen warriors is in 1993 a reference in the vs fighting genre, while the game features a hard challenge for single player.
GAMEPLA

Y

94%

Here again, no big changes since SFII: it's still excellent, but no more revolutionnary! Anyway, the game improved in precision, some bugs were fixed and new combos appear.

NEOGEOKULT

Overall

95%

Taking back excellent basics from previous episodes and adding four newcomers, SSF2 makes it to stay at the top!