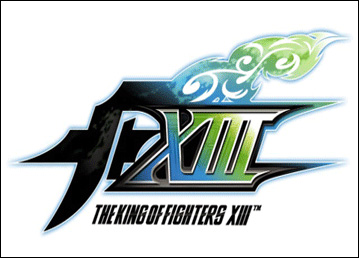 Back to the Big Game!
by Tibe (2012)
Two and a half years after the disappointing Kof XII, SNK Playmore finally redeem their sins. That is to say reconcile the early fans with the legendary saga born in 1994. There was a lot of work to do, for sure! After the climax of the saga in 1998 and 2000, Playmore carried on releasing titles on the Neo Geo system until 2003, with more or less successful games. We'll remind the excellent 2002 with its perfect gameplay, the many 128-bit consoles adaptations , the ugly 3d episodes (Maximum Impact and others) but also the great King of Fighters XI on Atomiswave. The King of Fighters XII, with its slow pace sticking to bland gameplay, weak graphics and roster (22 characters only) reinforced experts in their loyalty onto the series on the good old 16-bit system.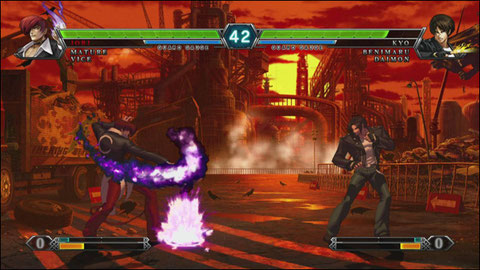 The King of Fighters XIII promises to be a remarkable episode, worthy of his ancestors... like a certain Street Fighter IV! Capcom's coming back to the top scene of VS Fighting with SNK in its wake with that premium title ... is this a revival of the early 90's? SNK, did he needed the presence of his eternal rival to finally rise again? Everything leads to believe it. Big success in the arcades next to Super Street Fighter IV in 2010, Kof XIII was promised to 128-bit consoles for a while: finally here it is, November 2011! As in the past, SNK draws in the wake of Capcom that have some short advance now. Osaka Company's programmers took it very seriously. Taking bakc very few elements of the previous release -a demo which was converted on the fly in a ful-game- this new version returns to the gameplay and atmosphere of episodes come out before 2000 ... This can only be a good starting point.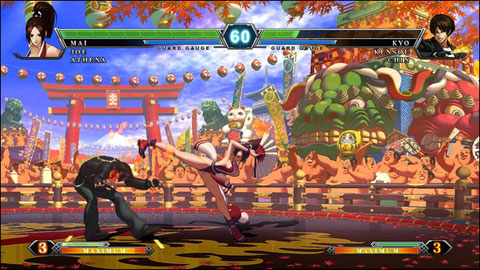 What the players hated in Kof XII, SNK Playmore understood. Poor character design, roster looking like a bad joke (twenty-two warriors against past forty years ago) and a ridiculous number of stages. Also the fighter's pixelated sprites, not to mention sloppy gameplay. After testing, I think I can say that those nasty flaws have been well fixed in Kof XIII! Let's begin with the number of stages, increasing from 5 to over 20... What a jump! And the quality is not least: it is gorgeous, inspired with some old sets. For example, there's one inside Big Ben mechanisms (see Billy Kane Stage, Fatal Fury 2) or the sunset with industrial backdrop (Iori Stage, Kof 95) or even Osaka course from Kof 96. HD offers a new life to these sublime paintings, and the result is splendid. The new stages are no exception and in fact, it's difficult to find one less beautiful than anoother. The soft is consistent in quality and very varied, besides the backgrounds are alive and evolving.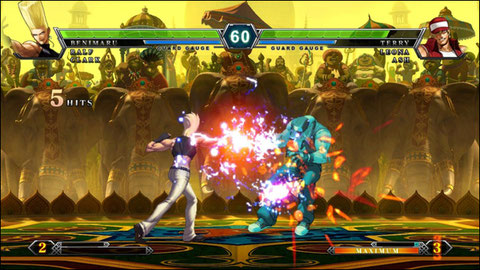 Character's sprites have been completely re-designed, not to mention a bunch of newcomers making a dramatic entrance. Kof XII and his ersatz roster is a distant memory. The view is farer than before, and the game does now zoom-in when SDM or Neo Max moves are performed. No more Zoom-Out: the characters are smaller but the area is larger, allowing more opportunities. The design is simple, clean, burr-free; the fighters are thin and athletic, no bodybuilders here or excessively 'cocky' ones as in some other fighting games... Among the most notable ghosts rising from graves, Hwa Jai - being to Joe Higashi what Ken is to Ryu- is back from the first Fatal Fury, Saiki is a Boss of the game, a character closely related to Ash Crimson. Just like Billy Kane,  it must be unlocked in arcade mode: both fighters are exclusive to the console version, nice! There are also some icons coming back: Takuma has aged some but is just dreadful, Team K 'also there now, while the spotlight is put on the weaker sex, so to speak! Vice, King, Yuri, Kula ... and of course Mai! A dream cast of 33 characters, it's fantastic.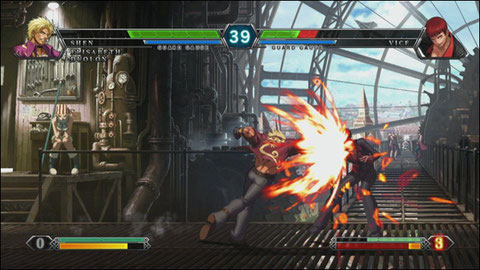 The roster of KOF XIII revives the tradition of its ancestors: quality and quantity, what more to ask? The cast includes most of the most played fighters in the series, the few missing ones won't be asked for (K9999, May Lee,...) except some as Yamazaki and Blue Mary, who could make it maybe later with downloads, who knows? Add to that a gameplay that won't disappoint old kof technicians, and you guessed it, right here we have a game worthy of the best Neo Geo Kof games, providing sublime realization with current consoles capabilities. High definition graphics, beautiful, varied, full of depth and details, animation smooth and speed at will, many spectacular visual effects; excellent sounds and musics, with compositions specially talented mixing guitar, bass and electronic. The gameplay is in line with the greatest Kof, highly technical and depth. Still, the game appears relatively accessible... but given the importance of room for improvement, chance and beginner's luck will not help here! KOF XIII uses the well-known four-button configuration (two punches, two kicks) including front and rear dash (A+B) and a powerful blow (C+D).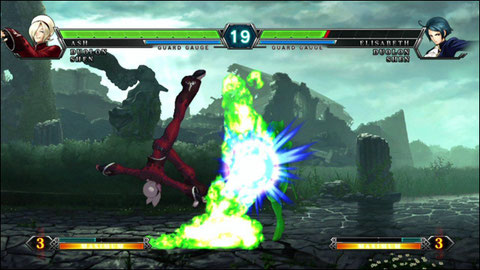 B+C active HyperDrive mode: this is a new gauge governing the use of Cancels. The traditional Power gauge allows DM, SDM, and of course neoMax moves, Guard Cancels and CD Breaks. Crash Guard Gauge allows to see when the guard goes weak. Many gauges, many technical moves, offensive and defensive possibilities: technically, Kof XIII is more complex than Super Street Fighter IV, not to mention the higher paced rythm. SNK Playmore comes back to success, and it deserves it: being acclaimed in arcades over th world, the main title from the firm is likely to conquer many new VS Fighting enthusiasts. The high-flying realization  (all 2d, remember) with so many backgrounds, beautiful animation and new epic musical themes, should delight any fan of beautiful fighting games. But the specificity of Kof is still the technical nature of gameplay. While it was up to date and made more accessible, it retains a deep level of demand and inevitably room for improvement, which remain above the rest.
GRAPHI

CS

96%

The game provides 2d with unequaled fineness: stages are beautiful, varied and many, while characters are quite successful!

ANIMATION

93%

Nothing to complain about, Kof XIII is fast-paced, decomposition of moves is great and effects catchy.
SO

UND

95%

Clearly one of the pillar of the realization. Musics are awesome and catchy, and effects well chosen and powerful.

REPLAY VALUE

98%

33 selectable characters, many many game modes, and of course online play: what could we ask more?
GAMEPLA

Y

96%

Great old Kof's technicity is back. GP is particularly rich, with numerous special techs and combos, requiring drastic timing!

NEOGEOKULT

Overall

95%

As in the good old times, Kof XIII and SSFIV stand as VS Fighting references... now in 2011!