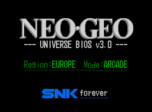 Here's a little list a some interesting things you can do with Universe Bios (3.0), except unlocking blood in every game, allow infinite credits or invincibility...
Kof 94: playable Rugal 
Kof 95: playable Rugal & Saysiu Kusanagi
Kof 96: playable Chizuru & Goenitz
Kof 97: playable Orochi Yashiro, Chris & Shermie, Orochi Iori and Leona.
Kof 99: playable Krizalid (dip 1.3), Kyo & Iori.
Kof 2000: playable Zero . (dip 1.3, push start and below Kula)
Kof 2003: playable Adelheid, Kagura, Mukad.
Samurai Spirits: playable Amakusa.
Samurai Spirits 2: playable Kuroko et Mizuki.
Samurai Spirits 3: playable Zankuro.
Samurai Spirits 4: playable Zankuro.
Samurai Spirits Zero: playable Poppy, Sankuro, Yumeji et Gaoh.
Samurai Spirits Zero Special: Unlocks Zetsumei Ougi (fatalities).
Art of Fighting: playable Mr Big et Mr Karaté.
Art of Fighting 2: playable Geese Howard.
Art of Fighting 3: playable Sinclair & Wyler.
Last Blade: playable Musashi & Kagami.
Last Blade 2: playable Kotetsu, Hagure, Kaede before awakening & Choryu.
Fatal Fury 2: playable Billy, Axel, Laurence & Krauser.
Fatal Fury Special: playable Ryo.
Fatal Fury 3: playable Yamasaki, Chonsu & Chonrei.
Fatal Fury Real Bout Special: playable Geese Howard  + EX characters.
Fatal Fury Real Bout 2: playable Alfred (dip 1.8 & 2.8, B+C select Terry)
SVC Chaos: 10 playable hidden Bosses.
World Heroes Perfect: playable Zeus, Neo Dio et Son Gokuu.
Kabuki Klash: 4 playable Bosses.
Ninja Masters: playable Ranmaru & Nobunaga.
View Point: unlocks cooperative play for AES.
Matrimelee: 5 playable Bosses.
Rage of the Dragons: playable Abubo et Johann.
Magician Lord: Keeping the Power Up even when hit.
Windjammers: Infinite timer (phew!)
Waku Waku 7: playable Fernandez & Bonus Kun!
Moreover, UB provides a real life to many games that were packing infinite credits:
- Prehistoric Isle 2 (Choose Japan mode, and play without continues)
- Ghost Pilots, ASO 2, Blazing Star, Ninja Combat, Cyber Lip, Sonic Wings 2 & 3, Burning Fight: Set the credits between 4 & 10 depending on your skills. These games will give a real challenge!
I'm talking only about a few games, it's up to you to try more! Discover the joy of the uUniverse Bios by yourself! ;)