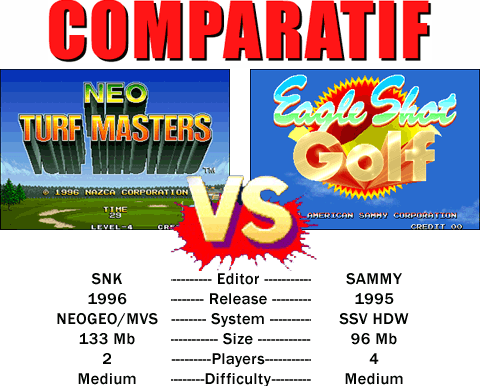 In the eyes of fans, SNK has always benefited an excellent reputation with its sports simulations and especially golf ones. Neo Turf Masters - aka Big Tournament Golf - is no exception to the rule, as it is considered by many as be the best game of its kind in the arcades, all generations included. Its rival in this versus is Eagle Shot Golf by Sammy, developed in 1994 and commercialized in 1995. This one is necessarily an outsider in this duel, as Nazca's baby is known for being near-perfect. But Sammy is not a company to underestimate, especially as its title uses a powerful hardware, slightly superior to the Neo Geo: the SSV (Sammy-Seta-Visco). The latter is composed of a central 32-bit NEC processor, capable of displaying 33,024 colors against 4096 for its rival and also packing a more powerful sound chip than the YM2610. Eagle Shot Golf weighs 96MB against 133 for Big Tournament Golf, but despite this sensitive weight difference, ESG starts this duel slightly advantaged by its hardware.
Graphics
Both games are declining a 'photo-realistic' style, but the world of Big Tournament Golf is more gleaming, halfway between digitization and cartoon. Eagle Shot Golf is no short on colors, but its characters are fully digitized without modification. The result is aesthetically pretty average, even kitsch, and the same can be told about subjective view's playgrounds. SNK game is much more beautiful from this angle of view, with landscapes using this particularly ingenious false 3d effect. The title of Sammy redeems himself with aerial views, which are the same quality as those of his rival, in a slightly different style. Also note that BTG offers many intermediate screens and little windows, but also a far superior design for golfers, in addition to having a clarity on screen which is lacking in its competitor.
Neo Turf Masters    95                        80    Eagle Shot Golf

Animation
On one side there's Eagle Shot Golf which offers a stiff and imprecise 'real' 3d, on the other Big Tournament Golf features a 'false' 3d brilliantly designed: no need to say more! the golfers' moves in BTG are ultra-decomposed and smooth, the zooms perfectly managed, the effect of depth line by line look great, and the game have many little details pretty well made... there's nothing to complain! The protagonists of ESG seem steep in comparison ... and more importantly, about the '3d view' for the shot screen: it's totally inert! It goes without saying that it's a little difficult for the game to compete with such weak weapons.
Neo Turf Masters    98                        72    Eagle Shot Golf

Sound
If the themes of both apps are kinda 'elevator-music', we wonder, however, what else could have been chosen for a game of golf. Hard rock? Too violent. Techno? Too much speed, how can we focus. No, these little jazzy arrangements on both sides are doing the right thing. Our rivals are not varied enough with their themes, but the range of sounds is more comprehensive, including BTG. There are several effects for ball, grass noises, bunkers, etc etc ... plus dozens of voice digits of excellent quality that accompany the action. Despite its powerful hardware, ESG is still very much dominated: here, the fault can be reported only to programmers, with a choice of effects very questionable, rather poorly sampled.
Neo Turf Masters    83                        69    Eagle Shot Golf

Replay Value
The duel on the realization turned significantly in favor of Big Tournament Golf, but... with the chapter on life, the gap widens dramatically! Eagle Shot Golf offers four different golfers and three difficulty levels (Novice, Amateur, Expert). With Expert level, it's possible to fully compose your cart, with a wide selection of clubs but also balls, giving some technical depth to the soft. But when comes the question of the courses, this is disappointing: a single course of eighteen holes is available! Besides this, it's possible to play four, but this may not be enough to match  his competitor... SNK game includes four difficulty levels, two game modes, six golfers, and no less than four eighteen holes golf courses! Hard to take for his rival, who lost every round so far in this comparison. But the most important criteria is yet to come: the gameplay ...
Neo Turf Masters    97                        62    Eagle Shot Golf

Gameplay
Big Tournament Golf offers a clear and fluid display. Before each hole, you are entitled to a 3d aerial view of it, with its informations. On the top left, the remaining yards. On the lower part, stance indicator, selected club, and on the right, power gauge, strike height gauge, and a representation of the ball on the ground. Above, a small aerial map of the hole with its information and wind indicator. It's comprehensive but the 'visual' area is still large. ESG doesn't feature intermediate screens or mini-animations, nor a clear and concise playing area... Not only nothing happens on the subjective screen when you move orientation, but golfers don't fit very well with the backgrounds. On the left, a way too large map of the hole and its informations, hiding a third of the screen; right, all game settings displayed in rectangular menus. Wind, club selection, stance, direction, strength. In the middle of the screen, the remaining yards and other info in a frame, and the only gauge shot. We navigate with B button and directions of the stick, and once the settings are made, you must press the right timing to hit the ball at the desired height. The fact of being in a bunker, in the rough or other does not affect the power of your strike, but only the difficulty of making an accurate shot. BTG goes further: the orientation changes in real time, and the choices are displayed in pop-up menus that appear only when necessary. Both apps offer to set the direction, stance, height and striking power. On the green, ESG still shows its limits: the relief is not displayed on the game screen, what a shame! Programmers have added an aerial view of it to show its surface. BTG features a green viewed from top, in relief, and a putting interface precise and intuitive. Nazca prevails at all levels: clarity, intuitive controls, readability of the field, technicity.
Neo Turf Masters    99                        73    Eagle Shot Golf

Conclusion
Eagle Shot Golf suffered a real humiliation in this versus, but did one single contemporary game of Big Tournament Golf could have take this duel? SNK, and in this instance the Nazca studio, managed to achieve a near-perfect version of an arcade game of golf. The Sammy title is too fledgling to pretend competing: summary realization, ultra-limited replay value, simplistic gameplay... The editor could have done better, but the same probably can't be said for its rival, as it is sublime at all points of view.