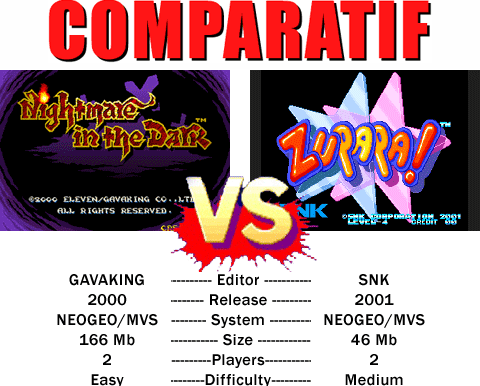 In the "platform à la Bubble-Bobble genre", the Neo Geo has hosted three titles in total -two on MVS format ie Nightmare in the Dark and Zupapa, one on AES, the recent Bang² Busters. This genre with fixed screen appeared in 1986 with Taito's legendary title, and next became a timeless figure, like versus fighting games a few years after. Simple principles, addictive gameplay: players always have fun even in a short improvised gaming session. Generally playable two simultaneously, our rivals in this match are clearly made for immediate gaming pleasure and fun. Our protagonists obey the principles that make the Bubble-Bobble genre such what it is: fixed screens declined in dozens and dozens of stages, with platforms and enemies players have to eliminate completely, and if possible score maximum points! NITD is published by Eleven/Gavaking, a developer that only created this very game. And that's pretty surprising, as the quality of it was great as we'll see in the next lines. Zupapa is developed by SNK (in person!) the following year. A smaller cartridge - 46Mb against 166Mb for NITD - will it be enough to stand up face our cemetery guards?

Graphics
Different resolutions are used: 304x224 for Nightmare in the Dark, 288x224 for Zupapa. That's not a significant difference, but the line is obviously finer in Gavaking's game. The backgrounds use a lot of colors and stand as cute pieces of art, with enemies detailed to perfection. The SNK game plays in a more childish, simplistic, but still nice style. The graphics in the game are qualitatively a notch below its competitor; anyway, Bosses in both are awesome, big and stylish! Zupapa catches with the richness of its tables. Contrary to NITD, the background changes on each level! This results in a wide variety, which partly compensates for the lower quality of its visuals.
Nightmare    80                                              78    Zupapa

Animation
The animation of Nightmare is fluid and detailed, but a little less speedy than Zupapa's. Both softs are fast and dynamic, no problem anyway! A few slowdowns are happening in Gavaking's game when many enemies are simultaneously on screen: a flaw totally absent for its opponent. Althought the pace is a little slower, Nightmare is much more fluid, with a remarkable attention to detail. The soft has benefited a fine tuning and it is a pleasure for the eyes.
Nightmare    83                                              75    Zupapa

Sound
A chapter where big megs speak. With quality samples and themes, Nightmare is a good step ahead of its opponent, there's no doubt on this! In addition, the themes are pretty inspired, melodies really stick to the action of this both cute and morbid atmosphere... Zupapa on its side offers a wide variety of musics, with a different theme for each of the nine worlds. Playing in a more childish and burlesque mode, the soundtrack in SNK's game is decent, but not that memorable.
Nightmare    78                                              72    Zupapa

Replay Value
The ancestor of our two rivals, Bubble Bobble, was benchmark for replay value: ninety-nine levels to beat! Suffice to say that the 1CC was a tough affair, even for seasoned players! So are these distant descendants worth of this brilliant elder? Well, they're a bit lazy to say anything... Twenty-five levels broken down into five worlds for Nightmare in the Dark, against forty-two in nine universes for Zupapa. Needless to say more! Players comes readily to one or another even when cleared, for the sake of cooperative play, always fun, and the opportunity to try some high-scores! Zupapa here wins the race hands down, facing a NITD way too short and not as varied as its competitor.
Nightmare    64                                              79    Zupapa

Gameplay
In NITD, our hero kills ghosts and other ghouls by paralyzing them with holy fire. After several hits, the enemy turns into a ball of fire that can be launched across the levels, to knock other villains and thus perform some combos! Our character packs three life points, and there are many bonuses and potions to pick up, with which you can improve your Cynoque: range-up, speed-up and power-up. The game is addictive, with a difficulty increasing from one level to another. Bosses are great parts of the game though... Only downside, the fact of losing all bonuses at the slightest touch is too penalizing in the advanced stages. Zupapa is doing very good too, but in a different style; to defeat the enemies, several methods are available. In each level, you can recover up to four zooks, whose are mini-zupapas. These can be thrown at enemies to cripple them! Skipping over eliminates the paralyzed one, but also triggers a destructive sphere of stars which radius depends on the number of zooks you used: it simply pulverizes every mob that come into contact with it. Unlike NITD, it's possible to reach the lower platforms, which is pretty handy! Another addition, bonus stages punctuate your progression. If Nightmare in the Dark does nothing wrong and is still very fun, it must be recognized that SNK did better in this chapter of gameplay.
Nightmare    82                                             90    Zupapa

Conclusion
Gavaking's game clearly wins the duel on the realization, there's no possible contest... but it's not the same when it comes to the gameplay and life! Too short, not enough varied... the soft quickly shows its limits. Zupapa catches up with nine worlds composed of forty-two stages, a good difficulty and a complex and addictive gameplay. A tight match, with two titles of equal quality, well made, interesting and fun. SNK finally makes the difference through a better life and a more interesting challenge.