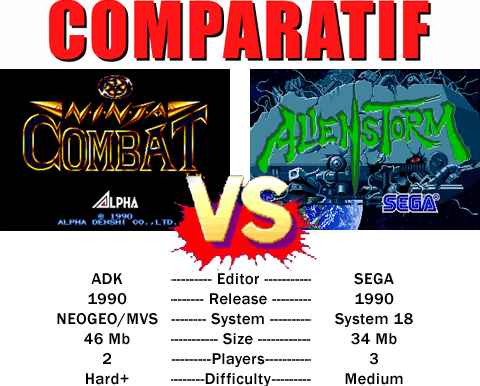 In the world of Beat them Up, ADK (Alpha Denshi) had some success with its Gang Wars back in 1988, while Sega became a major actor with Golden Axe the following year. It's only fall 89, that Capcom put everyone out with its revolutionary Final Fight. ADK and Sega replicate the next year: one with Ninja Combat on the brand new Neo Geo hardware, and the other on the no less powerful System 18, with Alien Storm. Both systems display a maximum resolution of 320x224 (312x224 used here for Ninja Combat), and 4096 among 65,536 displayable colors. The Neo Geo outweighs its rival on the number of sprites on screen with a maximum of 380 against 128. The Yamaha sound chip of the Neo Geo remains unsurpassed among the 16-bit hardwares, but Sega System 18 defends itself well with eight channels and three processors in charge of sound.

Graphics
On the one hand a world of ninjas coming straight out of 80's z series, on the other an 'Aliens' clone in a city of the future! Kitsch is definitely in the spotlight. Our rivals have in common a part of the bottom of the screen reserved for life bars, so a kind of 'dashboard'. A good way to offer fewer graphics, hum! Despite this, there's not much to complain. Ninja Combat is more colorful and varied, both in terms of environments and enemies. The line is more worked and colors better chosen. Alien Storm is far from unworthy, with aliens particularly impressive during the shooting phases. There are few large and impressive enemies, but the backgrounds are fairly linear, too bad: the draw is rather successful, but below Ninja Combat's.
Ninja Combat    84                                     78   Alien Storm

Animation
While Ninja Combat is balanced between excellence and mediocrity in this chapter, Alien Storm comes as one of the most decomposed Beat them Up, packing the most fluid and detailed animation back in 1990. The movements of heroes are pretty smooth, plus they are dynamic. Aliens are also superbly animated, and the whole is enhanced with remarkable effects of decomposition or explosions. Action phases offer super  fast scrollings and the game almost never slows down, even when playing three simultaneously. It has in common with Ninja Combat the zooms, managed by the hardware and used in abundance: it's a treat! ADK's game shows a good level of animation, but definitely below of Alien Storm.
Ninja Combat    79                                    92   Alien Storm

Sound
The least we can say is that our two rivals make it loud! Very dynamic themes tainted electro for Sega, and more epic and warlike ones in Ninja Combat: in both cases, the environments are providing a nice atmosphere, soundtracks sticking very well to the action. It's with the sound effects that the Neo Geo takes advantage: first-class voices, powerful impact noises, all this accompanied by awesome effects. Alien Storm is not especially bad here, but we must admit that digits  are a little sizzling and the range of sounds seems more limited. Not to mention the overall quality sampling, a little lower than Ninja Combat.
Ninja Combat    85                                    82   Alien Storm

Replay Value
Our two rivals are even here: just in the average life of Beat 'em Up in the nineties, so almost thirty minutes! Yes it's short, and indeed lifespan remains the chronic disease of ninety percent of these games. Ninja Combat is a great challenge, however, especially for the 1CC (very difficult!). It features a two-player action that have you come back for fun through the five stages of the game. Alien Storm can be played up to three simultaneously, and includes nine stages, of course shorter but a bit more varied than those of its rival! Also note that the soft offers varied phases of action (shooting, speedy, fighting) that provides a little more variety and fun.
Ninja Combat    58                                    61   Alien Storm

Gameplay
The two games have in common a total absence of fighting moves replaced by a simple action/shooting button, triggering the attacks of each character. In Ninja Combat, you can select up to five different heroes during the game. Joe and Hayabusa throw shurikens as magic bullets. Other characters either fight with a sword (Kagerow and Musashi) or bare knuckles for Gembu. B button jumps and C runs, and it's possible to combine these evasive maneuvers with the A button to perform different attacks. Keeping A depressed charges the special one, devastating enemies on the screen at the cost of one life point. Finally, it's possible to pick up various weapons over the stages, but only with Joe and Hayabusa, while speed and power can be increased by collecting scrolls. Alien Storm includes a dash, with a roll that can be combined with B like in Ninja Combat, while C is for the special attack that destroys everything on screen. You can collect power capsules to fill a corresponding bar: once full, you're granted a special. The A attack consists of a laser shot that can also prove to be a gun, a flamethrower or a taser built for the cyborg hero (the snack's server)! Three heroes are available, a guy in red, a girl in blue and the famous cyborg. Sega has thought about everything (except to give names to its characters) and the traditional phases of Beat 'em Up are alternating with shooting sequences using first-person view and fast scrolling stages à la Eight Man.
Ninja Combat    67                                    69   Alien Storm

Conclusion
Ninja Combat packs superb graphics and a soundtrack that rips, but Alien Storm replies with a spectacular and flawless animation. Side life and gameplay, the duel is tight, for sure! But the Sega title outstrips ADK's one by a short head on both points: life is made better by the opportunity to play three together (against two for NC) and the variety of stages, while the gameplay benefits precisely this variety (fight, shoot, run), making Alien Storm funnier to play. Ninja Combat does the job right with its original gameplay, but it's beaten by its rival on these chapters.