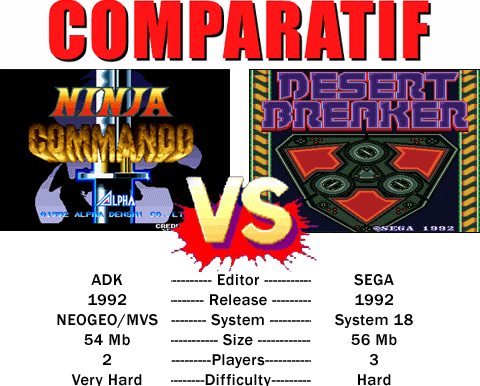 The pioneers of the vertical Run'n'Gun were Capcom's Commando and SNK's Ikari Warriors, while on Neo Geo we were granted the Shock Troopers series by Saurus, but also earlier Ninja Commando from ADK. In this match, we'll oppose to it the rare and little-known Desert Breaker from Sega. Our rivals are two Run'n'Gun scrolling (mostly) vertically with the exception that Sega soft uses a 'tate' screen, ie higher than wide (224x320), while Ninja Commando runs on 'yoko' format, namely a standard 4:3 screen (320x224). System 18 and Neo Geo are quite close in terms of performance, as we have previously seen with the Alien Storm VS Ninja Combat. With roms weighing about the same weight, we should be entitled to a tight duel.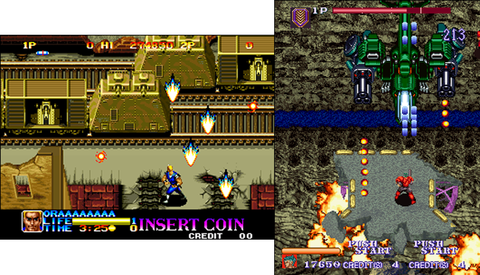 Graphics
First observation, the characters are bigger in Ninja Commando, and they offer a level of detail considerably above its rival. Even the various enemies and Bosses are pretty hefty, and often fill a good part of the playground, while the enemies are more numerous on the screen in Desert Breaker. Nevertheless backgrounds and sprites are unflattering! Few colors, bland environments, repetitive and unoriginal Bosses... ADK made its game much smarter, enjoying the time travel theme to provide incredible fauna and flora, according to well designed and varied scenery.
Ninja Commando    80                       67    Desert Breaker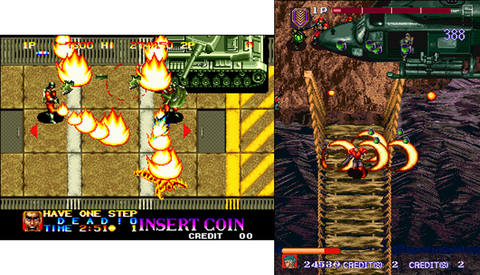 Animation
Ninja Commando is not a model of decomposition, but it is still decent. The sprites are decently animated and large, the action sustained and the whole achievement is worthy of the system, with some impressive zooms and effects. This being said, the game suffers a few slowdowns, especially when playing two simultaneously. This is also the case in Desert Breaker with three players. Anyway, Sega's game is doing quite well, taking into account the impressive amount of sprites on the screen. Nevertheless, its animation is still pretty basic compared to NC, with some details completely botched and in fact, nothing very surprising all through the game.
Ninja Commando    78                       69    Desert Breaker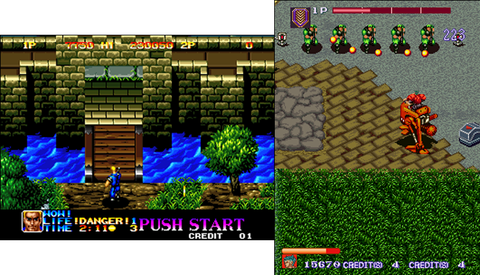 Sound
Creativity is poor on both sides concerning the musics: a majority are uninspired while very few might be remembered, both in Ninja Commando and Desert Breaker. ADK's game takes a neat advantage with the quality of its sampling, but also thanks to its well-chosen sound effects. Nothing really memorable on both sides, but the YM2610 once again ridicules its opponent.
Ninja Commando    76                       58    Desert Breaker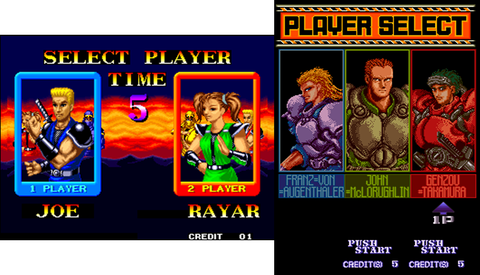 Replay Value
There are three different characters to choose from in each game, but in Ninja Commando the heroes are really different: soldiers of Desert Breaker are looking the same as three drops of water! The game is not very long, requiring about thirty minutes to be cleared, but be aware: it's extremely difficult... Players soon feel quite frustrating playing DB, and we feel that Sega set the hunt for credits for this game. Playing up to three simultaneously remains a nice option, and the game still features some funny passages that players might want to do again. Ninja Commando is not much less difficult, but the technique pays off: with practice, it is possible to finish the game with one credit, something almost impossible in its rival. ADK's game still plays two, packs a little more life and offers more varied stages, it doesn't hurt!
Ninja Commando    72                       65    Desert Breaker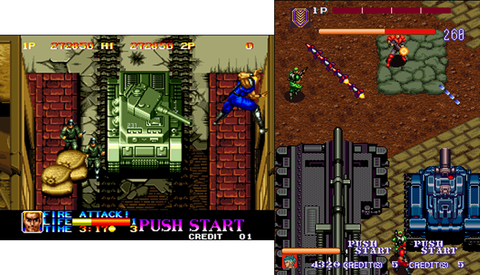 Gameplay
Desert Breaker is more akin to Shock Troopers and Mercs while Ninja Commando is playing in a more 'Beat' em Up' way, with projectiles. One inevitably thinks a little about Ninja Combat, with characters throwing shurikens and magic attacks. Desert Breaker uses three buttons: A to shoot, B to run - during a run, the hero is invincible - and C launches a special attack. In Ninja Commando it's the same, the difference being that B performs a dodge or a salto, but your warrior is not invincible meanwhile. The basic attacks are completed with special attacks "à la Street Fighter II" available up to three or four for each ninja, and also the transformations achievable by collecting magic scrolls. In both games, the heroes have a life bar that can be restored by collecting health items. Note that for replacing the special attacks, Desert Breaker compensates with a wide arsenal of weapons to pick up during the stages. The difficulty is totally unfair in Sega's soft, and this will probably overcome the patience of many players. Anyway, the game is varied with jet-ski, aircraft or hovercraft sequences and some other vehicles to retrieve: unfortunately they are poorly designed. Ninja Commando is also difficult but 'do-able', and shows much more fun and enjoyable passages than its rival at the end of the day.
Ninja Commando    85                       72    Desert Breaker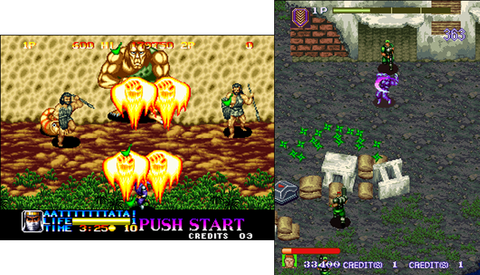 Conclusion
ADK dominates Sega without too much difficulties in this match. Desert Breaker, trying to clone the excellent Mercs from Capcom, fails to move from a common hit's clone status. Ninja Commando, playing the card of the originality with its innovative action, succeeds in one Run'n'Gun/Beat them Up mix, well made and comprehensive. The title is doing pretty well for a 1992 Neo Geo game, and it have players getting back to it willingly for fun action with friends.