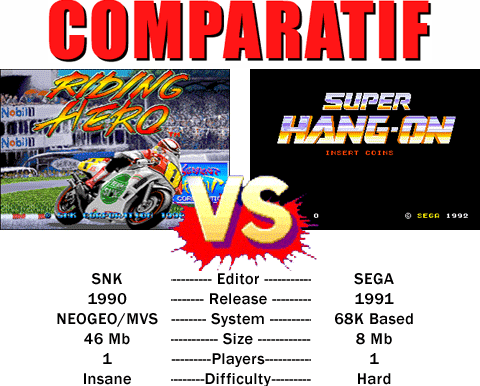 We can say that Sega has a remarkable pedigree about racing games weither for the arcade or home systems... but the same can't really be said for the SNK company: the firm focused way more on fighting games, shoot 'em up and sports games instead of this type of production. After the success of its bike game Hang-On in 1985, Master Sega realizes in 1987 Super Hang-On, a sequel improving a lot the first game. The 'Limited Edition' was made in 1991, providing a dedicated cabinet and slightly retouched graphics. This is the version that we'll oppose here to Riding Hero, released the previous year: this SNK titles weighs 46 megabytes against 8 only for its  rival. In addition, the soft runs on the brand new Neo Geo, which capabilities surpass those of the OutRun hardware that runs SHO. What will be the verdict?
Graphics
If the graphics of this 'Limited Edition' are slightly more colorful than previous versions, however we're still facing 1987 graphics. These are simplistic, with generally poor roadsides and quite empty horizons, although relatively diverse. The bikes are well designed, and about the various interface presentations, they are almost non-existent. The game stamped SNK does a little better on almost everything: Riding Hero roads are more colorful, backgrounds richer and motorcycles are drawn more finely. In addition, there is the Story mode and all its characters, scenery and staging. There is not really a gap between the two games, but still a significant difference... Hang-On LE keeps for him a better variety of stages.
Riding Hero    68                                 61   Super Hang-On

Animation
Riding Hero uses the zoom capabilities of the Neo Geo, but we can not say that the speed sensation is striking nor realistic, and even the movements of the bikes are not very well made! This is the bare minimum that is proposed here. Hang-On Limited Edition is much better, with a nice sense of speed and a more flexible motorcycle in its lateral movements. Small animations of shocks or falls, however, are of equal quality in both apps.
Riding Hero    59                                70   Super Hang-On

Sound
Player choose among four themes to accompany its races in the game of Sega, and four, it's few! By cons, we have to recognize that the compositions are catchy and varied, while they accompany nicely the action. On the other hand, the sounds of engines are not good, as well as the sound effects of the game, very "bip-bip", if you know what I mean. Riding Hero is necessarily better, with its 46 megabits: the musical themes are rich and varied, despite an orchestration not necessarily better, and engine sounds just a little better made than in Hang-On LE. Besides, there are way more sounds during the race (tires, shocks, other engines...). SNK wins in this round.
Riding Hero    72                                66   Super Hang-On

Replay Value
Riding Hero as well as Hang-On Limited Edition offers a multiplayer mode via 'link' (each on his machine). Besides this, the game includes a SNK World Grand Prix that consists of ten races and above all a good-looking story mode. Player embodies a young biker who enters into the world of 'street races': it's kind of a RPG, and there's a main frame to follow but the game is quite free of moves and actions. You move in a city, face many other riders, it's also possible to tune up the bike, talk to various people, participate in various events... without being extraordinary, this part of Riding Hero is fairly engaging and relatively complete for an arcade game. The Sega soft is simplistic, with four regions consisting of a total of forty-eight levels (checkpoints). The difficulty is high but fair, and the challenge is finally full-bodied and the race against the clock taking. RH at last sees his good feats tainted with big gameplay problems penalizing life, but that's another chapter.
Riding Hero    76                                72   Super Hang-On

Gameplay
The SNK game starts this chapter with a slight advantage, with its 'Story' mode, greatly enriching the game. Its rival merely align races succeeding each other in a pure 'Racing' spirit! Races remaining the basics of gameplay of these bike games, let's look at their qualities. In Hero Riding the bike leans so 'jerky' (notch by notch), and flexibility of the controls at this level, as for the accelerator and brakes leaves a lot to be desired. Hang-On LE demonstrates a much more pleasant handling with analog controls, speed shift for the bike and a more precise braking. The courses are more technical and the roads wider than its competitor: the game is even more interesting and enjoyable. SNK drives the nail into mediocrity with incredibly poor AI of the machine's riders: If we don't encounter too many problems with the Story mode (predictable routes with always the same vehicle in the same places), the World Grand Prix will require patience and cunning techniques to be defeated. Other riders will let you pass them easily, but the two leaders invariably employ the same technique when you're ahead: they accelerate and re-pass you, usually hitting you from behind. At best, you slow down, get behind and have to catch up again, at worst, they will send you on the roadside, resulting in a very disadvantageous and frustrating fall. Sega programmed the AI better to leave room for the driving pleasure, and literally leaves his competitor far behind in this chapter.
Riding Hero    43                                74   Super Hang-On

Conclusion
Master Sega left no chance to SNK infringing on its flowerbeds, Hang-On LE simply burying Riding Hero in this versus. If it looks good with its technical specs and decent life, its totally crappy gameplay costs it a lot. Too bad, because the story mode was promising. For now, the best motorcycle racing arcade game of the early nineties is still Super Hang On, and here and now its very good 'Limited Edition'.