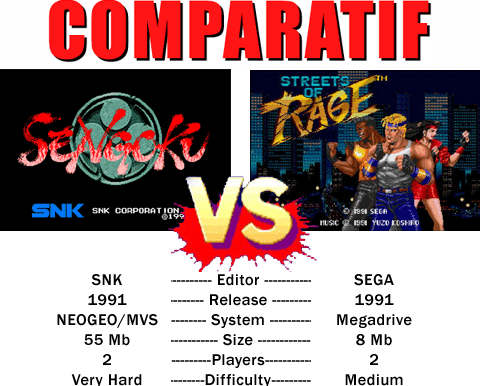 In 1991, the Neo Geo is still a young system, with a limited library of a dozen games. That same year, SNK develops three new Beat them Up: Robo Army, Burning Fight and Sengoku. Meanwhile, the Sega Genesis saw the arrival of two outstanding games: Sonic the Hedgehog and Streets of Rage. This one was  first of an emblematic BTU series. Here is an opportunity for a bloody confrontation, between Neo Geo and Genesis! The 68000-Z80 combination is used on both machines. The comparison stops there, for the Neo Geo literaly crushes its competitor in terms of power. Just take a look at  the 16-bits technical table to convince yourself. SNK's console is an arcade machine, in other words the last link in the food chain of video game! Sega's baby defends itself well, but it's far to compete. About the cartridges, Sengoku weights no less than 55 megs, against only 8 for Streets of Rage... Will we watch an execution here?

Graphics
With such a difference between the machines, one could imagine the difference between graphics of both games. On the one hand, we have Sengoku with its phantasmagorical backgrounds, alternating modern and medieval Japan, plus its colorful characters and huge bosses. Streets of Rage can't really match with its very, very simplistic graphics, its much smaller sprites, less detailed, and not too varied too... as well, everything is relatively dull. At the time, it didn't shock too much players: without going for 'beautiful', the game was not deemed to be super-ugly. Suffice to say that the weight of years has not spared Sega's soft. Sengoku has aged better graphically, and still stands as a nice 2-d game nowadays.
Sengoku    86                                       59   Streets of Rage

Animation
Here is a chapter where Streets of Rage can take a little revenge. Sengoku's first deflect is its stiffness, so notable that it even penalizes the gameplay significantly. It's not very decomposed either, we're just granted a good pace for action. SOR is a bit more smooth and fluid, without reaching the heights! The characters move in a somewhat more natural and swaying way, for the action is, on the other hand, less sustained than in its rival. More fun with its characters without sweeps in their asses, the game from Sega takes the advantage here.
Sengoku    62                                       68   Streets of Rage

Sound
Qualitatively, we realize that compete with the Neo Geo was simply impossible mission for the Genesis. Music, sound effects and voices are the highlight of Sengoku: its warrior feudal atmosphere is excellent, packing war drums, flutes, and other cythares, for some quite epic pieces. The stages are interspersed with monologues of the Big Boss featuring high-quality voices. As for sound effects, it's made of pretty good punches and saber impacts. Sound effects, that's precisely the weak point in  Streets of Rage. The blows, screams, falls and other are sizzling to death, not really convincing! But still, Streets of Rage was not that pale in comparison to SNK's monster... How? With its musics! These are excellent, sticking perfectly to the action and featuring a very good sampling quality. Exceptional music and awful FX, it's not enough to compete with Sengoku.
Sengoku    91                                       76   Streets of Rage

Replay Value
Two Beat them Up games long enough, with similar lifetimes: about fifty minutes till the very end. With its difficulty, Sengoku is a real calamity: basically, the game provides about ten credits, and it's far from enough to hope finishing the game -without extensive training. So then, in-One Credit challenge, good luck! This is certainly a big challenge, but this will discourage a majority of players, even seasoned ones. Streets of Rage is much more balanced and fun to play: the CPU is sometimes big guy, but with some technical play, you get through the game without too much difficulty. It's more enjoyable than taking monumental beatings and far more pleasant for cooperation, but let's say masochists will appreciate the tremendous challenge proposed in the game from SNK.
Sengoku    82                                       84   Streets of Rage

Gameplay
Sengoku with its significant stiffness, is far from starting favorite in the gameplay battle. Our rivals have in common the button configuration: A is used to hit, B to jump, and C activates the special attack in Streets of Rage (Police!) while in SNK's soft, the same button triggers transformations. Three forms are possible: Kabuki Warrior, Ninja or Ninja Dog. Furthermore, a system of orbs to collect complements all this. Depending on the picked sphere, you will temporarily have supernatural powers, such as magic swords, fireballs or lightning attacks. Streets of Rage meanwhile, looks more like Final Fight and features more classical mechanics: hit combos, jumped attacks, various throws, weapons to pick up, destructible objects... Nothing new that's right, but the game is very comprehensive and lacks nothing that a great Beat them Up should have. Controls are better than in Sengoku and the simplicity of Sega's game, combined with its flawless gameplay, give it a landslide victory in this chapter.
Sengoku    64                                       85   Streets of Rage

Conclusion
The talent of Sega's programmers have triumphed over the power of Neo Geo! Like David against Goliath, the modest Genesis  finally wins this match between Sengoku and Streets of Rage, thanks to its soft's intrinsic qualities. Technically out, SOR comes back to win this duel with its well-crafted gameplay. Sengoku proves stiff, awkward and too much difficult, against a more balanced opponent, smooth, providing a lot of fun with its two-players mode. SNK should not have relied too much on the power of its  machine!